ADELANTO, Calif. — Nearly two months after President Donald Trump reversed his own policy separating migrant parents and children at the U.S.-Mexico border, the administration claims that 154 parents who gave up their rights to be reunited with their children did so purposefully.
But several legal groups and the American Civil Liberties Union are working with migrant parents who say they were coerced into signing away their right to be reunified with their children.
Ascención, 36, a father who wants to be identified only by his first name, is devastated over the fact that he signed a Separated Parent's Removal Form (.pdf) from Immigration and Customs Enforcement that states that he agrees to be deported without his child.
"I've committed a sin," said Ascención to his attorneys in an affidavit they shared with NBC News. He is being detained at the Adelanto ICE Detention Center, ninety miles outside of Los Angeles, and his son is still in the custody of the department of Health and Human Services at a shelter in Arizona.
NBC News recently traveled with Ascención's lawyer, Lindsay Toczylowski, the executive director of the Immigrant Defenders Law Center, in an attempt to visit Ascención. While Toczylowski was permitted to spend time with her client, ICE said NBC News would have to come back at another time to meet him.
Ascención told his attorneys on multiple occasions that he was pressured into signing away the right to be reunited with his son after they were separated as part of the administration's zero tolerance immigration policy.
He claims he was immediately detained by immigration agents when he arrived in the U.S. border on June 4th with his son Sergio, who is 14. They had left Guatemala after he and his family started receiving threats, specifically against Sergio. They traveled to the U.S., "because I was afraid they were going to kill us," he stated.
While he was locked up that first day, he was separated from his son. He said he was later told by an officer that "only your child can stay in the United States."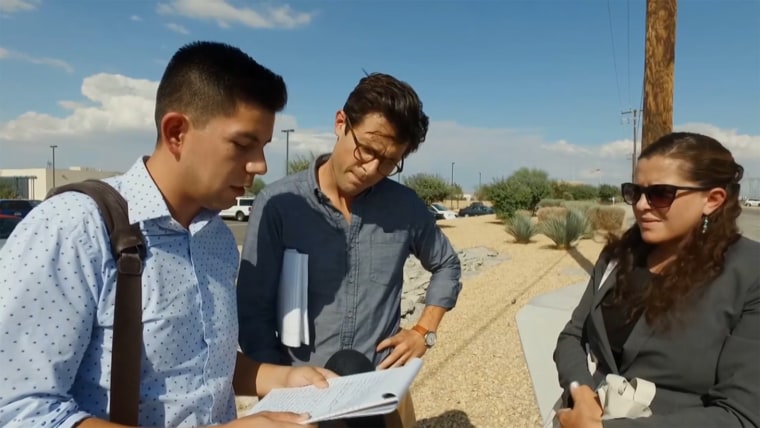 "He did not give me explanations," Ascención stated. "The officer did not allow me to explain why we were in the United States. They forced me to sign documents even though I asked to speak with someone before signing."
When he was transferred from Arizona to California, on three occasions he signed documents which waived an opportunity for reunification "because I was intimidated," he stated.
Several of the initial forms Ascención signed were in English, which he didn't understand, he told attorneys. It wasn't until he had to sign a later one in Spanish because he had already signed them in English, he told attorneys, that he realized he had agreed to deportation without his son.
In a court filing last week, the ACLU stated some separated parents "may not have availed themselves of their right to seek asylum because they were misled or coerced into believing that asserting their asylum claim would delay or preclude reunification," including a number of the parents of 366 children who have already been deported.
In July, NBC News reported on the form given to parents by U.S. Immigration and Customs Enforcement officers that Ascención signed, and at the time many immigration lawyers said parents felt pressured to drop their own asylum cases in order to be deported and reunified with their children.
The Department of Homeland Security has said it does not comment on cases of separated families due to ongoing litigation, but that parents who signed these forms did so knowingly.
While Ascención attempts to win back the right to be reunited with his son, many others in his scenario have already been deported, and their children left behind. The government says the only way those families will be reunited is for the children to be deported to their countries of origin, which the ACLU is challenging.
Toczylowski questioned how so many parents signed the forms and yet still want to be reunited.
"This was either the cruelest policy, even more cruel than I think people realize, or it was the most negligent policy of all time," she said.