AUSTIN, Texas — As the government tries to back out of a 21-year-old agreement on the treatment and housing of migrant children, lawyers are pushing back with the voices of the children in detention.
Hope Frye, an immigration attorney, has helped to gather the children's stories by leading visits of attorneys and advocates to Customs and Border Patrol detention centers where children are held. She hasn't liked what she's seen.
Now as the federal government works to rewrite the rules spelled out under the so-called Flores Settlement —a lawsuit agreement that settled a 1997 lawsuit over child detentions — she worries what might become of children separated from parents or who have arrived unaccompanied if the Flores protections are diminished.
"The obligations are very clear and the government is obligated to issue regulations that are consistent with Flores, all the things it is doing now are seriously inconsistent with Flores; they violate the contract they signed," Frye told NBC News in a telephone interview.
Frye served on the board of the Center for Human Rights & Constitutional Law, the legal services organization that reached the Flores Settlement with the government in 1997, and chaired the board.
It is the only non-governmental organization in the country permitted to inspect every child detention site and to interview and evaluate how the children are being treated, according to the center's website and Frye.
Medical professionals and religious leaders are gathering next week in San Antonio and Houston for community discussions on the effects of detention and separation of children in detention. On Monday, the American Academy of Pediatrics (AAP) and other experts reiterated the permanent and harmful effects of family separations, with AAP president Dr. Colleen Kraft saying, "science tells us this is actually child abuse."
The Trump administration earlier this month announced plans to withdraw from the Flores consent decree and to draft its own regulations. The revised rules would ensure all migrant children are "treated with dignity, respect and special concern for their particular vulnerability as minors," the New York Times reported.
But the administration also wants to hold children with their parents in detention indefinitely, while their immigration cases are worked out. Generally, children have been released after 20 days, under court enforcement of the Flores settlement.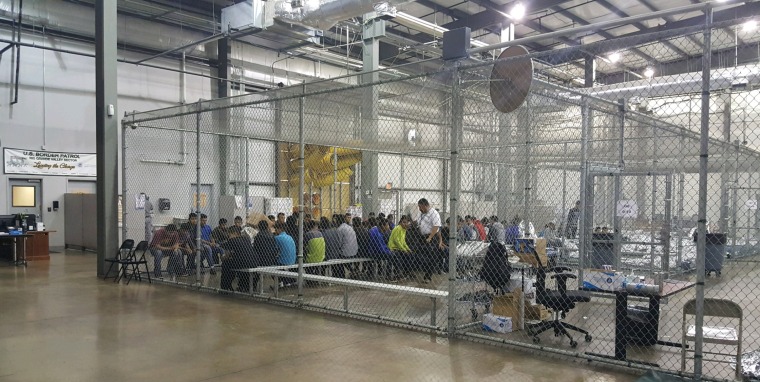 The administration has maintained that the 20-day release rule prevents border enforcement and encourages illegal immigration because families know if they bring a child they and ask for asylum they will be required to be released into the country.
The law requires a 60-day period for the public to submit comments, which can be done by email, online, mail or in person and additional time for lawyers to challenge the proposal.
The Flores settlement requires that children are held in the least restrictive environment and for the time they are held, kept in humane and safe, sanitary conditions.
Before the Flores settlement, children were kept in a former hotel that was fenced with concertina wire and housed children with unrelated adult men and women. The children did not have education or recreation and visits with family and friends and were subject to strip searches.
Parts of the settlement were codified into law when Congress passed anti-trafficking laws.
Homeland Security Secretary Kirstjen Nielsen has previously said that the revised rule is necessary to enforce immigration laws. The administration has said the law contains legal loopholes that keep it from removing families.
Frye plans to lead a caravan on Sept. 29 from San Antonio, while another leaves from Houston. They'll meet up in McAllen at Ursula Detention Center where they plan to try to present food, water and blankets and other supplies to children held at the U.S. Customs and Border Patrol Center.
The detention center is referred to by people kept there as the dog pound because of the fenced cages where the children are kept; it's also called the refrigerator or cooler because of the cold indoor temperatures.
The purpose of the caravan and offering of supplies is "to say, 'We know what you are doing. We call you out. Not on our watch,'" Frye said. The effort is dubbed Project Lifeline.
Project Lifeline is intended to call attention to all kids in detention, Frye said.
"Everyone cares about the 3,000 separated kids … Now that the conditions are known, there's 134,000 kids in these conditions and these children are being damaged," she said.
The project emerged "out of my concern from having done Flores visits," Frye said.
"I believe there is a deliberate attempt to impair these children mentally, physically and spiritually and part of doing that is to isolate them," she said.
The Center for Human Rights & Constitutional Law sued the federal government in July for failing to uphold the Flores settlement.
The lawsuit includes 200 statements or "declarations" from children who were kept in the CBP facilities who described horrific and substandard conditions.
In them, children and mothers tell of shivering in cold temperatures, dirty and unsanitary bathrooms that lack toilet paper, being given sandwiches that are inedible because they are frozen or being given no food for hours. They tell guards kicking them in the feet as soon as they fall asleep, preventing them from sleeping.
Attorneys and advocates who were led by Frye and others took the statements during visits to the detention facilities run by CBP. They are separate from those run by the Office of Refugee Resettlement, part of the Department of Health and Human Services.
Frye said the statements are taken in English and Spanish and when necessary in the indigenous languages of some of the migrants. The declarations then can be used as evidence in court.
Jorge Zapata, a minister in the Rio Grande Valley of Texas, plans to meet Frye's caravan in McAllen. He and other religious leaders are concerned, as well, about the traumatic impact of the detention on the children.
Zapata said some young children he's encountered in shelters run from the Office of Refugee Resettlement and who were separated from parents, come from devoutly religious families. He said they pray to be returned to their parents, but when they aren't, they ask, 'Why didn't God hear my prayers?"
"This is an emotional and physical and spiritual trauma," he said. "These children pray to God, I want to be with my mom and Dad," he said. "They want it to happen now and when it doesn't, that affects their spiritual lives."
FOLLOW NBC LATINO ON FACEBOOK, TWITTER AND INSTAGRAM