CARRIZO SPRINGS, Texas – The song was bittersweet.
A teacher was leading 44 migrant girls in the chorus of "El Alfarero," which means "The Potter" in English.
"Quiero una sonrisa cuando todo va mal," the children sang in Spanish, which translates to, "I want a smile when everything goes wrong."
It was a poignant scene during the first tour Wednesday of the Department of Health and Human Services' newest facility housing minors who were deemed as unaccompanied when they crossed the border from Mexico. Even if a child or teen traveled with a relative, the government considers them unaccompanied if they were not with a parent or a legal guardian or don't have a parent or a legal guardian in the United States available to provide care or physical custody.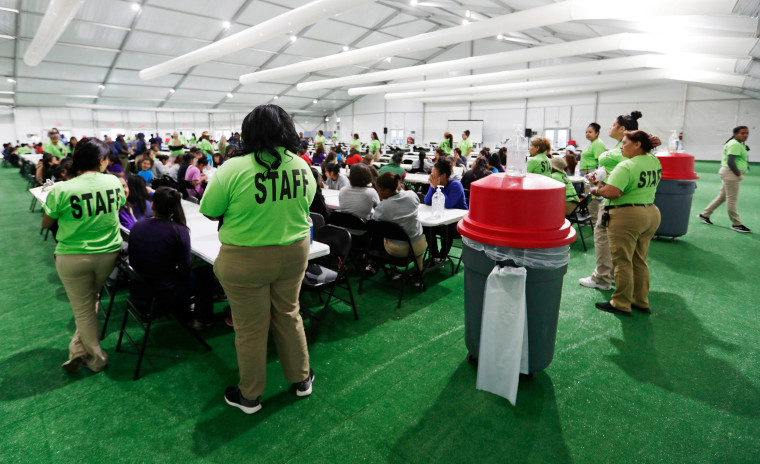 It's now one of more than 160 facilities across 23 states run by the agency's Office of Refugee Resettlement. A government contractor — BCFS — has hired 749 staff members for the facility in this rural area down a dirt road, two hours from San Antonio.
This facility, which opened June 30, is now housing 212 unaccompanied minors, ages 13-17. Most are boys. Its capacity will eventually be 1,300. With its current 749 staff members, there are currently more than 3 staff members for each child. Up to $300 million in funding has been set aside for this facility through the end of the year.
Kevin Dinnin, the president and CEO of BCFS, said that right now it costs about $750-$800 to care for each child each day.
On the wall and the whiteboard of the classroom, there were Spanish and English translations of the "Pledge of Allegiance."
Words in markers were left over from previous English lessons.
Only two dorm buildings are being used in this government-contracted shelter out of a possible eight. Four bunk beds are set up in each 186-square-foot room. Long trailers once used to house oil workers in two-bedroom suites have been converted into 12-person dorms.
The conditions appear clean. But this facility is way under capacity and has been open for less than two weeks. Reporters were shown a medical tent where employees said the most common ailment they treated was a soccer injury. They said they've had no instances of the flu, strep or chickenpox.
The tour was highly controlled. Reporters were allowed to briefly speak with one 17-year-old from Mexico who said she'd been in the facility for 11 days. She was waiting to make a phone call. At a minimum, the HHS says the children get two 10-minute phone calls a week but usually much more. Another teenage girl from Guatemala said she'd been there for several days.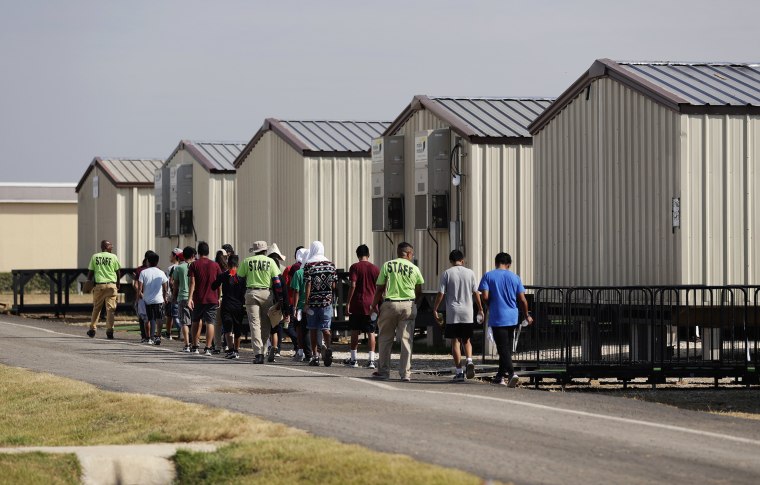 The tour came the same week that Department of Homeland Security announced that the number of border apprehensions had dropped from about 144,000 in May to 104,000 a June — a drop the Trump administration attributed to beefed-up Mexican security but that critics argued was just the usual decline during hot summer months.
This was not among the border facilities accused of unsanitary conditions and mistreatment in recent days. Those were Border Patrol stations in Texas and Arizona — holding facilities where migrants are processed by Customs and Border Protection before they're turned over to the HHS. But critics argue that HHS facilities also lack adequate oversight and journalists aren't often allowed in.
During this tour, the government provided its own video, but also allowed The Associated Press to enter with its camera — although children's faces couldn't be photographed due to privacy concerns.
According to the HHS, the average stay in its facilities is down to 45 days. That's down from more than 90 days last November. HHS spokesman Mark Weber said the department is looking into opening new, more permanent facilities in five major cities: San Antonio, Houston, Dallas, Atlanta and Phoenix. The agency is also hoping to close its facility in Homestead, Florida, due to declining numbers of migrants — but also due to logistical concerns over evacuations during hurricane season.
When Weber was pressed on whether the ramping up of available bed space was too much, too late, he said: "We're never too much too late. First of all, one of the things that is known about this program and influxes at the border, they're unpredictable. And our job is to be prepared."
But there's a huge disconnect on who's to blame for the massive backlog of migrants that clogged up Border Patrol facilities in May, prompting allegations of unsanitary conditions. The HHS says that it was able to handle all the kids referred to the agency. Customs and Border Protection has said that the HHS couldn't take the influx — contributing to the backlog.
"The system was clearly overwhelmed," Weber said.
FOLLOW NBC LATINO ON FACEBOOK, TWITTER AND INSTAGRAM.