A dramatic spike in unaccompanied children and families trying to slip in across the U.S.-Mexico border may be "the new normal," officials say, with some believing the surge is linked to a federal ruling that ended long-term detentions.
The number of apprehensions of unaccompanied minors and family units — legal guardians with children under 18 — rushing the nation's southwestern border peaked last year, then fell off as Obama tapped the Federal Emergency Management Agency to figure out what to do about the young refugees.
But in recent months, apprehensions have proliferated again: More than 10,000 undocumented children have been stopped in just the last two months, according to U.S. Customs and Border Protection.
The 10,588 apprehensions are a 106 percent increase over the same Oct. 1 through Nov. 30 period from last year, when 5,129 kids were picked up.
Apprehensions of family units have jumped too, with 12,505 detentions in those two months, representing a 173 percent increase from last year's 4,577 seizures in the same time frame.
Related: More Than 10,000 Unaccompanied Minors Apprehended on U.S. Border in Last Two Months
"We could very well be seeing the new normal," Gil Kerlikowske, commissioner of U.S. Customs and Border Protection, told NBC News.
Sources told NBC News that many Border Patrol agents and officials believe there may be a link between the current surge and a federal court ruling over the summer, when U.S. District Judge Dolly Gee ordered federal officials to change how long they detain the thousands of mothers and children who are caught crossing illegally into the U.S. while fleeing violence in their home countries.
In a scathing ruling in which Gee said it was "deplorable" that families and young migrants are languishing in detention centers, she argued long-term detention is also in violation of an 18-year-old court settlement that restricted how long the government could house migrants while they pursue asylum. She gave federal officials until Oct. 23 to change the policy.
Under the new rules, an unaccompanied minor must be released from a federal detention center to a relative elsewhere in the U.S. after no more than five days, and their parent should be, too, so long as officials have determined they are not a flight risk. In rare exceptions, migrant children and families can be held up to 20 days, Gee ruled.
The decision came several months after Department of Homeland Security Secretary Jeh Johnson condemned long-term detention as "an inefficient use of our resources."
Critics call the number of migrants flowing into the country a security threat, but Homeland Security officials say families and kids crossing through is a humanitarian matter — not a threat in any way.
"People wouldn't be caught up in this kind of smuggling activity unless they felt a really strong reason why they have to flee their home country to begin with."
Bob Goodlatte, R-Va., chairman of the House Judiciary Committee, is among those who have spoken out against the new White House immigration policy, which he calls lax.
"The word is, come on ahead and the border is open, the Obama administration is going to take good care of you," Goodlatte told NBC News.
The new rules are "making the border less secure," he added.
"That word in turn is getting back to Guatemala, to El Salvador and Honduras, and the coyotes, human smugglers that are bringing people up from those countries, are spreading that word and it is catching on like wildfire," Goodlatte said.
But Wendy Young, president of Kids in Need of Defense, which offers free legal services to unaccompanied migrant children, said keeping children in long-term detention once they arrive in the U.S. after a harrowing journey here can have a "devastating impact."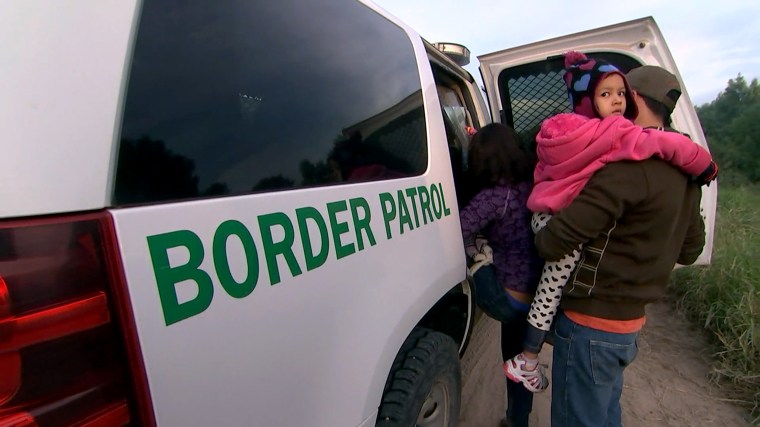 Plus, she added, the wave of migrants is driven more by the increase in gang and drug-related violence in their own countries — not a switch in policy once they arrive.
"It is certainly true that smugglers will use this kind of information to propagandize to try and attract more migration so that they can make more money," she said. "But I think fundamentally, we need to understand that people wouldn't be caught up in this kind of smuggling activity unless they felt a really strong reason why they have to flee their home country to begin with."
Sister Norma Pimentel is the Catholic Charities Director at the Sacred Heart Humanitarian Respite Center in Texas' Rio Grande Valley, which welcomes families once they have been released from detention centers by Border Patrol. The center offers them food and a warm shower.
"They're lured into wanting to leave their hometowns because of how the violence is going on in their countries," Pimentel told NBC News. "It's not safe to be there, they're afraid for their lives, and they find that others are doing the same. So they seem to find it very convenient, well, let's leave here and maybe hopefully somewhere up north may have a better opportunity to live more in safety."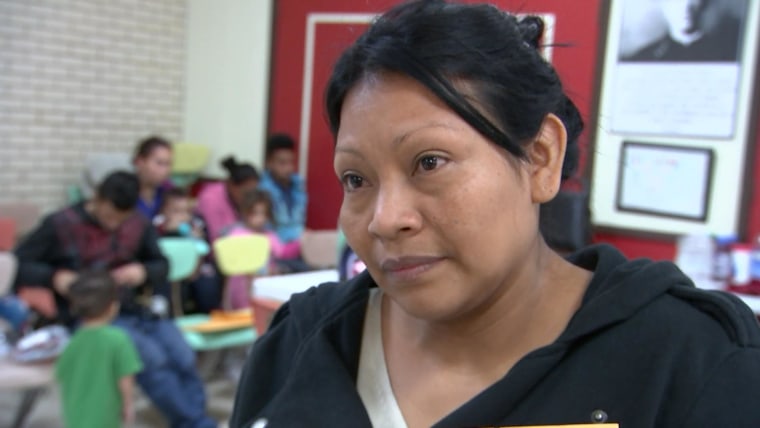 Vilma de Montano, a mother of two teenagers, came from San Ramon, El Salvador, to the U.S. She and her children traveled through harsh terrain and on several buses during their 25-day journey.
She told NBC News she came to the U.S. illegally to meet up with her husband because her children were being forced to sell drugs at school in El Salvador, or else be killed.
"It hurts to leave our country. I love my country," she said.
But, she said, if she and her kids can stay in the U.S., "I think it will be better."