The executive order President Donald Trump signed on Wednesday may put an end to the separation of migrant families, but it raises questions about where newly arriving families will stay and how the 2,300 children already separated will be reunited with their parents.
Family detention centers run by U.S. Immigration and Customs Enforcement have a current capacity of 3,335 beds, according to the latest federal budget allocations. But on average, 420 parents and kids are crossing the U.S.-Mexico border in family groups each day, according to U.S. Customs and Border Protection data obtained by NBC News.
At that rate, the family detention centers will be full within eight days — and an unknown number of those beds are already occupied.
And even if new beds are found, families in the United States who have already been separated are likely to remain so for the time being, according to the Department of Health and Human Services.
There are no plans to reunite families while the adults are in federal custody awaiting court hearings for unlawfully crossing the border, a spokesman for the agency said Wednesday evening.
So for the 2,300 children currently detained under the separation policy, HHS will follow the procedure already in place: finding temporary homes with a relative already in the U.S. or in foster care.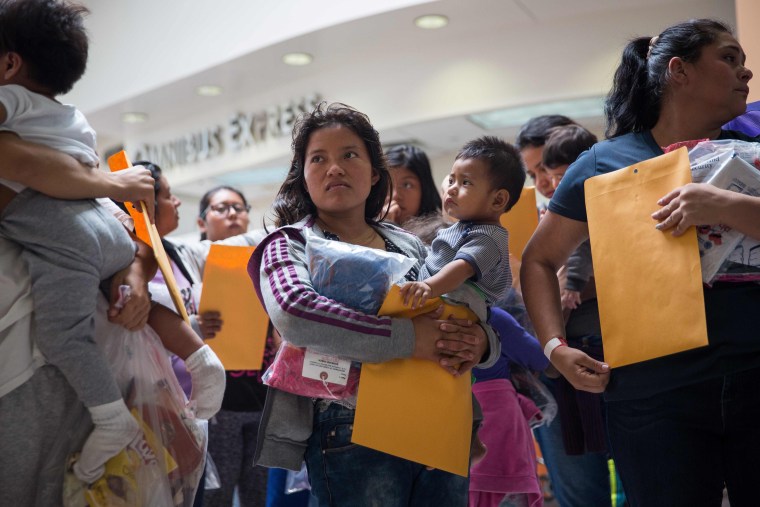 Trump signed the order Wednesday afternoon, halting the family-separation policy his administration instituted earlier this year.
The executive order calls on Attorney General Jeff Sessions to file a request with a federal court in California to modify a 1997 court settlement that sets standards for the government's detention of migrant children, so that migrant families could be detained together through their criminal proceedings for charges of illegal entry and for any other immigration proceedings.
Previously, as a result of that settlement, known as the Flores decision, children could not be detained with their families for more than 20 days. The Trump administration may now try to defy that time limit and hold the families until the parents can have their cases adjudicated, since they will continue to be prosecuted for crossing the border illegally.
"Their plan is to detain families together indefinitely. This is a step up from family separations, but detaining families is not the answer," said Sarah Pierce, a policy analyst at the think tank Migration Policy Institute.
The settlement requires immigration authorities to release children "without unnecessary delay" to a parent, legal guardian or other adult relative, and for those children placed in the least restrictive setting possible.
And in 2015 under the Obama administration, a federal judge ruled that Flores applied to migrant children who came with their parents, not just children who came alone. An appeals court confirmed that decision a year later.
The executive order states that the Justice Department will file a request in federal court to modify the Flores decision to detain families for the duration of their criminal proceedings. It is not clear if they will hold the families longer than 20 days while a ruling is pending.
Denise Gilman, director of the University of Texas Law School immigration clinic, said Trump's plan to detain children and parents facing prosecution for illegally crossing the border "basically throws us right back to the worst days of 2014."
When the Obama administration decided to hold children and families — initially in a facility in Artesia, New Mexico — the detentions were prolonged and families were held in "prisonlike facilities without any real hopes to be released even if they didn't represent any flight risk or danger," Gilman said.
She said they were held as a deterrent to keep other families from coming to the U.S. border. That's when the courts jumped in and found the detention unlawful. At the time, it was "horrifying to see children deprived of their liberty in prison, even though they were with their parents," Gilman said.
If that request is not granted, or until it is, holding families indefinitely in detention will be in conflict with federal court rulings.
After the ruling, children were usually allowed to stay with their parents in shelters while awaiting legal proceedings and eventually were released under close supervision, such as ankle monitoring.
Pierce said that in theory, the Obama administration could have released the children to sponsors and held the parents, but generally parents were released into a supervised release program.
Immigration and Customs Enforcement shuttered a family case management program under the Obama administration that kept asylum-seeking mothers and young children out of detention.
On Wednesday, Immigration rights activists and Democratic lawmakers clamored against an order against detaining families indefinitely.
"The answer isn't to violate the law, to put whole families in indefinite prison. The answer is to make sure there is orderly administration of the law," Rep. Zoe Lofgren, D-Calif., said at an afternoon news conference.
Gilman said the move to ask Sessions to modify Flores echoed previous tactics used in the Obama administration before the rulings.
The Obama administration "tried that in 2014 and the court threw them out," Gilman said. "They tried to claim that circumstances were dramatically different. They aren't different. Border crossings are at historic lows. Yes, they are up from year ago, there are always ebbs and flows."
In 2000, there were 1.6 million unauthorized border crossers and now there are about 400,000, and a high percentage of those are families and children seeking asylum protection, she noted.
"Children can't be locked up and it's a constitutional right for families to remain together," Gilman said.
"The administration is trying to say the law is the law and the administration needs to follow all the laws, including those that protect children against separation and those that protect them against lengthy detention," Gilman said.
Some options to increase space include tent cities like the one recently constructed to hold children without their parents in Tornillo, Texas. However, the price of a tent city is substantially more expensive than a permanent structure, costing the taxpayers $775 per person per night , as opposed to nearly $300 per person per night for families held in permanent detention centers.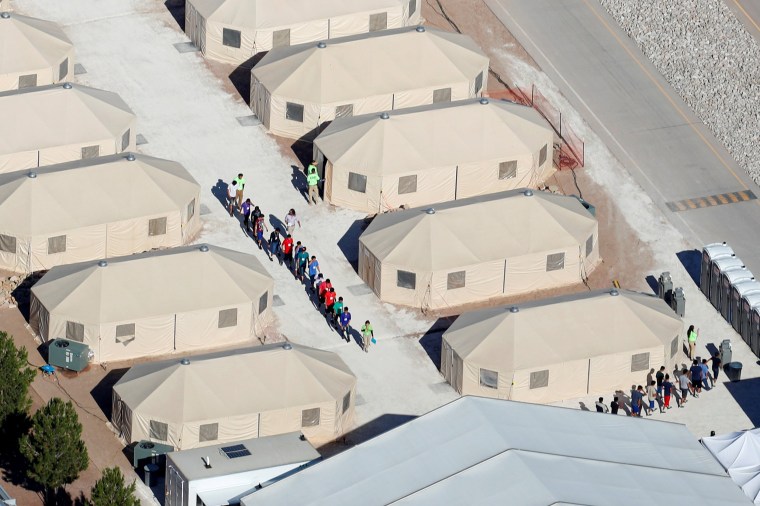 Alternatively, a bill proposed by House Speaker Paul Ryan allocated $6.8 billion to be spent on infrastructure along the border, including family detention centers.
Trump's executive order also states that Sessions will, to the extent that he can, prioritize adjudication of cases involving the detained families.
Speeding up cases automatically brings up concerns about due process, Pierce said — whether the individual is getting enough time to argue cases before a judge and to obtain legal counsel and whether the attorney has enough time to prepare.
Court dockets were rearranged during the Obama administration to give priority to unaccompanied children's cases. But many of them did not get their court notices and children didn't know they had court hearings, she said.
Reunification of already separated children remains unclear, said Lee Gelernt, a lawyer with the American Civil Liberties Union leading the suit calling on the Trump administration to stop taking kids away from their parents.
"Going forward, the issue remains whether they're going to rapidly reunite all the kids that have already been separated," he said, adding the lawsuit also addresses reunification for separated children.
Pierce echoed the sentiment.
"This executive order is silent on what is going to occur to the thousands of families that have already been forcibly separated," she said.
A "robust" plan is needed to reunite the families, but the order "doesn't even touch on that issue," she said.
She said the executive order suggests that the attorney general will argue that the California court ruling on the Flores settlement should be changed because of exigent circumstances. But if the attorney general tries to present the increased apprehensions as the exigent circumstances, he may face difficulty making the argument for the same reasons the Obama administration did, she said.
Gelernt said the ACLU does not believe that a family who passes its initial asylum screening and is not a danger should be detained.
"There's no reason for it and it costs the taxpayers far more money than using some type of supervision method," he said.