CIUDAD JUÁREZ, Mexico —Angélica, a grandmother from Mexico, reached for her granddaughter's hand and moved up the pedestrian walkway on the Paso del Norte International Bridge to the weathered U.S.-Mexico boundary sign that marked the promise of a new life.
In a soft voice, she said, "We'll see if they let us pass."
Angélica, originally from Michoacán, Mexico, was accompanied by a group of journalists and immigrant rights advocates as she traversed the bridge between Juárez and El Paso, Texas, on Wednesday.
Her goal was to get past the Mexican half of the worn, gold-lettered sign that tells passersby where her country ends and the United States begins and to the U.S. station where she could apply for asylum, seeking refuge from violence in Mexico. She spoke to reporters on the condition that her last name and exact age not be used to protect her and her granddaughter.
A checkpoint closer to the U.S.-Mexico boundary
Usually, officers — who are prohibited from crossing into Mexico — wait at a Customs and Border Protection (CBP) inspection station at the bottom of the bridge on the U.S. side and process border crossers and asylum seekers as they come through the official port of entry.
But now, CBP officers, wearing dark blue uniforms and armed, are standing just behind the boundary line on the U.S. side at about the halfway point on the bridge, checking identification as pedestrians cross into the United States.
Migrants and advocates have reported being told by officers at U.S.-Mexican boundaries on the border that facilities had no more room and they had to wait to the side while the pedestrian traffic crosses or return another time.
A month ago, the Trump administration set a goal of prosecuting 100 percent of people who cross the border outside of ports of entry, including asylum seekers. All the while, the administration has been urging people seeking asylum to do so at ports of entry.
"The reason is, they do not want to allow them to put their foot on U.S. territory," said Ruben García, director of a nonprofit called Annunciation House that offers shelter and services for immigrants and has been escorting migrants, including Angélica.
Once a person steps onto U.S. soil, they must be allowed to make an asylum claim under U.S. and international law.
García said he has accompanied 10 to 12 families up the bridge in the last four weeks. There are many that are unable to make their asylum claims, he said. In more than 40 years of advocacy, he had never seen border officers keep asylum seekers from making claims at ports of entry, he said.
No room for asylum seekers
Angélica, who is in her 40s, and her granddaughter had left Michoacán a month ago, fleeing violence that claimed the life of her husband and son and other family members.
This was not her first time asking the U.S. for asylum. She had tried once before in early June only to be met by officers from CBP, a part of the Department of Homeland Security.
"They said they were full and I couldn't pass," she said.
Karla, a mother in her 20s and originally from Zacatecas, Mexico, also was making the attempt to cross. She had her three sons and a daughter with her.
Roger Maier, a CBP spokesman in El Paso, Texas, said the presence of the officers at the boundary line is a proactive approach to make sure travelers have valid identification to enter the U.S.
"Port of entry facilities were not designed to hold hundreds of people at a time who may be seeking asylum," Maier said. "Balancing these demands, keeping illicit goods and people out of the country, and managing the influx of Central Americans seeking asylum (along with everything else we do) requires a careful balance of our resources and space."
After they request asylum, migrants are taken to a processing area where they must be interviewed and asked whether they are afraid to return home. They can be held for several days in cells and caged areas at the processing area until they can be turned over to Immigration and Customs Enforcement or released with ankle bracelets.
The asylum processing is in addition to many other tasks CBP carries out daily. Thousands walk across the steep Paso del Norte International Bridge every year between El Paso, Texas and Juárez, México.
It is one of eleven bridges in Texas connecting the two countries. People move across the bridge every day, in cars or on foot, going from one country to the next for business, shopping, tourism, dining, to visit relatives or other purposes.
Maier said the El Paso Field office processes about 30 million northbound trucks per year. The offices processes 40,000 northbound vehicles, 20,000 northbound pedestrians and 3,600 trucks every day, he said.
Ray Provencio, CBP's Paso del Norte port director, was at the boundary line when Angélica, Karla and their children walked up with García and the journalists following. García explained to Provencio that the two women and their children were fleeing violence in Mexico and were seeking asylum in the United States.
Provencio said he was not discouraging them or anyone from requesting asylum but the port was at capacity.
"As a matter of fact, we are over capacity. Everyone is welcome to wait here," he said.
García rebutted, saying the women had already gone and come back before and needed to make their claim.
"Something has to change to allow people to exercise a right to seek protection for their own life and their children," he said. "This is not going to end."
A spike in Central American asylum claims
Asylum applications by migrants from El Salvador, Guatemala and Honduras, also known as Central America's Northern Triangle, have grown in the last five years. The countries have been racked by crime, drug-related violence, political instability and economic woes.
The number of applications from those three countries soared from 7,723 in 2014 to 25,801 in 2016, according to DHS statistics.
In that time, only 8,848 applicants were granted asylum from those countries, according to DHS.
"From the region, more individuals affirmatively sought asylum in 2014 to 2016 than in the preceding 17 years combined," DHS stated in a report.
The numbers are far lower from Mexico with 455 claims in 2016.
As García continued a back-and-forth discussion with Provencio, the two women and their children waited in the West Texas heat, inches away from the United States.
Angelica rested her head on her arm on a perch overlooking the Rio Grande and Karla sat with her children next to her. A group of 20 waited with them for over an hour.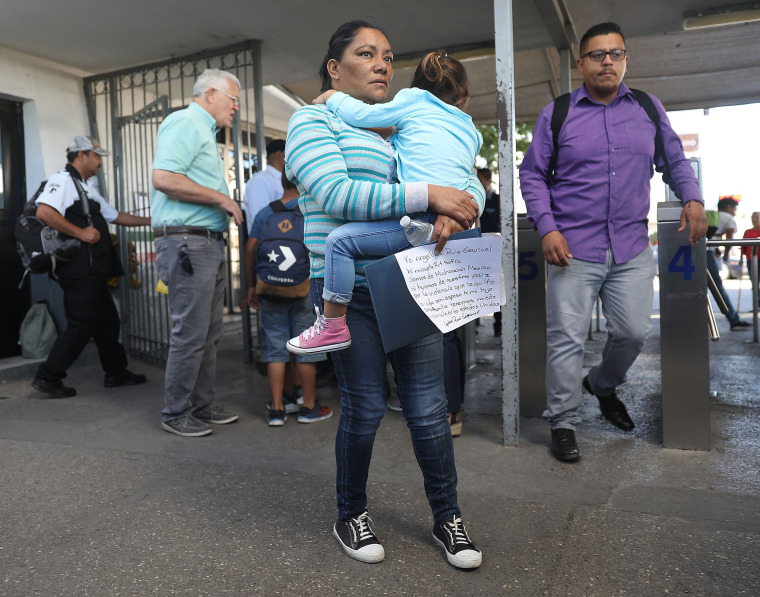 Diana Rodríguez, a coordinator with the Juárez-based Derechos Humanos Integrales en Acción that offers services to migrants, comforted the two mothers and their children.
She told NBC that her organization has seen more migrants come through Juárez in the past year and they're mostly coming from Central America and southern México.
The group has facilities in the Mexican cities of Nogales, across from Nogales, Arizona and Nuevo Laredo across from Laredo, Texas and Tamaulipas, Mexico.
Rodríguez says migrants passing through those facilities have told staff that CBP officers won't let them claim asylum in the U.S. She said she fears that when migrants unable to claim asylum wait in Mexico, they may be targeted by criminal organizations.
"They know where the ports of entry are," she said. "And (they) can identify migrants trying to cross into the United States."
The wait ends
After a little more than an hour, the women prevailed. CBP officers told Garcia the two women could claim asylum at the port of entry.
While walking down the bridge, Garcia put his hand on Angelica's shoulder and for the first time in the morning, she smiled.
NBC News senior writer Suzanne Gamboa contributed from Austin, Texas.