WASHINGTON — In for a penny, in for four pounds of legal weed.
DCMJ, an advocacy organization that helped pass the marijuana legalization law in D.C., plans to "smoke out" Donald Trump's inauguration on Jan. 20 by passing out at least 4,200 marijuana cigarettes, or joints, near Dupont Circle. They then plan to march toward the National Mall and light up at exactly four minutes and 20 seconds into the president-elect's speech, protesting both the new president and his pick for attorney general, Sen. Jeff Sessions.
In order to pull it off, the group turned its offices near Embassy Row into a hub of activity. Volunteers have spent weeks clustered around a large kitchen table, rolling thousands of joints.
Adam Eidinger, the group's leader and a longtime D.C. activist who has been arrested 19 times for various protests, said the group started planning as soon as Trump announced Sessions as his pick for attorney general. They worry that the incoming administration will roll back the legalization laws that they've fought for and passed across the country.
The Alabama senator has been a harsh critic of marijuana users and outspoken against legalization efforts.
"Good people don't smoke marijuana," Sessions said during an April 2016 Senate drug hearing.
Trump himself has expressed contradictory views on the matter.
He said he supported individual states deciding on the issue during an October 2015 campaign rally.
"In terms of marijuana and legalization, I think that should be a state issue, state-by-state," Trump said.
But then Trump backtracked. In a February 2016 interview with Fox News host Bill O'Reilly, Trump stated that legal pot should not be supported because he believes it is causing problems in Colorado, where it is legal to use recreationally.
Though Trump might be unclear about his support, the electorate wasn't. Eight marijuana state legalization initiatives passed on Election Day in November.
And the legal weed industry grew 30 percent last year, according to Arcview Market Research. If the new administration doesn't change anything, the marijuana market is slated to grow 25 percent per year and will be worth more than $20 billion by 2021, according to the group.
Eidinger came around to the idea of a mass giveaway because he wanted to elicit a reaction from the incoming administration. But since announcing their plan, Trump's team has been silent.
Related: What Will a Trump Administration Do About Marijuana Legalization?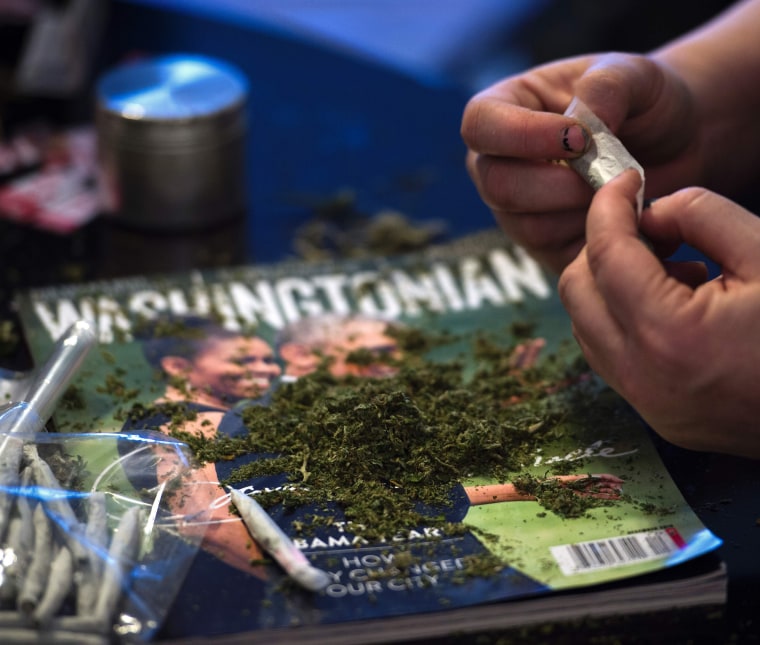 "What I'm hoping, what I have my fingers crossed for, is that Donald Trump will reach out to us," Eidinger said inside his home that doubles as the DCMJ office. "I'm hoping that Donald Trump will reach out to me personally and invite me up and the leaders of the major marijuana groups up to Trump Tower and have a green panel and ask us what we want to see happen."
The morning of the inauguration, Eidinger and his more than 200 volunteers will drive out to Dupont Circle in Washington, D.C. and park Eidinger's Jeep. As long as they're not stopped, they will then set up a folding table and create two lines: one for the joint givers and another for joint takers. From 8 a.m. to 10 a.m., all of the marijuana will be shared freely.
Volunteers will check IDs to ensure that everyone complies with the law. More than 40 people will be required to carry the marijuana to the folding table to adhere to D.C. law's, as individuals are only allowed to carry two ounces of marijuana at a time.
DCMJ protesters will then march from the circle to the National Mall, handing out joints along the way. At the appointed time, those who are keen will light up. The number 420 is a well-recognized code for marijuana, as well as a time stamp for when smokers often partake.
Related: With Trump in White House, Criminal Justice Reformers Will Look Elsewhere
Eidinger doesn't see the scheme going through without interruption, believing that law enforcement wouldn't allow a group of people to smoke marijuana on federal property intentionally. But he said he would support those who were willing to try.
"Anyone who is arrested on the mall, if they get a fine or have legal costs, I'm willing to pay that for them," Eidinger said, adding that he'd want to share their story.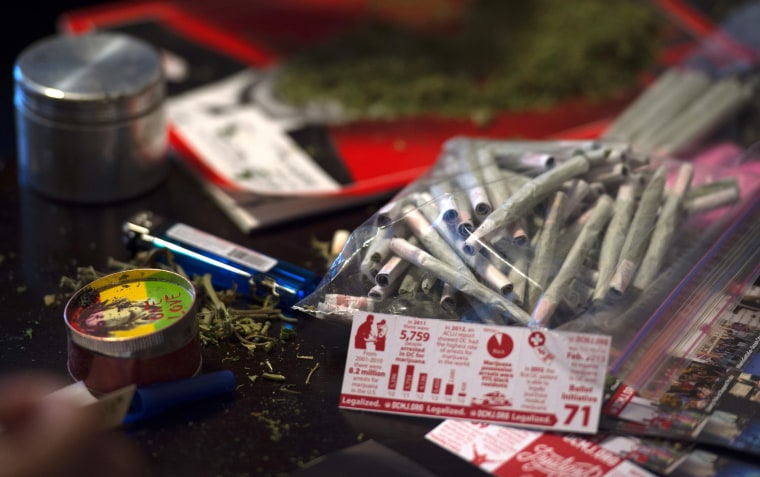 At a press conference in preparation of the inauguration, Washington, D.C. Mayor Muriel Bowser said arresting individuals for smoking pot "wouldn't be our first priority."
It remains to be seen how other security forces might react. More than 3,200 police officers are expected at the inauguration, some coming from outside of the D.C. metropolitan area.
DCMJ said it is also fine if people accept the marijuana and don't participate.
"It's for the Trump era," Eidinger explained. "The Trump era is beginning that day. Four minutes and 20 seconds in, you'll know what your other marijuana friends are doing at that moment — they'll all be blazing.
"We're going to watch his speech high, and I think that's a good thing."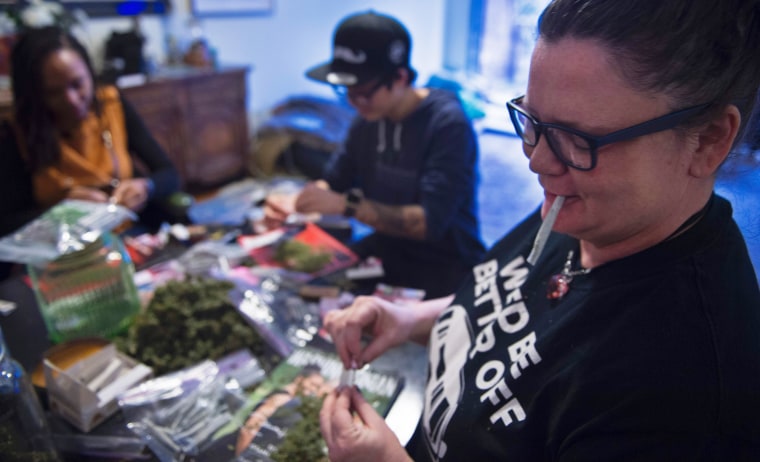 Nevertheless, it's a long road before they're prepared. Just days ahead of show time, DCMJ's kitchen table was still covered with copies of old newspapers while the volunteers ground up weed to pack within translucent rolling papers.
"It's been overwhelming to see the generosity of people coming forth and willing to give to this cause," said RachelRamone Donlan with a pile of pungent green plant matter in front of her. Donlan came down from Boston to help organize the event.
"It's pretty cool," she said.
Multiple groups beyond DCMJ are contributing to the total number of joints, which is rising high above 4,200.
Of the four pounds needed to make the original goal of 4,200 joints, Eidinger has donated two. He said if that weed were to be sold legally in Colorado, it would be worth $5,000 to $6,500 per pound.
Eidinger said the point of the protest is to show that marijuana smokers are there and shouldn't be ignored. The smell alone is a statement.
Though DCMJ was able to meet with Sen. Sessions' communications director Chris Jackson, the group is still worried that the Alabama senator will come after them once he assumes office as the government's chief law enforcement officer. They have had a large presence at all of Sessions' hearings.
"Everything from potentially leaving the country to opening up legal dispensaries are in my mind for the future, but it's so uncertain," Eidinger said. "I'm hopeful we'll be able to work with this administration or they'll want to work with us."
Nevertheless, he provided a word of warning: Marijuana smokers wouldn't disappear without a fight.
"There will be a lot more protests if they come after us," he said. "Maybe we'll have to start smoking inside of congressional hearings."