What does the federal government want to do with records on everyone who visited an anti-Trump website?
On its face, the Justice Department's demand is part of the ongoing case against people who allegedly broke laws while protesting President Trump's Jan. 20 inauguration in Washington.
Prosecutors say the website, DisruptJ20.org, was used to organize "a violent riot."
The U.S. Attorney's Office in Washington D.C., which is pursuing the charges against dozens of defendants in local court, points out that the warrant has already been approved by a judge who reviewed the government's reasons ─ outlined in an affidavit that is sealed from public view ─ and agreed there was probable cause the data contained evidence of crimes.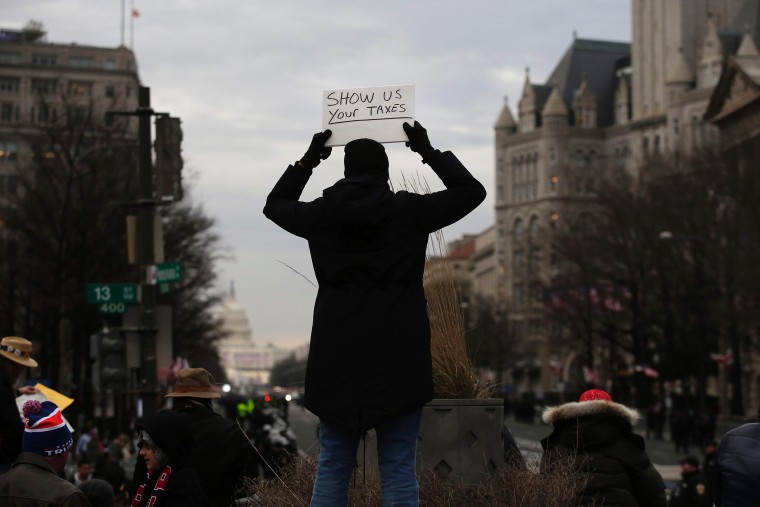 But the target of the search warrant, a web-hosting company that has already provided information about the people who registered for the site, says the feds have gone too far by seeking IP addresses for anyone who entered the site.
Both sides will soon face each other in court; a hearing originally planned for Friday is being rescheduled.
The website's legal representatives could not be reached for comment but, on Tuesday, the DisruptJ20.org website sought funds for their legal battle, inviting supporters to donate to a Pay Pal account for the "Dead City Legal Posse."
Related: More Than 100 Inauguration Day Protesters Indicted on Rioting Charges
The requested data would include people who clicked on DisruptJ20.org but weren't involved in the Jan. 20 protests at all, said Christopher Ghazarian, general counsel for DreamHost, the web-hosting company.
The company says the warrant violates users' free speech rights and constitutional protections against unreasonable searches, as well as privacy laws.
"We are holding information about these people that should not be gathered by the Department of Justice," Ghazarian told NBC News. "In this case, it's extremely scary because there's really no link between the two, and if we were to hand this information over, someone could be identified by political affiliation based on how often someone visits the website and what content they use."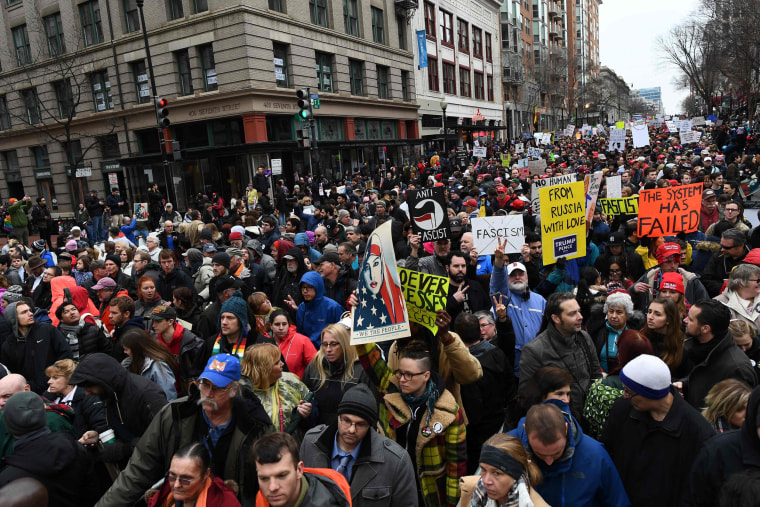 The government, in turn, could use that activity against the person, he said. That, he said, could have a chilling effect on people who want to visit websites with viewpoints that differ from the administration's.
Jennifer Daskal, an associate professor at American University Washington College of Law who used to work on national security issues in the Justice Department, agreed.
The government's prosecution of Jan. 20 protesters is troubling enough, Daskal said, "but this warrant is seeking data about a whole host of individuals who have not been criminally charged and for whom there doesn't appear to be any legitimate basis for investigating, other than the fact that they accessed a website where the protests originated from."
The government's plan, she said, seemed to be to "build a map of everyone who might have been there" and connecting them with information gleaned from other evidence.
"But that borders on a fishing expedition," said Daskal.
A spokesman for the U.S. Attorney's office in Washington D.C. declined to comment on the case, referring instead to the government's latest court filing. In it, government lawyers argued that they are keeping its investigation focused on the violent protests.
Robert Cattanach, a former lawyer in the Justice Department's civil division with an expertise in cybersecurity, said the loads of "raw data" sought by the government is "too unmanageable to be useful" and was likely a first step in an attempt to ultimately identify protesters.
It is common for prosecutors to develop searches in two stages, first obtaining electronic records, and then scouring that data for the evidence of the crime itself.
But Cattanach said he was skeptical that the data would be used only for that.
"Is the purpose of this to prosecute people who committed violence on inauguration day? That may be a collateral benefit. I think they've cast too broad a net for it to be just that."
Stephanie Lacambra, an attorney with the Electronic Frontier Foundation, which advocates for digital privacy and advised DreamHost early in the case, believes that the company "did the right thing in standing up for its users."
DreamHost, she said, is part of a years-long backlash by technology companies against the government's collection of consumer data, an issue exposed by former NSA contractor Edward Snowden, who leaked documents showing how the agency secretly breached company networks.
She added: "If a government is allowed to just log everyone who logs into a particular website, you can see how it could become a tool toward a totalitarian type regime where any dissenters can be identified and chilled into silence."