Hours after President Donald Trump took the oath of office, retired Gen. James Mattis was sworn in to run the Pentagon and Gen. John Kelly took a similar pledge to run the Department of Homeland Security.
"Every action we take will be designed to ensure our military is ready to fight today and in the future. Recognizing that no nation is secure without friends, we will work with the State Department to strengthen our alliances," Mattis said in a statement after he was sworn in.
RELATED: Everyone In Donald Trump's Cabinet
"Further, we are devoted to gaining full value from every taxpayer dollar spent on defense, thereby earning the trust of Congress and the American people," he said.
The Senate easily confirmed Trump's two cabinet nominees just a few hours after his own swearing in on the West Front of the U.S. Capitol.
Mattis was confirmed as defense secretary by a vote of 98-1. Kelly, another retired general, was confirmed by a vote of 88 - 11.
Only Democrats voted against Kelly and some opposed, including freshman Sen. Catherine Cortez Masto of Nevada because of concern over immigration. Sen. Kirsten Gillibrand of New York, who has opposed permitting a recently retired general to take a civilian leadership post, was the lone no vote on Mattis. His confirmation could only happen after Congress gave him an exception to serve in the post.
The head of the Defense Department must be a civilian and the general had not been retired from the military for at least seven years.
One of Trump's first acts as president was to sign a waiver allowing Mattis to serve in the post. And, after Trump signed the commissions for both retired generals, Vice President Mike Pence took the men into an office to administer the oath of office.
In a statement, Trump said he was "pleased" that Mattis and Kelly were confirmed.
And he urged the Senate to move forward on the rest of his picks.
"I call on members of the Senate to fulfill their constitutional obligation and swiftly confirm the remainder of my highly qualified cabinet nominees, so that we can get to work on behalf of the American people without further delay," he said.
Republicans say that two nominees aren't enough on day one, however.
They compare Friday's actions to that of eight years ago when a new President Barack Obama entered office and had seven nominees confirmed by the end of his first day. (One, Defense Secretary Robert Gates, was held over from the George W. Bush administration.)
Republicans had hoped to also vote on the confirmation Rep. Mike Pompeo to be CIA director, but at least three Democrats objected to holding the vote. They wanted more debate on the nominee, pushing the vote until Monday.
"No CIA Director in history has ever been confirmed on Inauguration Day. The importance of the position of CIA Director, especially in these dangerous times, demands that the nomination be thoroughly vetted, questioned and debated," Senators Ron Wyden of Orgeon, Richard Blumenthal of Connecticut, and Patrick Leahy of Vermont said in a statement.
Senate Majority Leader Mitch McConnell said that the Democrats are playing a dangerous game.
"It's critical for the president to have a full national security team today, day one," he said.
"Earlier today the director and deputy director of the CIA resigned. They left; they're gone. The director's job is open and unfilled. We need to confirm a new director today," McConnell added.
Democrats point out that a new President Barack Obama asked Preisdent Bush's CIA director to stay on until his nominee, Leon Panetta, was confirmed.
But Trump has made no such request and the CIA will be without a director at least until Monday.
Trump will enter his first full day in the White House with fewer confirmed Cabinet secretaries than any incoming administration since George H.W. Bush's.
Despite the pomp and circumstance and lawmakers' vocal celebration of a peaceful transition of power after one of the most divisive elections in modern history, the polarized electorate is on display in Washington.
Trump, who did not mention health care in his inaugural speech, signed an executive order Friday directing federal agencies to "ease the burden" of Obamacare. White House Press Secretary Sean Spicer did not give reporters additional details on the nature of the order.
Chief of Staff Reince Priebus, under Trump's direction, will send a memo to agencies on an immediate regulatory freeze.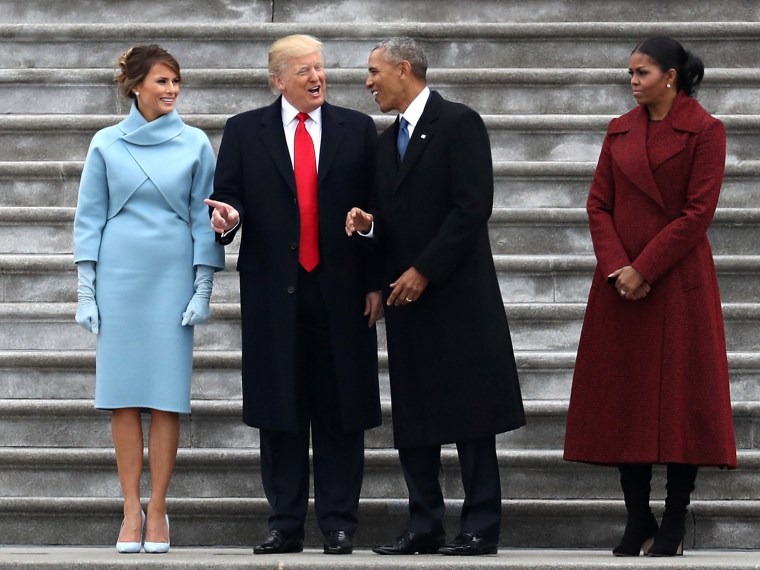 At a bipartisan luncheon after the inauguration honoring Trump, former presidents, former presidential candidates, former leaders of Congress and current members of Congress mingled at a carefully orchestrated seating at tables of eight made up of both Republicans and Democrats. About 200 attendees dined on lobster in saffron sauce and Angus steak with dark chocolate and juniper jus. The mood from the balcony seemed jovial, but tough conversations were had.
A person familiar with the conversation said that Sen. Chuck Schumer, D-New York, who sat at the head table with Trump, told Trump that his cabinet nominees are too extreme. Schumer pointed to Rep. Mick Mulvaney, a tea party Republican nominated to be director of the Office of Management and Budget, and Rep. Tom Price to lead the Department of Health and Human Services.
Former presidential candidate Hillary Clinton attended the luncheon with her husband, former President Bill Clinton. Upon entering, the former secretary of State was surrounded by a gaggle of people, both Republican and Democrat, wanting to shake her hand, give her a hug and take her picture.
Sen. Bernie Sanders, D-Vermont, Clinton's challenger in the primary, waited in the periphery until he made his way to her. She shook his hand briefly and turned to his wife where she held her gaze for a few moments longer. Clinton then quickly moved on.
Trump gave brief remarks at the end of the lunch that were much more unifying than what he said in his inaugural address. In the luncheon, Trump acknowledged, and even praised, Clinton, allowing the attendees of dignitaries give her a standing ovation.
Kellyanne Conway, one of Trump's top advisers, sat at a donor table with Republican megadonors. Sheldon Adelson and Tom Barrack, who raised $90 million for the inauguration and also started a super PAC supporting Trump during the election, sat with Conway.