The protesters seemed polite at first.
"Please move," one of them told limo driver Luis Villarroel as he stepped out of a stretch Lincoln at 12th and K streets. He'd just dropped off clients headed to President Trump's inauguration, and was looking for a spot to wait for the return trip.
Before he could do anything, things turned ugly.
Related: More Than 200 Arrested in D.C. Protests on Inauguration Day
Several people began pounding on the car. Villarroel, who is 58 and has driven trucks and limos for a quarter century, said he asked them to stop.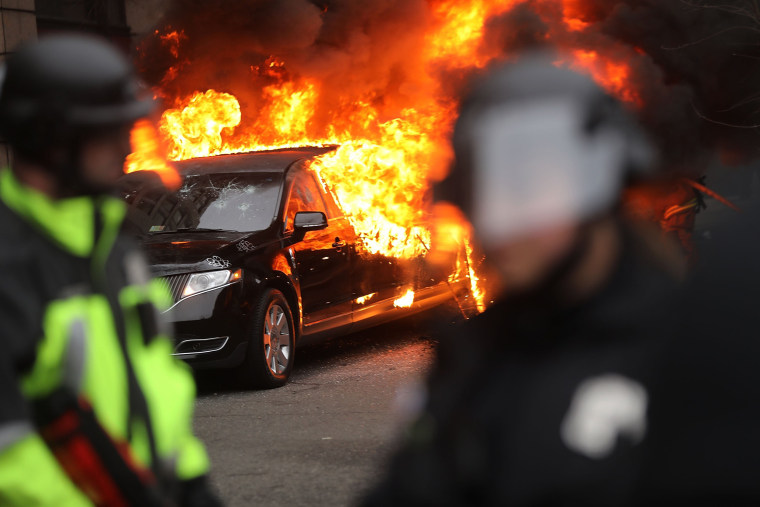 With that, they turned on him.
Random objects rained down. A sandwich. A half of a brick. Something cut his hand.
"These kids, mostly they were kids, you couldn't see their faces but you could tell they were young," Villarroel recalled later. "I think they think that the limo represents people who are rich and use the limo."
He watched someone throw a flare into the car. He stamped out the flames with his shoes.
Then police came, releasing pepper spray and flash grenades. They told him to get out of there.
Before he left, Villarroel saw the crowd jumping on the limo. Then he saw the car catch fire.
Later, he saw footage of it burning on TV. Police and witnesses said windows of businesses were also smashed, and bricks were thrown at police during the day of protests that roiled the nation's capital.
He called his employer, who sent a replacement limo to ferry his clients home again.
"I had a bad experience today, but I am still alive," the married father of one said.
As for the protesters, Villarroel had a clear message: "They have the right to protest but they don't have the right to destroy things."