A Trump administration official on Sunday responded to the Women's March demonstrations, condemning the alleged banning of anti-abortion groups from participating and taking aim at comments made by Madonna.
In the first comment about the march out of the White House, a Trump administration official told NBC News: "It's a shame that the March for Life, which estimates the same number of marchers in DC (650,000 in 2013) and will be happening next Friday, will not get anywhere near the same amount of coverage that this march got – and those pro-life members were NOT welcome at the Women's March."
The response claimed that the Women's March organizers had "revoked partnership status" from anti-abortion groups.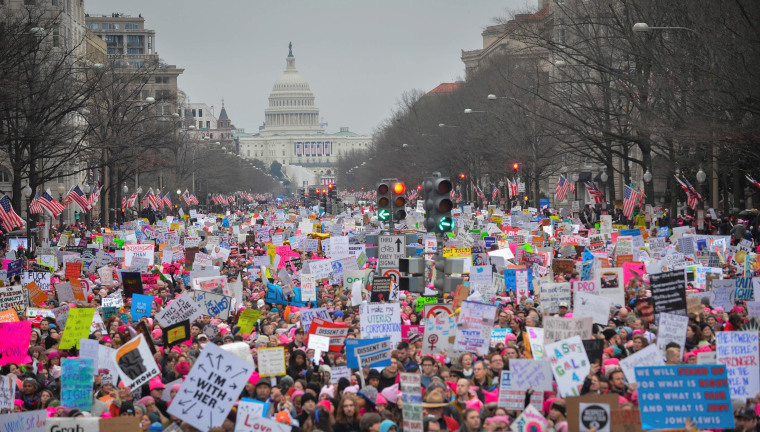 In addition, the official condemned Madonna, one of the celebrities who spoke at the march in Washington D.C., for saying that she had thought about blowing up the White House.
"Comments like these are absolutely unacceptable and had they been said about President Obama, the mainstream media would be in an uproar. The Trump administration welcomes a robust discussion regarding the critical issues facing America's women and families," the official added.
Related: Women's Marches Held Around the World in Solidarity With D.C. Demonstration
The comments were the first administration officials had made about the demonstrations. White House Press Secretary Sean Spicer ignored questions about the marches shouted by reporters during a press statement on Saturday.
Trump weighed in on the controversy on his personal Twitter account early Sunday, railing against unspecified celebrities, and accusing protesters of not having voted.
In a subsequent tweet, he added: "Peaceful protests are a hallmark of our democracy. Even if I don't always agree, I recognize the rights of people to express their views."
Organizers said an estimated 3 million people worldwide took part in Women's March demonstrations on Saturday. In addition to demonstrations in dozens of U.S. cities, significant marches also took place in London, Berlin and Tokyo.
Early Sunday, Trump also used his Twitter account to comment on the previous day's visit to CIA headquarters. The president described the meeting as "great," adding that he had "paid great respect to Wall," a reference to the agency's memorial wall. Former CIA Director John Brennan blasted Trump Saturday for "a despicable display of self-aggrandizement" in front of the memorial, according to a former Brennan aide.
Related: Ex-CIA Boss Brennan, Others Rip Trump Speech in Front of Memorial
The administration's reaction to the demonstrations came after a combative day with the national media. Trump used his speech Saturday to CIA staffers to condemn the "dishonest media," which he alleged was underestimating the size of the crowd who attended his inauguration.
Spicer also railed against the media Saturday, claiming during a press statement from the White House that media outlets had engaged in "false reporting" around the size of those who attended Trump's inauguration. He offered no evidence to substantiate the allegation.