President Donald Trump hours after he was sworn in to the highest office in the nation signed an executive order aimed at "minimizing the economic burden" of Obamacare "pending repeal."
The executive order was Trump's first since becoming the 45th president of the United States. The order says that "It is the policy of my Administration to seek the prompt repeal" of the law.
It orders that the Secretary of Health and Human Services and others to "exercise all authority and discretion available to them to waive, defer, grant exemptions from, or delay" any requirement of Obamacare that would impose a fiscal burden.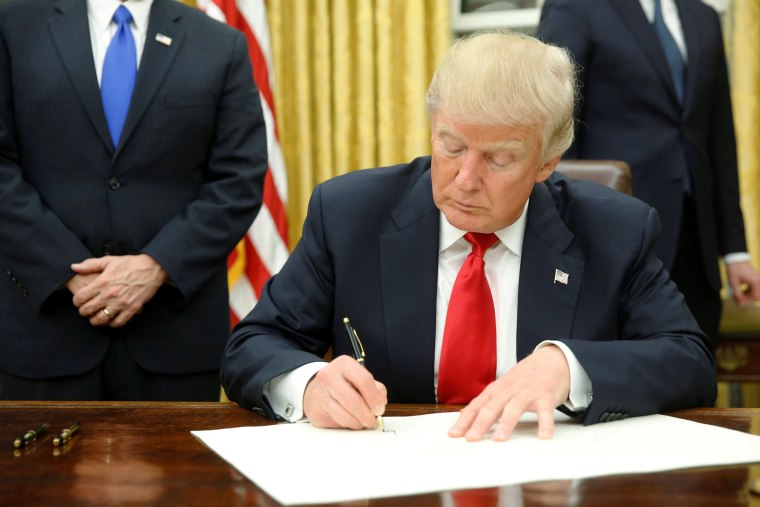 Related: Five Obamacare Provisions Trump Could Change Right Away
The order also directs agencies to give greater flexibility to states in implementing the health care law. It says the policy of the Trump administration is to "prepare to afford the States more flexibility and control to create a more free and open healthcare market."
The president can't repeal the health care law himself, but Trump and other Republicans have vowed to repeal and replace the Affordable Care Act, which is widely known as Obamacare. Republicans in the House and Senate last week signed bills to complete the first step to repeal the law.
Related: Obamacare Repeal Would Leave 18 Million Uninsured, Report Says
Also Friday, Trump's chief of staff Reince Preibus also sent a memo Friday ordering that some pending federal regulations be frozen so Trump or others in the administration can review them.
In addition to the executive order, Trump on Friday signed commissions for retired Gen. James Mattis as Defense Secretary and Gen. John Kelly to run the Department of Homeland Security, after both were easily confirmed by the Senate. Trump has nominated Georgia Rep. Tom Price as as Health and Human Services Secretary.