WASHINGTON — Brandishing signs reading "The future is female" and "Make America kind again," tens of thousands of marchers turned streets near the National Mall into a sea of pink hats and homemade signs Saturday, raising their voices in support of gender equality.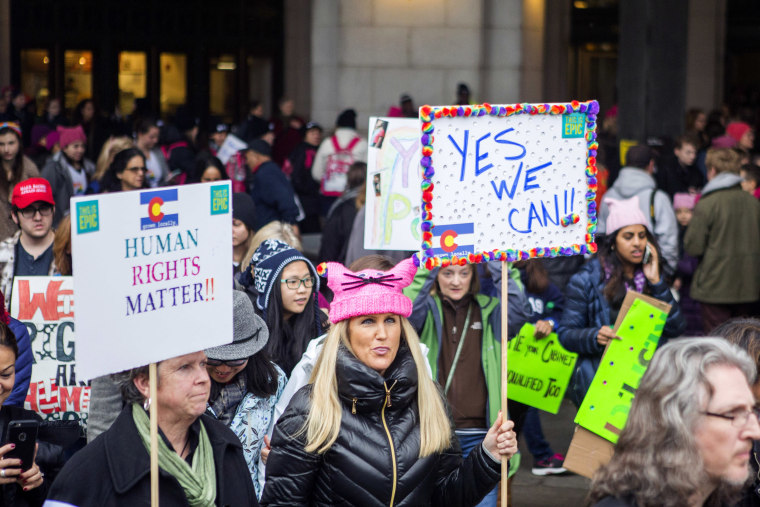 As Donald Trump attended a prayer service at the Washington National Cathedral on his first full day as president, demonstrators from across the country descended on D.C., arriving in buses, caravans and packing public transportation to gather near the National Mall and hear from prominent women's rights activists, lawmakers and celebrities. A slow-moving procession began Saturday afternoon along Constitution Avenue toward the Washington Monument, and planned to end near the White House.
Organizers say the Women's March on Washington was intentionally scheduled for the day after the presidential inauguration with the aim of sending a powerful message to the newly minted administration: Women's rights are human rights.
Related: Women's March Draws Supporters From America's Heartland
There was not a Trump supporter in sight around his hotel on Pennsylvania Avenue, as demonstrators posed for pictures in front of the barricades that surrounded the entrance. The mood was more festive than angry, with signs and chants that prized wittiness over confrontation.
Many people wore knitted pink hats with cat ears referred to as "pussy hats" — a symbol for the march and a wink to a past Trump remark.
"We march today for the moral core of this nation, against which our new president is waging a war," actress America Ferrera told the crowd. "Our dignity, our character, our rights have all been under attack and a platform of hate and division assumed power yesterday. But the president is not America. ... We are America and we are here to stay."
As the Washington march was expected to draw as many as 200,000 people, cities across the country and the world, from San Diego to Sydney, Australia, saw similar robust gatherings — a point made by the event's honorary co-chair and feminist icon Gloria Steinem.
"I was just talking to people from our many sister marches, including the one in Berlin, and they asked me to send a special message: 'We in Berlin know that walls don't work,'" Steinem said to applause, referencing Trump's pledge to build a wall along the U.S. border with Mexico.
For Trump, whose presidential campaign was dogged by past allegations against him of sexual harassment, Steinem had more pointed advice: "A Twitter finger must not become a trigger finger."
While the march comes in response to Trump assuming the power of the Oval Office, it is also a warning that he will be challenged over the next four years, some demonstrators said.
"I wouldn't call it an anti-Trump march, I would call it a 'We are watching you, Trump' kind of march," said Ayesha Ahmed, who came from Chicago with the Muslim Women's Alliance.
The march also attracted significant support from celebrities, with actresses Scarlett Johansson and Ashley Judd and singers Alicia Keys and Madonna speaking to the crowd. Performers included Janelle Monaé, Maxwell and the Indigo Girls.
Dr. Trinka Coster, a retired Army colonel, said she was marching because she wants all Americans to get the same "socialized medicine" that soldiers and veterans get. "I'm just glad I retired in July," she said of Trump's elevation to commander in chief.
Gallery: Pride and Fury: Supporters and Protesters at Trump Inauguration
Romaine Mills-Teque, who is African-American, rode down from Boston with her daughter, Brianna. "I didn't think I'd have to do this for my daughter because my mother and grandmother marched fought for civil rights and women rights for me," she said. "But I will continue to do it until the right is wronged."
"It's the most powerful experience I think I've ever had in my life," she said, surrounded by thousands of like-minded women.
Roschelle Weeks had a similar sentiment. "I'll remember this. I'll make sure my grandbabies hear about this," she said as she nudged her daughter with a laugh.
Many marching said they haven't been politically involved in the past, but the nature of this election awakened their civic activism. They said they're concerned about the gender pay gap, access to Planned Parenthood and health care services, and equal rights.
"It made me realize that the things I thought were enough to focus on, which I had been focusing on my life to that point ... were not enough at all," said Traci Feit Love, an attorney who started the Lawyers for Good Government Group after the November election.
Grandmother Mary Hornig, 58, arrived from Aldie, Virginia, with three family members. "That's why I'm here," she said in reference to her grandchildren. "For the future. Now and the future."
She recognized that Trump might not listen to their message, but added, "I'm hoping some of the other Republicans might."
Mark Dunham, of Beacon, New York, held a sign with his wife, Kary, that read, "Human rights = women's rights." The pair cheered on as filmmaker Michael Moore, an outspoken critic of Trump's policies, spoke to the crowd and said the "old guard of the Democratic Party has to go."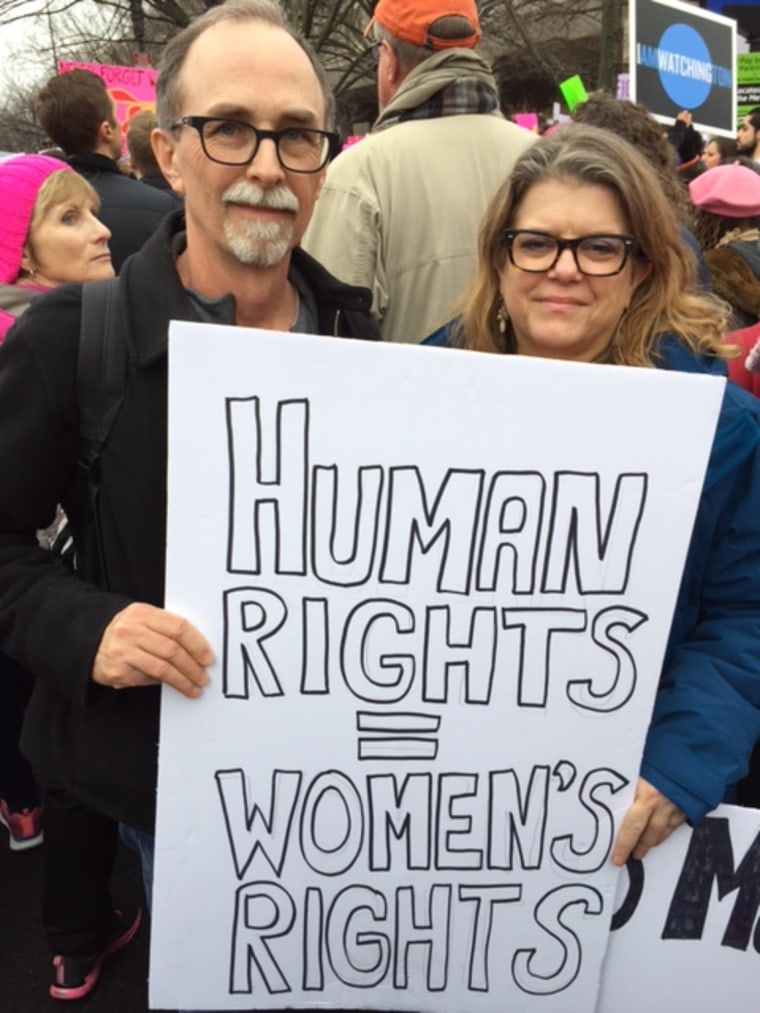 "I think it's awesome," Kary Dunham, 50, said of the many men also in attendance. "I didn't doubt there would be so many men. They're not all crazy, misogynist pigs."
Rose Wurm of Hagerstown, Maryland, said she was determined to show her support in person.
The 64-year-old retired medical secretary from Bedford, Pennsylvania, carried two signs. One asked Trump to stop tweeting and the other asked him to fix former President Barack Obama's health care law, rather than get rid of it.
Related: Women's March Marked by Brash, Funny Signage Raised High
Wurm was riding one of the roughly 1,800 buses that had registered to park in Washington on Saturday — translating to nearly 100,000 people coming for the march just by bus.
One company had buses coming from more than 200 cities in 26 states.
At New York City's Penn Station, about 200 to 300 women gathered before dawn to board an Amtrak train to the capital. "If you think we were nasty before, just you wait," read one handmade sign, alluding to Trump sniping at rival Hillary Clinton as a "nasty woman" during a presidential debate.
The march began as the brainchild of a retired attorney in Hawaii who wanted to organize a small demonstration with a few friends following the election. The idea went viral and quickly became a global movement with more than 600 "sister marches" taking place around the world.
Marchers have mobilized in U.S. cities, from Boston to Philadelphia to New York City.
"It's become a global movement, an outlet, inspiring people all over the world to fight for equality and social justice," said Tina Cassidy, one of the organizers of the sister marches. "Women everywhere are standing up."