Iran's president on Sunday hailed a nuclear deal that led to the lifting of international sanctions as a "golden page" in his nation's history and a turning point for its economy.
International sanctions on Iran were lifted Saturday after the United Nations nuclear agency declared Tehran had fulfilled its commitment to scale back its nuclear program.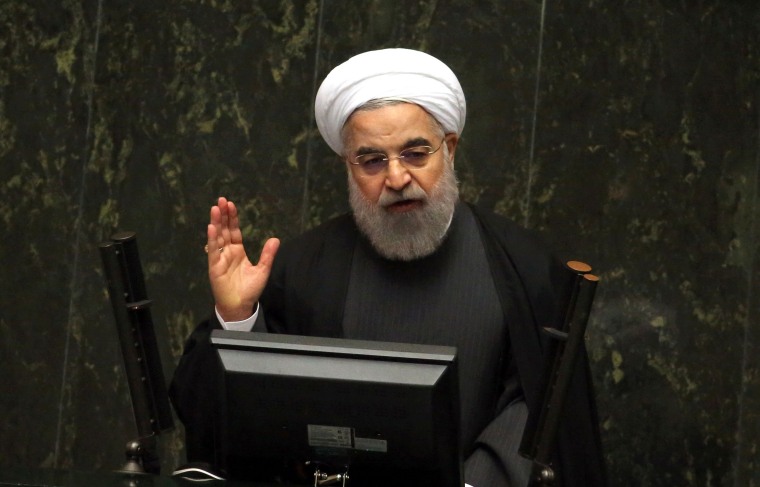 President Hassan Rouhani told Parliament on Sunday that the deal was a "golden page" in Iranian history which has "opened new windows for engagement with the world."
"The nuclear deal is an opportunity that we should use to develop the country, improve the welfare of the nation, and create stability and security in the region," Rouhani said, according to Reuters.
The only people unhappy with the deal, he added, were "warmongers" and "Zionists" — an apparent reference to Israel.
Israel repeatedly warned against the deal and on Sunday Prime Minister Benjamin Netanyahu renewed his critique.
"Even after the signing of the nuclear agreement, Iran has not relinquished its aspiration to obtain nuclear weapons and it will continue to undermine stability in the Middle East and spread terrorism around the world while violating its international obligations," he said in a statement.
U.S. Secretary of State John Kerry acknowledged the deal does not erase all concerns about Iran, saying Saturday that the U.S. "will ... remain vigilant in verifying Iran's compliance."
Still, he praised the deal — which called for Iran to curb its nuclear program in exchange for a lifting of crippling sanctions — as a landmark achievement for the region and diplomacy.
"We have achieved a critical and auspicious milestone," Kerry said.
The announcement that the sanctions would be lifted came hours after a deal between the two countries was reached that will result in the release of four Americans held by Iran, including Washington Post reporter Jason Rezaian.
Rezaian had been held for more than 500 days. The U.S. will offer clemency or pardons to seven Iranians either convicted or facing criminal charges in the U.S. Kerry said the prisoner exchange and the nuke deal were not directly related.
A fifth American held by Iran, student and writer Matthew Trevithick, was released separately from the other Americans Saturday, his family said. He departed Iran Saturday, an Obama administration official said.