TEHRAN — Iran's supreme leader appeared to reject some of the West's key demands in nuclear negotiations with just a week to go before the deadline for a deal, and drew new "red lines" that could throw a further wrench in talks.
Ayatollah Khamenei, who has the final say on the future of Iran's nuclear program, said the sanctions on his country should be lifted immediately as soon as any deal is signed.
His comments — in a speech on state television Tuesday night — appeared to go against the framework agreement reached by Iran and the six nations, known as the P5+1, in April. That framework said sanctions would be gradually phased out based on Iran's compliance with any deal.
"All financial and economic sanctions imposed by the U.N. Security Council, the U.S. Congress or the U.S. government should be lifted immediately when we sign a nuclear agreement," Khamenei said in his speech just days ahead of the final June 30 deadline for negotiations.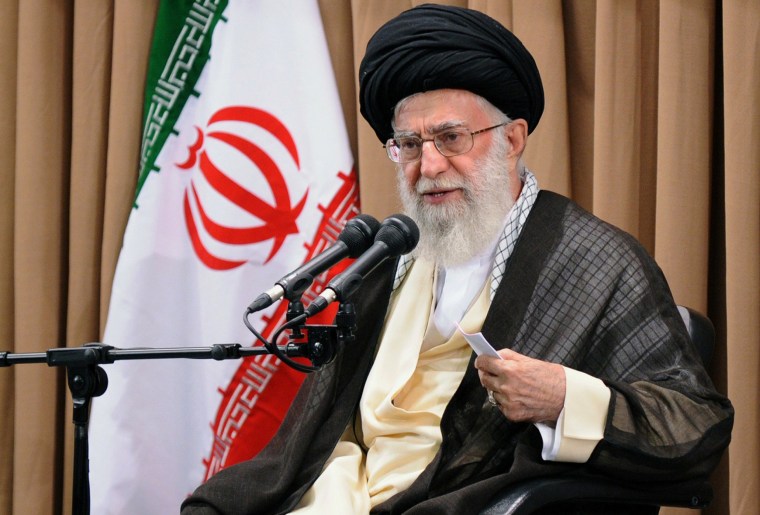 He also said "inspection of our military sites is out of the question and is one of our red lines," and added that freezing Iranian research and development "for a long time, like 10 or 12 years, is not acceptable."
The P5+1 powers — the United States, United Kingdom, Germany, France, Russia, and China — want the International Atomic Energy Agency to have access to Iran's military sites, such as the Parchin complex 20 miles southeast of Tehran, because they are suspicious nuclear activity has taken place there in the past.
The Western powers want to curb Iran's nuclear program with inspections, verifications and written guarantees from Iran, resulting in consequences if Iran does not hold up its end of the bargain.
Iran has long emphasized the need for sanctions to be lifted as its economy has suffered under the restrictions.