Presidential candidate Mike Huckabee called the Iran deal "idiotic," and likened it to events of the Holocaust, saying that President Barack Obama will ultimately "take the Israelis and march them to the door of the oven."
The Republican and former governor of Arkansas, who has been vocal about his disdain for a deal with Iran and has a history of citing the mass genocide of Jews by the Nazis in his debates, made the comments in an interview on Saturday.
Obama responded to the comments Monday morning, deriding Huckabee's arguments as "ridiculous" at a news conference in Ethiopia.
The comments are "part of a general pattern that would be considered ridiculous if it weren't so sad," the president said.
"Presidential debates deserve better," Obama added, suggesting that Huckabee may have been aiming to push Donald Trump out of the headlines.
"We just don't fling out ad hominem attacks like that because it doesn't help inform the American people," he added.
Huckabee told Breitbart News on Saturday that the Obama administration's actions on the Iran deal are "naive."
"This president's foreign policy is the most feckless in American history. It is so naive that he would trust the Iranians," he said.
"By doing so, he will take the Israelis and march them to the door of the oven. This is the most idiotic thing, this Iran deal. It should be rejected by both Democrats and Republicans in Congress and by the American people," he added.
Huckabee shot back at Obama's criticism Monday morning, saying he's not backing down from his comments.
"What's ridiculous and sad is that President Obama does not take the Iran threats seriously. For decades, Iranian leaders have pledged to 'destroy,' 'annihilate,' and 'wipe Israel off the map' with a 'big Holocaust,'" he said. "'Never again' will be the policy of my administration and I will stand with our ally Israel to prevent the terrorists in Tehran from achieving their own stated goal of another Holocaust."
Iran and world powers reached a landmark deal this month that will limit Tehran's nuclear program for 10 years in exchange for fewer sanctions. On July 20, members of Congress began a 60-day review of the deal, which several Republicans are hoping will result in blocking the agreement.
Related: Iran's Rouhani Defends Nuke Deal as 'New Page in History'
Should Congress pass a resolution of disapproval, President Barack Obama said he would issue a veto.
Secretary of State John Kerry has been pushing for support of the deal, echoing Obama's statement that "every pathway to a nuclear weapon" has been cut off, while GOP leaders are urging members of their Party to reject it.
Jewish groups across the country reacted to Huckabee's comments Sunday.
"Whatever one's views of the nuclear agreement with Iran — and we have been critical of it, noting that there are serious unanswered questions that need to be addressed — comments such as those by Mike Huckabee suggesting the president is leading Israel to another Holocaust are completely out of line and unacceptable," said Jonathan A. Greenblatt, national director of the Anti-Defamation League, in a statement.
"To hear Mr. Huckabee invoke the Holocaust when America is Israel's greatest ally and when Israel is a strong nation capable of defending itself is disheartening," Greenblatt added.
The National Jewish Democratic Council called on others in the Party to denounce Huckabee's remarks, saying they "may be the most inexcusable we've encountered in recent memory."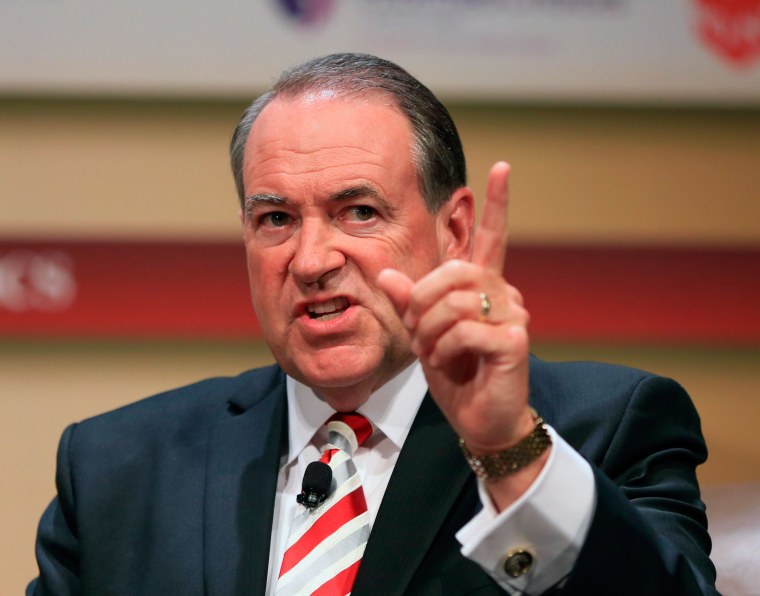 "To state that President Obama is leading Israelis 'to the door of the oven' is not only disgustingly offensive to the president and the White House, but shows utter, callous disregard for the millions of lives lost in the Shoah and to the pain still felt by their descendants today," the organization stated.
Huckabee previously described the deal as the equivalent of giving 10 gallons of gasoline and matches to a pyromaniac. He has been a staunch supporter of Israeli Prime Minister Benjamin Netanyahu, who condemned the deal and said it gave Iran a "sure path to nuclear weapons."
In his presidential announcement in May, Huckabee criticized Obama's relationship with Israel and said "hell will freeze over" before Iran gets a nuclear weapon.