President Barack Obama spoke to concerns about a delicate accord aimed at keeping Iran from developing nuclear weapons in an interview with The Atlantic which published on Thursday.
"Look, 20 years from now, I'm still going to be around, God willing. If Iran has a nuclear weapon, it's my name on this," the president said in an interview with took place on Tuesday and was published on Thursday in reference to a nuclear agreement between Iran and a group of world powers led by the U.S. "I think it's fair to say that in addition to our profound national-security interests, I have a personal interest in locking this down."
According to The Atlantic, Obama, earlier in the discussion "explicitly labeled the supreme leader of Iran, Ayatollah Ali Khamenei, an anti-Semite."
"The fact that you are anti-Semitic, or racist, doesn't preclude you from being interested in survival," the president said in the interview. "It doesn't preclude you from being rational about the need to keep your economy afloat; it doesn't preclude you from making strategic decisions about how you stay in power; and so the fact that the supreme leader is anti-Semitic doesn't mean that this overrides all of his other considerations."
The president also pushed back against criticism that money that Iran receives from sanctions relief will go to that country's military. During a recent speech at the Washington Institute, Treasury Secretary Jack Lew said "Most of the money Iran receives from sanctions relief will not be used to support those activities."
During the Atlantic interview, the president made clear that the administration feels there are obstacles to avoid Iran getting large sums as a result of sanctions relief.
"I don't think Jack or anybody in this administration said that no money will go to the military as a consequence of sanctions relief," the president said. "The question is, if Iran has $150 billion parked outside the country, does (Iran's Revolutionary Guard Corps) automatically get $150 billion? Does that $150 billion then translate by orders of magnitude into their capacity to project power throughout the region?"
That is the issue the administration contests, the president said in the interview.
"Because when you look at the math, first of all they're going to have to deliver on their obligations under any agreement, which would take a certain period of time. Then there are the mechanics of unwinding the existing restraints they have on getting that money, which takes a certain amount of time," the president said. "Then [Iranian President] Rouhani and, by extension, the supreme leader have made a series of commitments to improve the Iranian economy, and the expectations are outsized."
The interview comes on the heels of Obama's meeting with leaders of Gulf nations at Camp David last week. Those conversations were also an opportunity to stress to leaders from such countries as Saudi Arabia, a close U.S. ally, that a nuclear deal with Iran is the best way to help shore up security in the region.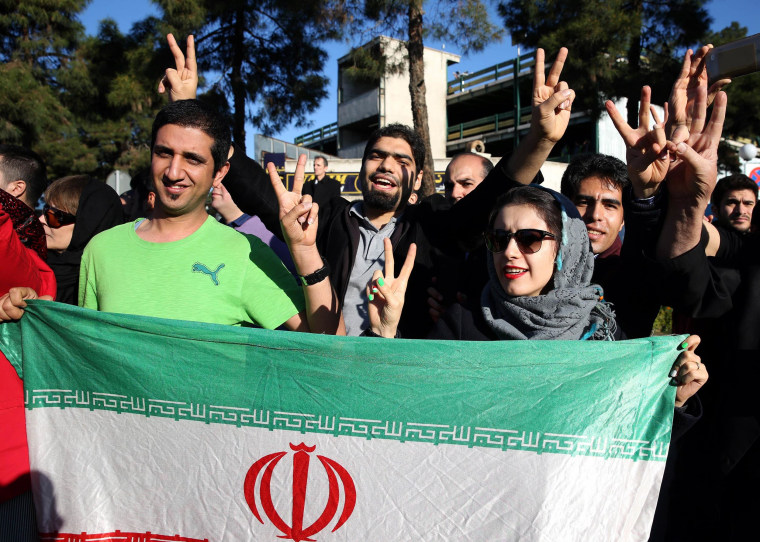 As the U.S. and five other world powers work to craft a tenuous framework with Iran to keep it from developing nuclear weapons in exchange for lifting some sanctions, Gulf nations have worried that Iran might feel empowered and become an even greater regional threat.
"Here at Camp David, we agreed that a comprehensive, verifiable solution that fully addresses the region's and international concerns about Iran's nuclear problem is in the security interests of the international community, including our (Gulf nation) partners," Obama said during a press conference last week.
Earlier this month, the Senate voted to give lawmakers a chance to weigh in on any nuclear deal the White House seeks to hammer out with Iran — a measure that requires President Barack Obama submit any agreement struck between that nation and world powers to Congress.
The vote was 98-1 on a bill that would give Congress at least a month to review the details of an agreement. During the review, the president would be prevented from lifting congressionally imposed sanctions on Iran.