The Department of Defense is preparing to dispatch 615 more U.S. troops to Iraq to help government forces oust ISIS from the city of Mosul, the White House announced Wednesday.
The soldiers will provide logistics support for the Iraqi forces and not spearhead the attack, White House press secretary Josh Earnest told reporters on Wednesday. The troops, who will deploy in the coming weeks, will have a supporting role, helping with logistics and providing advice.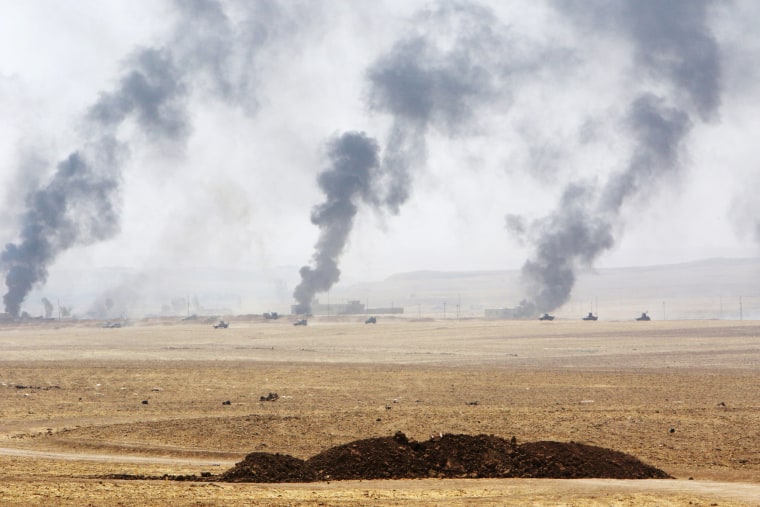 "These are military forces that will be deployed to intensify the strategy that's in place, to support Iraqi forces as they prepare for an offensive against...Mosul," Earnest said.
"American President Barack Obama was consulted on a request from the Iraqi government for a final increase in the number of trainers and advisers under the umbrella of the international coalition in Iraq," the Iraqi leader said in a statement Wednesday obtained by Reuters.
Currently there are 4,647 U.S. soldiers in Iraq.
In April, more than 200 troops, including additional special operations forces, were sent to Iraq to train and advise government forces readying for the Mosul assault.
The Iraqis also got Apache attack helicopters and a HIMARS rocket system. Another $415 million was sent to the Kurdish Peshmerga fighters.
In April, Defense Secretary Ash Carter announced the U.S. would deploy an additional 560 troops to Iraq over the course of several weeks. Those troops would offer infrastructure and logistical support at Qayara airfield south of Mosul, Carter said at the time.
"The Iraqis are still in the lead. That doesn't change," Carter told Nightly News anchor Lester Holt. "Americans are at risk today every single day here. As secretary of defense, I take that more seriously than anything else. I want our troops to be effective, but I want them also to be as safe as possible consistent with that."