With ISIS forces nearing Baghdad's city limits, U.S. officials don't believe the relatively small, ill-equipped army of Islamic militants will be able to take the city by a frontal assault. Instead, they fear that ISIS will terrorize Baghdad by launching a wave of suicide bombings and possibly cutting off water and electricity to the city of 7.5 million.
The strategy, according to the officials, appears aimed at demoralizing residents of the city and inciting a new wave of sectarian violence that could further undermine the ruling Shia-led Iraqi government.
Sign up for breaking news alerts from NBC News
Asked if the Islamic State in Iraq and Syria (ISIS), a Sunni terrorist group, has a significant cadre of suicide bombers willing to carry out such attacks, a senior U.S. counterterrorism official said that recruitment is not a problem for the group.
"Dozens of bombers? Oh yeah, maybe more," said the official, who spoke with NBC News on condition of anonymity. "It could be less, but (it's) a significant number."
Wherever possible, ISIS leaders will likely attempt to use suicide bombers drawn from the foreign fighters who have flocked to Iraq in recent months to aid their cause, said U.S. officials, explaining that their use gives ISIS the ability to portray itself as an international Islamic fighting force.
They also are staging "pinprick attacks in and around Baghdad" and may well mount larger and more frequent surgical strikes deep inside the capital -- not unlike those carried out by U.S. troops in the early days of the assault on Baghdad in April 2003. That, said one official, would give the group a propaganda victory by enabling it to raise its now infamous black flags at high-profile spots deep inside the Iraqi capital, which is roughly the size of New York.
The U.S. believes that ISIS would have a hard time overrunning and controlling Baghdad. U.S. intelligence estimates say the number of ISIS fighters remains relatively small, but one official says the numbers are "all over the board."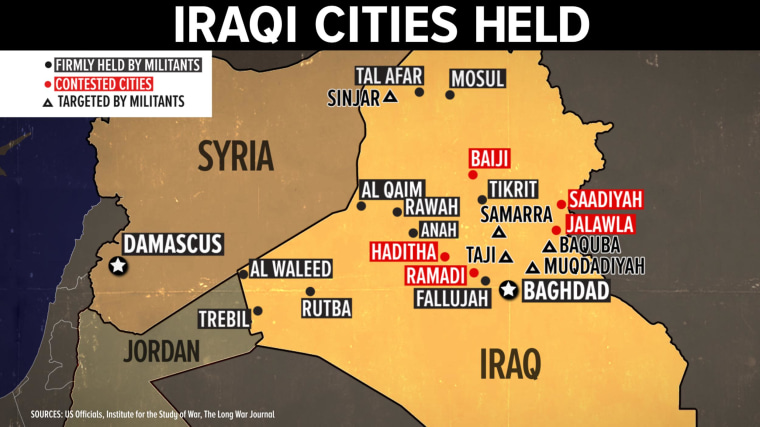 Before the current fighting began with ISIS' seizure of Mosul on June 1, the U.S. estimated that the group had between 7,000 and 10,000 fighters under its banners, most of them fighting to topple Bashir Assad's regime in Syria. Now, bolstered by the release of prisoners from seized lockups and the recruiting of former Ba'athist followers of Saddam Hussein, the group is disproportionately operating inside Iraq and has "certainly grown" in the past few weeks, as one official put it.
Evan Kohlmann, a counterterrorism analyst for NBC News, said ISIS has recently been focused on solidifying it gains and is expected to begin "inexorably moving east toward Baghdad" in the coming days.
"We are now waiting for an expected surge of operations in Baghdad itself, which has been relatively quiet so far compared to at the height of U.S. involvement in the Iraq conflict," he said.
The most troubling aspect of the group's recent operations has been its targeting of critical Iraqi infrastructure, like the Baiji oil refinery, the country's biggest. Now, though Iraq sits atop one of world's great oil reserves, you see long lines of cars at gas stations.
In recent days, U.S. and Iraqi officials have grown more concerned about security at the Haditha Dam on the Euphrates River, according to sources in Baghdad and Washington. Over the weekend, Iraq's government dispatched 2,000 troops there to help hold the dam, the second-largest in the country, against ISIS.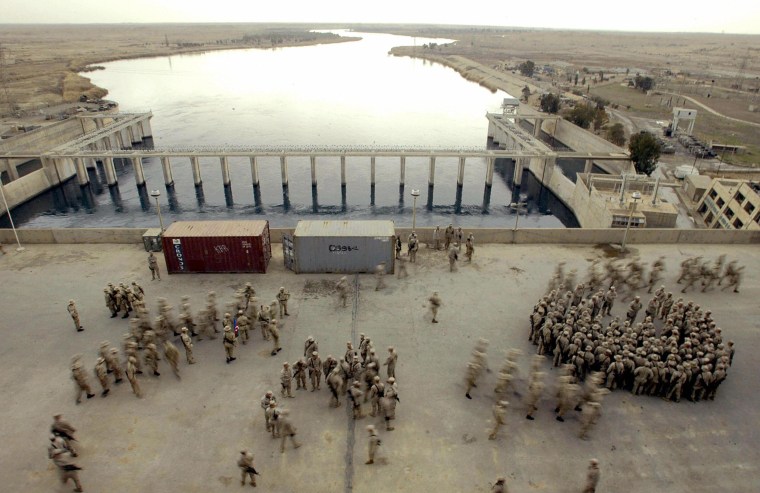 ISIS fighters are within miles of the dam, 140 miles upstream from Baghdad. If they were able to control it, they could follow one of two paths: Either holding it hostage – using it as a bargaining chip in negotiations with the Iraqi government -- or bombing it to create a catastrophic failure of the dam. That could inflict serious damage on Iraq's power grid and cause a major flooding downstream. Security of the dam was seen as so critical in 2003 that the Pentagon dispatched U.S. Rangers to the site to make certain Saddam Hussein didn't order its destruction.
As of Sunday, ISIS already had taken control of the nearby towns of Rutbah, Rawa and Anah, NBC News reported after speaking with an Iraqi border control officer. The city of Haditha, on the southeast corner of the lake created by Haditha Dam, is surrounded, and ISIS fighters have told the Iraqi forces there "to surrender or be killed," the border officer said.
"When they control that infrastructure, the threat is always implied that they can destroy it."
Bill Roggio, the editor of the Long War Journal, a military affairs online journal, said ISIS appears to be seizing the infrastructure with two goals in mind.
"When they control that infrastructure, the threat is always implied that they can destroy it," he said. "(But) remember, they want to create a state. A state just doesn't mean having a military. It means controlling resources, too."
The country's largest dam, the Mosul Dam, is under the control of the Peshmerga, the Kurdish fighting force that grabbed it 10 days ago, before ISIS troops could reach it.
Follow NBC News Investigations on Twitter and Facebook.
"The Peshmerga also control, very importantly, the Mosul dam and the reason why they took control of that is the Mosul Dam gives fresh water to Mosul and Baghdad," said Tom Hardie Forsyth, a former British Army officer who consults with the Kurdish government and military. "You think it's a nightmare that that refinery at Baiji was taken over by militants. Imagine if they had taken over that dam and stopped the water. So it's basically a major pressure point where, if ISIS got in, it would wreak havoc, not just on the Kurdish population, but on the Iraqi population."
James Novograd, Ben Plesser and Cassandra Vinograd of NBC News contributed to this report.