Iraqi officials declared a state of emergency for all of Baghdad on Saturday after protesters loyal to popular Shiite cleric Muqtada al-Sadr breached the heavily fortified Green Zone, home to government buildings and foreign embassies, including the American one.
"Iraq security authorities have declared a state of emergency in Baghdad," said Brig. Gen. Saad Mann, a spokesman for the Iraqi military. "All gates that lead to Baghdad are closed. No one is allowed to enter into Baghdad, only those who want to leave Baghdad can do so."
Hundreds of demonstrators occupied the country's parliament, according to a senior Iraqi security source who spoke on condition of anonymity.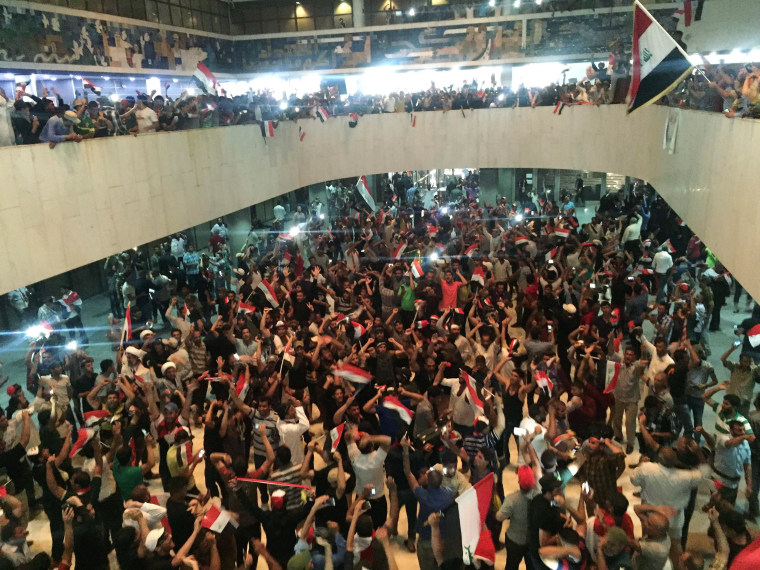 Video from inside the building showed jubilant crowds waving Iraqi flags and shouting "peaceful, peaceful." The were no immediate reports of major violence. Parliament is not currently in session.
Supporters of Sadr, whose fighters once controlled swaths of Baghdad and helped defend the capital from ISIS, have been demonstrating for weeks at the gates of the Green Zone, responding to their leader's call to pressure the government to reform. Saturday was the first time the protesters breached the compound's walls.
Sadr called on his followers to leave the Parliament building and instead start a sit-in in the Grand Festivities Square, which is also inside the Green Zone.
PHOTOS:Protesters Topple Walls, Storm Parliament
Iraqi security forces fired tear gas and bullets in the air to prevent protesters from entering the Green Zone near the U.S. Embassy, police sources told Reuters.
But Prime Minister Haider al-Abadi said later Saturday that the security situation in Baghdad was "under control" and asked demonstrators to return to designated protest areas.
A U.S. official who spoke on condition of anonymity said the American Embassy in Baghdad was not being evacuated, contrary to local reports.
"There is no evacuation for the American staff inside the American embassy," he said.
A live-video feed from Baghdad showed demonstrators knocking down sections of the Green Zone's perimeter wall.
The political unrest comes as Iraq also wrestles with violence from ISIS. Earlier Saturday, the terror group claimed responsibility for a bombing east of Baghdad that killed at least 21 people and hurt dozens of others.
The country is also in an economic crisis, due in part to a plunge in oil prices.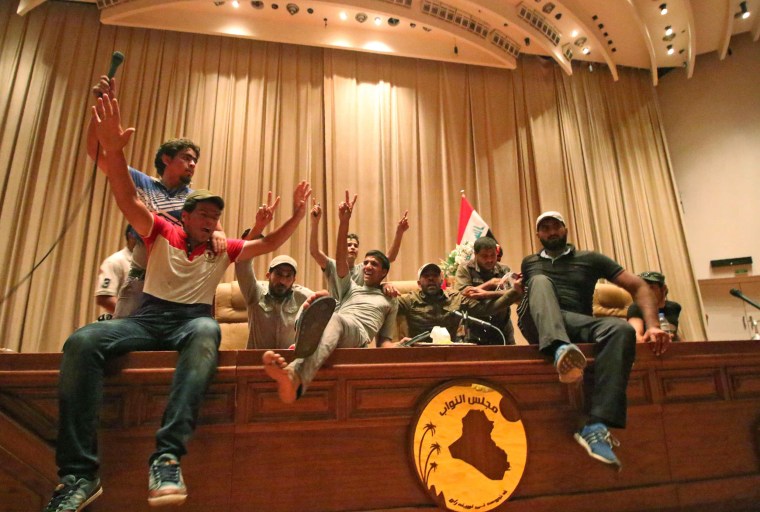 The invasion of parliament by the Sadrist protesters raises questions over the future of al-Abadi, who has struggled to impose a technocratic government to tackle corruption.
He has faced fierce opposition from powerful groups who have benefited from political power being shared through sectarian quotas.
Critics say that system has led to widespread graft, triggering frequent protests by thousands of Iraqis who accuse the government of failing to provide basic services such as electricity and clean water.
Related: ISIS Claims Deadly Truck Bombing in Iraq Marketplace: Report
The political crisis also threatens to hamper efforts to tackle ISIS fighters, who are still entrenched in Iraq's second-largest city, Mosul, in the country's north and have exploited unrest in the capital of Baghdad to launch bomb attacks.
The breach of the once near-impregnable Green Zone represents a powerful blow to the image of Iraq's security forces, as it struggles to safeguard key ministries, embassies and political leaders.
Moments before it was breached, Sadr gave what appeared to be an ultimatum, Reuters reported.
"Either corrupt (officials) and quotas remain or the entire government will be brought down and no one will be exempt from that," he said.
The United Nations Assistance Mission for Iraq said it was "gravely concerned" by Saturday's developments.
"The Mission condemns the use of violence, including against elected officials, and urges calm, restraint and respect for Iraq's constitutional institutions at this crucial juncture," it said in a statement posted to Facebook.