Militants sweeping across Iraq took key border crossings over the weekend, as other cities in the country continue to fall like dominoes.
A border crossing to Syria at Al Qaim was taken Saturday, analysts say, and a second crossing, at Al Walid, was taken Sunday. Overnight Sunday, the important Trebil border crossing with Jordan was taken by militants of the Islamic State of Iraq and al-Sham, or ISIS, according to a senior U.S. official and an Iraqi border control officer reached by telephone by NBC News.
With ISIS choking nearly half the country, the big questions are: What's next for the ISIS militants blazing through Iraq? And how can they be stopped?
Sign up for breaking news alerts from NBC News
"Any reasonable observer of the battlefield in Iraq would have to concede that, for the moment, the tide is in favor of ISIS militants," said Evan Kohlmann, a terrorism analyst for NBC News and chief information officer of Flashpoint Intel.
"Now that they have secure control over the Anbari backcountry, the next move seems to start inexorably moving east towards Baghdad," he said.
"Now it's a fire, and everybody in the region has got to grab their fire hoses and work together."
The ISIS militants will likely next push through Ramadi and Fallujah, which have already partly fallen, and then their prime targets would be the cities of Samarra, Khalis and Baqubah on the way to the capital, Kohlmann said.
Patrick Skinner, a regional expert with The Soufan Group, a security consulting company, said the taking of the Jordanian border crossings could be the worst part of the latest offensive.
"The border crossings are probably more significant than the fall of cities — they're not going to hold Mosul; eventually the army will take it back — but the border crossings, that's the real danger," he told NBC News on Monday.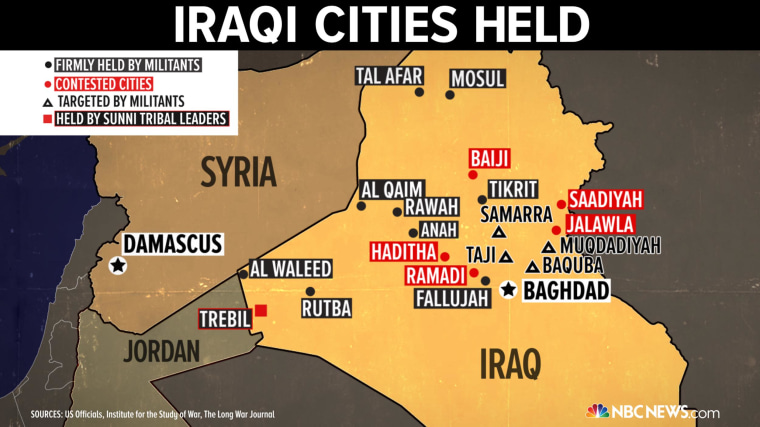 "Jordan really can't take much more stress. They're the ones who took a million refugees a decade ago, and they are just recovering from that. … Now they're taking Syrian refugees, and their economy is a wreck," Skinner said.
"No country is going to be prepared to handle that, but Jordan is really in a difficult situation, and they're by far our closest ally in the region."
Skinner said that if the regional powers don't come together to confront the ISIS menace, the threat could grow completely out of hand.
A purely sectarian strategy "will most likely end in bloody catastrophe."
"Now it's a fire, and everybody in the region has got to grab their fire hoses and work together. Iran can probably do the most, Saudi [Arabia] can do the second most. And they hate working together."
Veryan Khan, editorial director of the Terrorism Research and Analysis Consortium, said: "The fact that ISIS controls entry points on the Syrian border certainly makes it easier for them to transport heavy artillery flown into Syria from Iran.
"Since the Iraqis already have sophisticated U.S. war equipment, the game changer, minus U.S./Western intervention, will be whether the 300 U.S. advisers can find the Iraqi military personnel trained to use it. With the help of U.S. advisers, the Iraqis could take out the columns of ISIS convoys, but that needs to happen before ISIS becomes better armed," she said.
None of the analysts contacted by NBC News seemed to think the U.S. military advisers and the Iraqi army could tackle ISIS without a more comprehensive plan.
Kohlmann highlighted two possible ways to contain the terror group's advance:
One, launch airstrikes on a wide range of ISIS training camps, bases and standing forces inside both Iraq and Syria.
"If done properly and sustained over several weeks, this could cause significant damage to the group," he said.
Two, the U.S. and Iraqi governments could encourage Sunni insurgents who disagree with ISIS to rise up in arms against them.
"The last time that ISIS suffered major setbacks in Iraq, it was due almost entirely to the 'Sahwah' [Sunni Awakening] strategy employed by the U.S. military in 2006 to 2008, encouraging Sunni tribesmen to fight off the unwanted presence of ISIS themselves," he said.
Currently, officials have been calling on Shiite forces in Iraq to combat the ISIS militias, but Kohlmann believes that a purely sectarian strategy "will most likely end in bloody catastrophe."
Meanwhile, ISIS has put out an ominous map showing its ambitious five-year "expansion plan," showing all of the Middle East, the Arabian Peninsula, Northern Africa and even Afghanistan, Pakistan and India under its control.
It's unlikely that ISIS would come close to that grand vision, but the warning is clear.
"It's almost impossible to think ISIS would get that far south because southern Iraq is not Sunni land," said Skinner. But "this has gone past the point where [any individual country] can use it as leverage. This is no longer a geopolitical chess game. ... This will quickly spin out of control if they don't unify."
— With James Novogrod and Robert Windrem