Iraq's senior Shiite cleric issued a call to arms as radical Sunni fighters continued their relentless advance across the country, raising the specter of a sectarian conflict echoing the bloody civil war raging in neighboring Syria.
The message from Grand Ayatollah Ali al-Husseini al-Sistani came in the form of a rare intervention during Friday prayers in the holy city of Karbala.
Sign up for breaking news alerts from NBC News
"People who are capable of carrying arms and fighting the terrorists in defense of their country ... should volunteer to join the security forces to achieve this sacred goal," said Sheikh Abdulmehdi al-Karbalai, delivering Sistani's message, Reuters reported.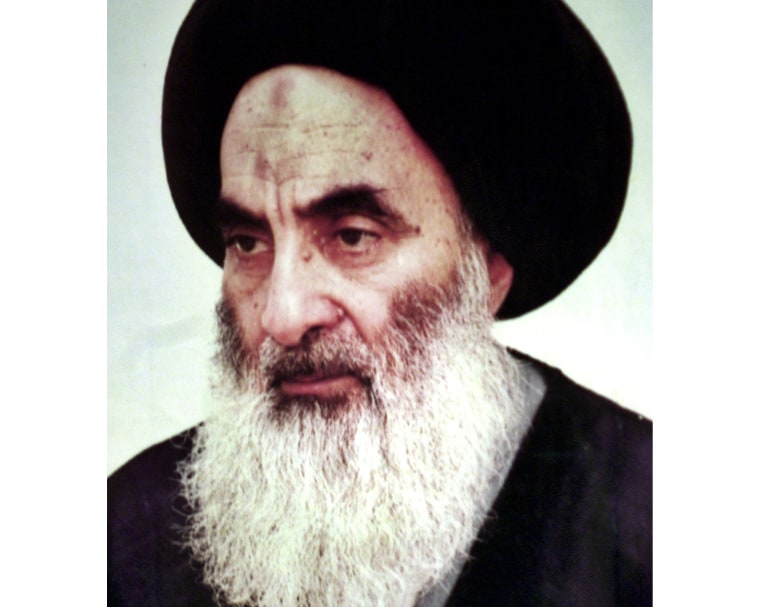 Worshipers chanted in acknowledgement when Sistani's deputy said that those killed fighting al Qaeda-linked Islamic State of Iraq and al-Sham (ISIS) would be martyrs, according to Reuters.
His call to the faithful came as the Sunni militants pushed toward Baghdad on Friday, sending thousands fleeing in fear from the Iraqi capital.
Shiites are the majority in Iraq but were governed by Sunni dictator, Saddam Hussein, for decades until he was toppled by American forces in 2003.
An unverified video on YouTube allegedly showed busloads of men heading to the city of Samarra to defend its Shiite holy sites.
"Battalions of volunteers still arriving to Samara to protect the noble shrines," the message running alongside the video declared.
The 2006 bombing of a Shiite shrine in Samarra helped to spark a civil war that left thousands dead.
Also on Friday, ISIS also marched into the towns of Saadiyah and Jalawla in the eastern province of Diyala after security forces abandoned their posts, security sources told Reuters. Meanwhile, Iraqi Kurdish forces seized control of Kirkuk, an important oil hub near their autonomous enclave.
United Nations official told Reuters that the number of people killed after ISIS militants overran Iraq's second largest city Mosul may run into the hundreds.
- F. Brinley Bruton