Jared Kushner, President Donald Trump's son-in-law and senior adviser, is in Iraq.
Kushner is traveling with Marine Gen. Joseph Dunford, chairman of the Joint Chiefs of Staff.
Dunford's spokesman, Capt. Greg Hicks, said in a statement Monday morning that the chairman had arrived in Iraq for meetings with Iraqi, American and coalition officials — along with Kushner.
Hicks said in the statement that Dunford invited Kushner and Thomas Bossert, a homeland security adviser, to meet with Iraqi leaders, senior U.S. advisers and visit U.S. forces in the field.
It is Kushner and Bossert's first trip to Iraq, according to the statement.
Hicks also said Kushner was traveling "on behalf of the President" to express his support and commitment to the government of Iraq and U.S. personnel involved in the campaign against ISIS.
The visit wasn't announced in advance.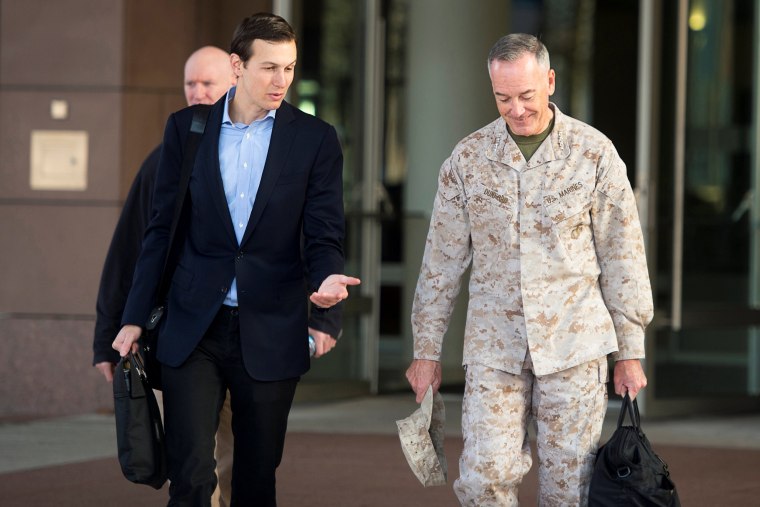 Trump has entrusted Kushner, 36 — who is married to his daughter Ivanka — with, among other duties, the role of peace envoy to the Middle East.
The visit comes as about 275 soldiers from the 82nd Airborne Division have been ordered to deploy to northern Iraq as the military ratchets up its efforts to wrest the city of Mosul from ISIS fighters, two U.S. military officials told NBC News.