KHANEQUIN, Iraq -- Delta Force-trained commander Polad Talabani has few illusions about the scale of the task facing his elite team which has been ordered to halt the march of militants aiming to seize Baghdad.
Talabani, who is in charge of the Kurdish Regional Government's counter-terrorism unit, says his troops have inflicted heavy casualties on the Islamic State of Iraq and al-Sham (ISIS).
The biggest battles are being fought in the smallest villages in this showdown between Talabani's 160 men and a seemingly endless stream of al Qaeda-inspired insurgents. And as soon as any Sunni fighters are killed, Talabani says "dozens more will appear from nowhere to flood the battlefield."
Sign up for breaking news alerts from NBC News
Kurdish paramilitary forces known as the Peshmerga are standing in the way of the heavily armed extremists who have taken control of cities including Mosul and Tikrit and who are inching closer to the Iraqi capital.
The Peshmerga are engaged in small running battles with ISIS fighters along a 600-mile stretch of border between the Kurdish region and the area were ISIS has footholds in villages and towns used as staging areas. The Kurdish Regional Government -- which runs a semi-autonomous region in Iraq dating back to an agreement with Saddam Hussein's government in 1970 -- has mobilized 40,000 fighters to the front line. The Kurds also seized Kirkuk and its nearby oilfields on June 12 under the justification that the city of 900,000 needed protection from ISIS.
"They are battle-hardened, experienced fighters whose only goal or mission in life is to get killed in the fight"
For the past four days, the most intense fighting has happened on the outskirts of Saadiyah and Jalawla, two towns straddling a major road north of Baghdad just outside of the Kurdish city of Khaneqin.
"The attacks have been focused on cutting off the road from Khaneqin to Baghdad, " Talabani told NBC News. "It's critical for them, because they know if they have control of that road they will be able to cut off access to Baghdad."
If this road falls, ISIS would control several of the major routes that lead into Baghdad from the northern part of the country. This would potentially allow the militants to launch attacks on the city from areas they control along the capital's northern frontier.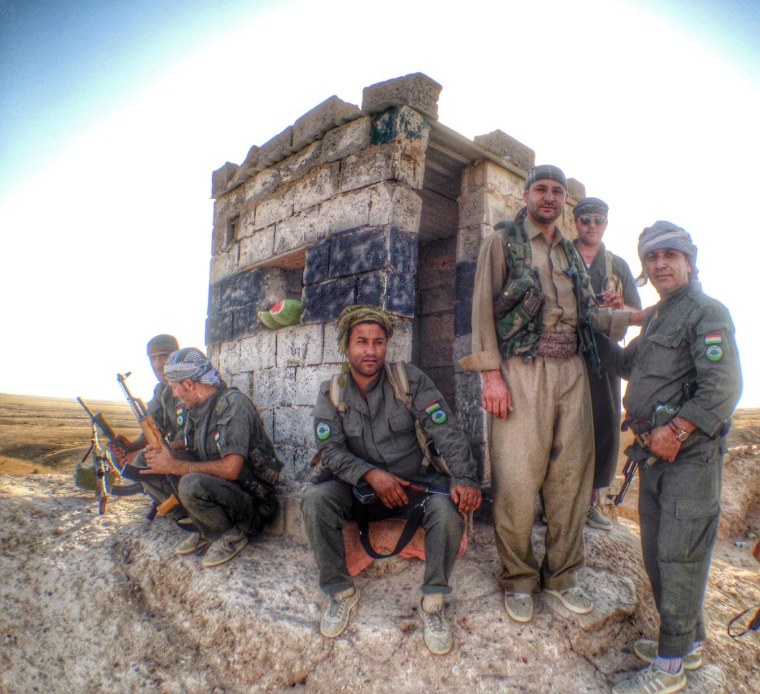 According to Kurdish officials, the miltant group's strategy shows a significant amount of tactical planning and coordination.
And ISIS has so far shown few signs of slowing down despite their battlefield casualties. They have scored a major propaganda victory and that has fueled them.
"They are battle-hardened, experienced fighters whose only goal or mission in life is to get killed in the fight," says Rooz Bahjat, one of the Kurdish Regional Government's most senior security officials involved in stopping ISIS from advancing across Iraq. "The hard part is killing somebody who already wants to die."
In-Depth