Iraq's firebrand Shiite cleric Muqtada al-Sadr vowed his supporters will "shake the ground" in the fight against Sunni militants wreaking havoc across his country.
Sadr's warning was the latest sign that the poster boy for violent uprising against the 2003 U.S.-led invasion of Iraq is back and reclaiming his place in the spotlight following a retreat from the public eye.
Sign up for breaking news alerts from NBC News
"We will shake the ground under the feet of ignorance and extremism," he said in a televised speech Wednesday from the Shiite holy city of Najaf, according to the AFP news agency.
AFP reported that Sadr also said he only backed "providing international support from non-occupying states for the army of Iraq" - an apparent dig at the U.S.
President Barack Obama has offered up to 300 advisers to Iraq, about 130 of whom have now been deployed.
The Pentagon said that an initial group sent to establish an operations center included intelligence analysts, logistics experts and special operations forces. Another 50 military personnel working in the region are expected to arrive within the next few days, while U.S. military personnel are also flying regular manned and unmanned reconnaissance flights.
Sadr's speech comes after he issued a call for Shiite fighters to form brigades to fend off attacks from the Islamic State of Iraq and al-Sham on holy sites.
The cleric has a knack for repositioning himself, over the years repeatedly stepping away from day-to-day politics only to re-emerge when the time is ripe to reclaim the mantle of Shiite defender.
His supporters turned out in massive shows of force earlier this month, armed to the teeth with missiles and heavy weapons, to march through Iraqi cities in the name of "Peace Brigades."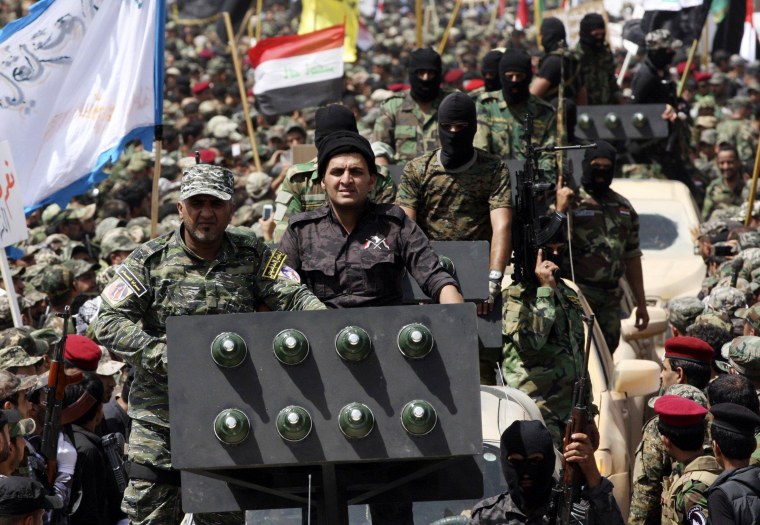 To many, the "Peace Brigades" constitute a rebranding of Sadr's feared Mahdi Army, which was blamed for the mass killings of Sunni civilians in sectarian violence in Iraq that peaked in 2006 and 2007.
Sadr formed the Mahdi Army in 2003 after the fall of Saddam Hussein's regime. The Shiite militia gained broader notoriety when it waged fierce battles in Najaf against U.S. forces a year later, and the Pentagon later said it had "replaced al Qaeda in Iraq as the most dangerous accelerant of potentially self-sustaining sectarian violence."
When Sadr ordered his fighters to lay down their weapons in 2007, the move was accompanied by questions over whether he sought to wait out U.S. forces or to make a political play.
While Sadr helped usher Iraq's Shiite Prime Minister Nouri al-Maliki to power in 2006 and ultimately again in 2010, he since has become one of the premier's most vocal critics, describing him as a dictator.
In February, Sadr said he was withdrawing from all politics and unaffiliated with any faction - a move met by speculation that he was repositioning himself or reinventing his feared brigade.
Those guesses appeared to play out when Sadr issued his call for supporters to take up arms.
The deployment of Sadr's battled-hardened supporters would underscore Maliki's slipping grip on security and leadership: the Mahdi Army has more experience in street-to-street fighting and counterinsurgency.
But doing so would amplify deep-seated fears of a return to the brink of full-scale civil war and a repeat of the atrocities carried out by Sadr's fighters in 2006 and 2007.