Lawmakers from both parties and even some non-partisan analysts say the Obama administration should have better anticipated the rise of Sunni militants, who captured Iraq's second-largest city last week and could pose a terrorism threat both within and outside the country's borders.
With U.S. officials now scrambling to respond to the advances by The Islamic State of Iraq and Syria, the insurgent group that seized Mosul last week, some critics say there was either a failure by U.S. intelligence officials in assessing the strength of ISIS or Obama and his policy team didn't react quickly enough.
"It was very clear to people how bad these guys are," Michael Leiter, a former top counterterrorism official in both the Bush and Obama administrations, said in an interview. "I don't know if this was a tactical error or an intelligence error."
Any question about the group's capabilities or intentions should have been answered when the militants took Fallujah in January, Leiter said.
"I think our intelligence has failed us miserably, from not being aware of the threat that we've faced and how this could unfold as quickly as it has. This has been planned for quite some time," Sen. Joe Manchin, a Democrat from West Virginia, said on NBC's Meet The Press Sunday. "My first thing to recommend to the president is get your intelligence group back on track, making sure that we have the intel that we need for whatever options we have, that are going to be accurate."
The administration has argued that it had been monitoring the situation closely.
"We have been very aware and have discussed here and in other venues the challenge posed by the war in Syria, and the extremist activity there, and the ISIS as it formed and moved across the border into Iraq," White House Press Secretary Jay Carney said at a press briefing. "And that has always been a great concern. That is why we have stepped up the assistance that we've been providing to the Iraqi security forces."
I think what we're going to end up seeing is tremendous pressure on President Obama and his team to do some symbolic U.S. military action
The strength of the insurgency has refocused attention on Obama's policy toward Iraq, where the president has long been trying to disentangle the United States. He campaigned in 2008 on ending the war there and removed all U.S. forces in 2011 after failing to reach an agreement with Iraq's government that would have left some troops in place.
Conservatives such as Arizona Sen. John McCain say Iraq is just the latest in a series of global crises, including Ukraine and Syria, that the administration has failed to aggressively address. They also argue Obama's drawdown of troops in both Iraq and Afghanistan has undermined security situations in both nations.
But Obama administration officials are adamant that some kind of residual force in Iraq would not have stopped ISIS.
"Absolutely, unquestionably not, and I'll tell you why," Secretary of State John Kerry said in an interview with Yahoo News. "Because whatever residual force was discussed to be left in Iraq would have been, had the Iraqis accepted the terms by which we leave troops anywhere in the world, which they refused to do, but that force would have been non-combat. It would have been not involved in combat. So it was not a combatant force that was being contemplated. It was train, advise, assist, so forth."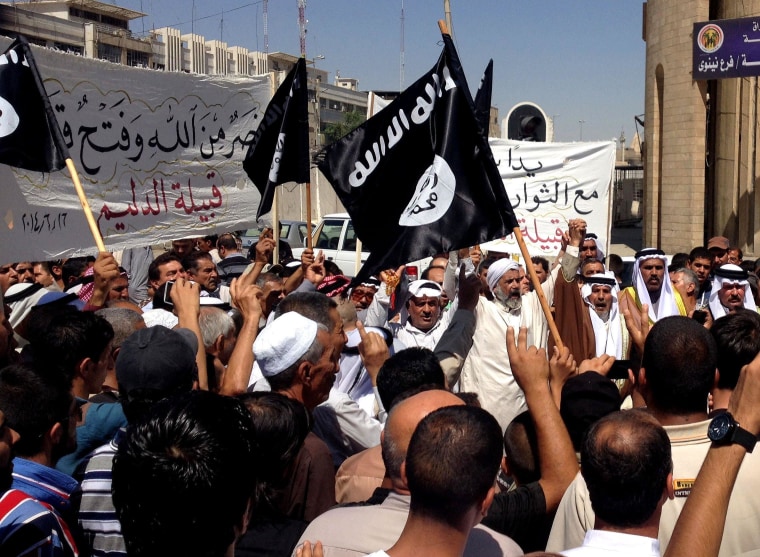 Now, the administration not only faces a challenge in Iraq, but one that is intertwined with other foreign policy problems. Some of the fighters in Iraq were actually trained in Syria, where a civil war has long raged and the administration has also struggled in crafting a policy response.
Some foreign policy hawks are calling for airstrikes in Iraq. But Obama himself has said he is reluctant to intervene militarily because he doubts the effectiveness of the Iraqi government in balancing power between Sunnis and Shiites.
And Democrats in Congress, who sharply opposed Obama's proposal last fall to use airstrikes in Syria, are raising similar concerns now.
"I think what we're going to end up seeing is tremendous pressure on President Obama and his team to do some symbolic U.S. military action, intelligence collection, perhaps some remote strikes with missiles which will be ineffectual, will not change the situation on the ground, and indeed will engage us, to some extent, to a counterterrorism force," retired General Barry McCaffrey said on MSNBC. "It's just a real mess."