The new wave of violence in western Iraq has created a "toxic brew" of hardship that has ballooned the country's crippling refugee crisis by more than 50 percent in just a few days, international aid groups said Thursday.
Just this week, an estimated half-million people have fled the city of Mosul, which was overrun by suspected militants of the Islamic State in Iraq and the Levant, also called ISIL or ISIS, international aid workers told NBC News. Most, about 300,000, are pitching up in Erbil province in the north, according to the office of the U.N. High Commissioner for Refugees, with the rest flowing elsewhere inside Mosul's Nineveh province.
Sign up for breaking news alerts from NBC News
That's in addition to almost 1 million refugees whom the Iraqi government and international aid organizations have already identified, many of them from neighboring Anbar province, where ISIS and other militant groups have fiercely battled the Iraqi army since January.
Further complicating matters: Several hundred private international contractors in the country to help rebuild infrastructure and governmental programs were being evacuated as ISIS advanced, U.S. officials told NBC News.
The State Department called the development a "critical problem" and said it was providing $12.8 million to international groups to help pay for food, shelter and medicine.
"We urge other donors to help meet the critical needs" of displaced Iraqis, spokeswoman Jen Psaki said Thursday.
On Thursday, NBC News saw one car packed with 13 people trying to leave Mosul. Its occupants said they heard gunshots near their home and had simply had enough.
"The situation is very, very bad," Aliya Muhammad of Mosul told Reuters in Erbil. "We couldn't sleep at night.
"All night long, we heard gunshots, mortar shells and airplanes flying over," she said. "The power went off and there was no water, so we fled Mosul."
The International Rescue Committee said the exodus was compounded by the even larger flight of more than 3 million refugees in Syria, many of whom are flowing into Iraq.
"The potential toxic brew of two neighboring countries in such a volatile region imploding has grave humanitarian consequences," it said in a statement.
The numbers of displaced persons also don't include several hundred private contractors from several countries who were being evacuated Thursday and Friday, U.S. defense officials told NBC News.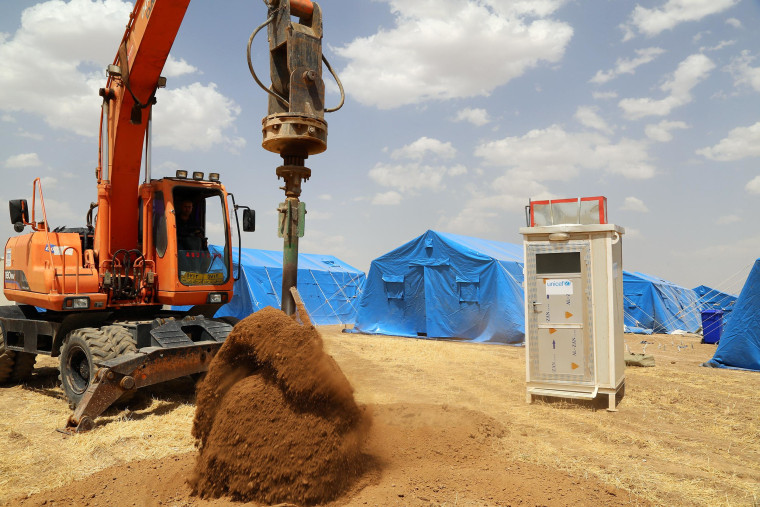 So far, the private companies are organizing the evacuations on their own and haven't asked for any U.S. military help, the officials said.
While President Barack Obama said Thursday that he was considering "all the options," his press secretary, Jay Carney, told reporters that the U.S. wasn't considering sending ground troops to Iraq.
Jim Miklaszewski and Courtney Kube of NBC News contributed to this report.