With Sunni militants in Baghdad's suburbs and Iraq's central government teetering, the seizure of the northern city of Kirkuk by Kurdish forces last week received little attention. But experts say it may signal the birth of a new, oil-rich country, and that Iraq's Kurds may be pursuing outright independence with encouragement from an ancient enemy -- Turkey.
The seizure of Kirkuk has long been a dream of the Kurdish Regional Government (KRG), which runs Iraqi Kurdistan, and it prompted Qubad Talabani, the KRG's incoming deputy prime minister, to proclaim that his people were poised on the precipice of history.
"The Iraq we knew has come to an end," he said Sunday in an interview posted on the KRG website. "Whether Iraq will break up into multiple countries, whether it breaks up into several federations, whether it is a confederation … has not been discussed, is undefined. It could take many different turns."
The emergence of an independent "Kurdistan" in northeastern Iraq would be a historic shift, freeing the long-stateless Kurds to form new alliances with Ankara -- and, to a lesser extent, Iran. That, in turn, could change the three-legged balance of power in Iraq and possibly the geopolitical equation across the volatile region, the experts say.
An alliance with Turkey, which has suppressed repeated revolts by its own huge Kurdish minority, could provide both opportunities and challenges, they say, perhaps encouraging independence movements there or in neighboring countries with significant Kurdish populations.
Iraqi Kurdistan is already a largely autonomous region in Iraq governed by the Kurdish Regional Government, dating back to an agreement with the government of Saddam Hussein in 1970 that ended years of heavy fighting. But the military aggressiveness of the move into Kirkuk and escalating rhetoric from Kurdish leaders show that they have become "more independence minded," according to one senior U.S. intelligence official, who spoke with NBC News on condition of anonymity.
The Kurds seized Kirkuk and its nearby oilfields June 12 under the justification that the city of 900,000 needed protection from Sunni Islamic State in Iraq and Syria, or ISIS, which had just launched a bold attack against the Shiite-led Iraqi government and was sweeping southward toward Baghdad. Since then the Kurdish military force, the Peshmerga, have occasionally skirmished with ISIS, mainly around Kirkuk, while fiercer fighting raged to the south between the Sunni militants and the Iraqi Army, aided by Shia militias. (The Kurds themselves are mostly Sunni Muslims, but they typically define themselves more through their ethnicity and language than by religion.)
Sign up for breaking news alerts from NBC News.
Even before the current move into Kirkuk, the Kurds have been increasing ties with Turkey. In the past several months, they opened their own pipeline to carry their crude to the Turkish port of Ceyhan on the Mediterranean, ignoring claims from the weak central Iraqi government that under the nation's 2005 constitution only it had the right to sell oil to other nations.
"They want independence. They've been waiting patiently. Now, they are creating facts on the ground."
According to U.S. and European experts, the Kurds currently are exporting 125,000 barrels a day, a figure that they expect to more than triple -- to 400,000 barrels -- by year's end. Kurdish officials tell NBC News that the ultimate goal is 1 million barrels a day. Overall, the Iraqi Kurdistan government has estimated the region's reserves at 45 billion barrels, which would be the world's sixth-largest reserve. With a relatively small population of 6 million, oil exports anywhere near that level could make Kurdistan a wealthy enclave.
David Phillips, a Columbia University professor and frequent visitor to Kurdistan, says he believes Iraqi Kurdistan is on an irrevocable track towards independence, spurred by the Islamic revolt to its west and its energy prospects.
"They want independence," says Phillips, director of Peace-building and Rights Program at Columbia. "They've been waiting patiently. Now, they are creating facts on the ground, establishing a new legal entity that will be called Kurdistan rather than Iraqi Kurdistan."
Follow NBC News Investigations on Twitter and Facebook.
He noted that all that's needed to be viable as an independent nation are "defined territory, effective governance and … commercial and financial resources. They have all three."
Friedbert Pflueger, a former German deputy defense minister and now director of the European Center for Energy and Resource Security, agreed that the Kurds "could live by themselves now. ... There's no doubt they can sustain themselves" with their oil revenue.
But Pflueger and other experts, including some in the U.S. government, say Iraq's Kurds may well decide against going their own way, using the central Iraqi government's weakness to enjoy "de facto independence" -- more than the autonomy they enjoy now but less than nation-state status.
Luis Rueda, who was the CIA's chief of operations in Iraq before and during the Iraq war that began in 2003, said the Kurds have learned hard lessons over decades of repression by Saddam and ineffectual governance by Nouri al-Maliki.
'The ultimate ambition'
"It's the ultimate ambition," said Rueda, now a Washington, D.C.-based international security consultant, referring to the group's long history of failed bids to break away and form their own country. "We used to say in the agency that the Kurds are only people who can snatch defeat from the jaws of victory. (But) they have become a lot more wise in the last several years. They know a declaration of independence is a red line for a lot of governments, including the United States. They have expended significant time and effort making themselves viable as a state and being de facto independent would not be looked at askance."
Rueda referred to the fact that the United States and other nations have opposed independence for Iraq's Kurds because they have wanted to preserve the integrity of Iraq. But that could be changing due to the current emergency.
U.S. officials and other experts say the Kurds are seeking the path toward actual or virtual independence with the tacit approval of Turkish officials. The encouragement is based on a number of Turkish national goals, including having a reliable supply of energy for its fast-growing economy and creating a buffer against the threats to their south, which has become a crescent of instability.
"Why would Turkey want to do that?" Phillips asked rhetorically. "Turkey is energy-starved. Turkey will turn a blind eye toward the Iraqi central government's objections ... if there is a central government. ... They want a stable and commercially viable state on their southern border. The alternative is a chaotic, violent Iraq."
"Erdogan is about to win. Massoud Barzani, the president of Iraqi Kurdistan, has said an autonomous Kurdistan would not be a party to a state that would be proxy for Islamic extremism."
That may seem counterintuitive, given the long running insurgency Turkey has faced among its own Kurds, particularly the militant PKK.
But Phillips says the government of Turkish Prime Minister Recep Erdogan would almost certainly ask that the Kurdish government help in the "decommissioning" of the PKK in return for an ongoing economic relationship.
"Erdogan is about to win," Phillips said. "Massoud Barzani, the president of Iraqi Kurdistan, has said an autonomous Kurdistan would not be a party to a state that would be proxy for Islamic extremism."
Indeed, over the past several years, Erdogan has singled out Barzani as a responsible leader of the Kurds and dealt directly with him, not Iraqi Prime Minister Nouri al-Maliki, on energy issues involving northern Iraq – an effort to both marginalize the PKK and create an image of Barzani as the voice of the Kurdish nation. In fact, Iraqi Kurdistan represents only 6.5 million of the 35 million to 40 million Kurds living throughout the region, cast adrift as the result the never-ratified Treaty of Sevres at the end of World War I, which called for the creation of an independent Kurdistan, among other nations.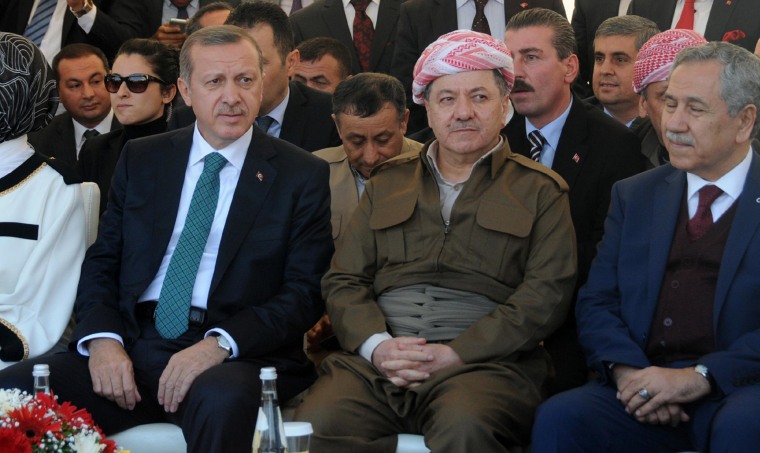 In recent weeks, Turkey has kept noticeably quiet on the incursion into Kirkuk. In the past, notably in 2007 and 2008, it had strenuously objected the Kurds' ambitions in Kirkuk, a majority Kurdish enclave that also has large numbers of Arabs and Turkomen residents. Now, apparently more concerned with having a violent terrorist group advancing rapidly to its south, a spokesman for Erdogan's ruling Justice and Development Party last week said the Kurds of Iraq have the right to decide their future -- a statement applauded this week by Senate Majority Leader Harry Reid.
What's next? Pflueger, who moderated a conference on Iraqi oil in London Tuesday, said the Kurdish representatives there were quick to express support for the continued existence of Iraq -- if not the current conditions.
"They said they preferred a 'good partner' in Baghdad, raised the possibility of new chapter," said Pflueger, with Kurds several telling him there "is still a chance for Iraq to succeed because of the richness of whole country."
Kurdish authorities in the regional capital of Erbil also have been careful not to dismiss Iraq as unified nation state, saying only that it needs a new model on which to base its confederation, one that offers greater autonomy.
In keeping with that moderate tone, Tom Hardie Forsyth, a former British Cabinet official and now a senior adviser to the Kurdistan government, told NBC News this week that the Peshmerga, the Kurds' military force, did the central government in Baghdad a favor this week by taking control of the Mosul dam, which supplies fresh water to Baghdad and Mosul, before ISIS could move in.
"You think it's a nightmare that that refinery at Baiji was taken over by militants, imagine if they had taken over that dam and stopped the water," said Forsyth.
At the same time, experts say the Iraqi Kurds will try to shore up relations with the 2.5 million Kurdish living in Syria, and the 5 million in Iran. The Syrians have set up a Kurdish enclave in the northeastern corner of the country called Rojava, but their relations with Iraqi Kurdistan are strained. The leader of the PYD, the radical Syrian Kurdish Party, went so far as to dig a 10-mile long trench along the border between the two enclaves.
Despite the current tensions, most experts think Syria's Kurds eventually will link up with their Iraqi counterparts.
As for Iran, that's trickier. Iran's Kurdish population is more interspersed with other minorities. Still, Barzani visited Tehran this week for meetings with the country's Kurdish leaders.
"Iran has played a constructive role in enhancing stability in Kurdistan," said Pflueger. "It's smart of the U.S. to engage them. It's paying off."
They may also have to deal with a more immediate and destructive threat -- a campaign of suicide bombings by ISIS, which could turn its attention northward if their operations in the south are successful. The Kurdish Peshmerga, while a fierce fighting force, has limited equipment, having not received any of the new armor and other military gear the Iraqis bought from the U.S. Some of that materiel is now in the hands of the Sunni militants.
Don't look for the U.S. to play much if any role any drive for Kurdish independence, say the experts. The U.S. support for an integrated Iraqi state, run by Shia, doesn't sit well in Erbil.
"They don't trust us. They will go their own way, forge their own alliances. The U.S. has no leverage, none," said Rueda.
Still, like Turkey, the U.S. hasn't criticized the Kurdish move on Kirkuk, perhaps understanding that it has provided security in the current turmoil and knowing it may have to work with the Kurds in the future on a state-to-state basis.
One thing is clear: With the acquisition of Kirkuk and its oil fields -- whether to protect the local population or fulfill a nationalist dream -- the situation on the ground in Iraq has changed. Forsyth, who is close to the Kurdish leadership, was asked if the Kurds would ever leave Kirkuk if stability returned.
"My personal view, I think it's highly unlikely," he said.
Cassandra Vinograd of NBC News contributed to this report.