BAGHDAD — Iraqi Prime Minister Nuri al-Maliki on Tuesday fired four of his top security officers for abandoning their "professional and military duty," a week after the fall of Mosul to Sunni militants, according to a government statement read on state television.
The officers include Lt. Gen. Abdul Mahdi Algharawi, the top commander for Nineveh province, where Mosul lies.
Algharawi's deputy, Gen. Abdul-Rahman Hanthal, and his chief of staff, Hassan Abdul-Razaq, were also relieved of duty and will face charges in a military court.
The fourth commander, Gen. Hadayt Abdul-Kareem, fled a battle and will be tried in absentia, the statement said.
Of all of the half-dozen or so cities to fall to insurgents of the Islamic State of Iraq and al-Sham (ISIS), Mosul had the highest cost:
In addition to looting heavy military hardware, including Humvees and helicopters, the ISIS militants also seized about $450 million during a bank heist, Mayor Athier Nujaifi told NBC News last week.
And an Iraqi soldier who surrendered to ISIS in Mosul told NBC News he was ashamed of his actions but was following his commanding officer's orders. Hussein al-Shiblie claimed that the officers in Mosul appeared to have a deal with ISIS.
Following those reports, and amid a lack of fit soldiers, Iraq's government and Shi'ite clerics this week have put out a call for more dedicated volunteers to staff the army.
"We always fight for our religious leaders!"
On Tuesday in Baghdad, Iraqi army officials told NBC News that they were getting 3,000 new recruits per day — mostly young and enthusiastic students from the Shia-dominated southern parts of Iraq, including Karbala and Basra.
"We will kill ISIS, the ISIS terrorists," said one man waiting to sign up, Ahmed Jawad, 21, of Diyala. "We will crush them!"
Shakur Jassem, a 22-year-old religious clerical student from the Shi'ite neighborhood of Sadr City in Baghdad, echoed that sentiment.
"We always fight for our religious leaders!" Jassem told NBC News. "We answer the call."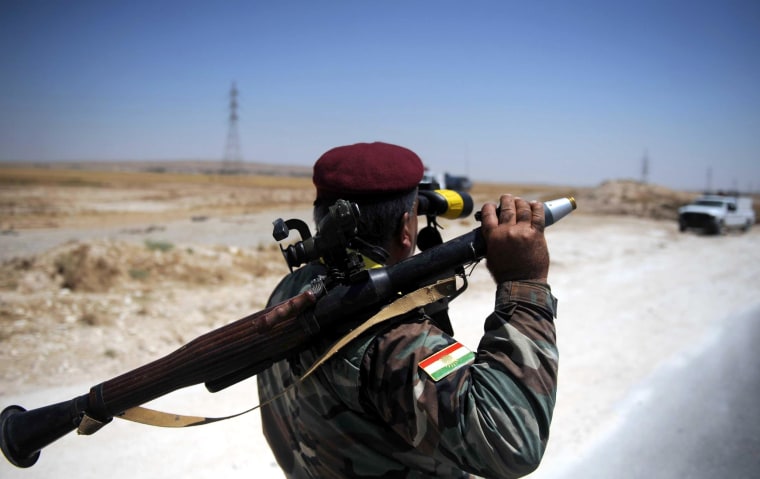 In many Sunni enclaves in Baghdad, police officials said Shi'ite militias have been spray painting X's on Sunni family homes — and posting signs saying, "Get out of the neighborhood."
Sunnis, heeding the message, have been packing up and leaving in droves, officials said.
The fight between the Shi'ite-dominated central government of Iraq and the Sunni militants highlights a centuries-old sectarian conflict, which has been inflamed by various events of the so-called "Arab Spring."
— with Hasani Gittens in New York