Two Serbian embassy staff members kidnapped in Libya were among nearly 50 people killed in U.S. air strikes on an ISIS compound, Serbia's prime minister said Saturday.
"We spoke to American services today — it seems they didn't know that Serbian nationals and other nationals were in the location that was bombed," Serbian Prime Minister Aleksandar Vucic told journalists as he confirmed earlier reports of the deaths.
Sladjana Stankovic and Jovica Stepic were taken hostage on Nov. 8 after their diplomatic convoy, including the ambassador, came under fire near Sabratha, a coastal city.
"We were keeping things under control," Vucic added during the news conference in the Serbian capital Belgrade. "We were getting proof of life on a nearly weekly bases — there were countless intermediaries, countless offers, from 16 to 60 million, but we never dealt directly with the kidnappers."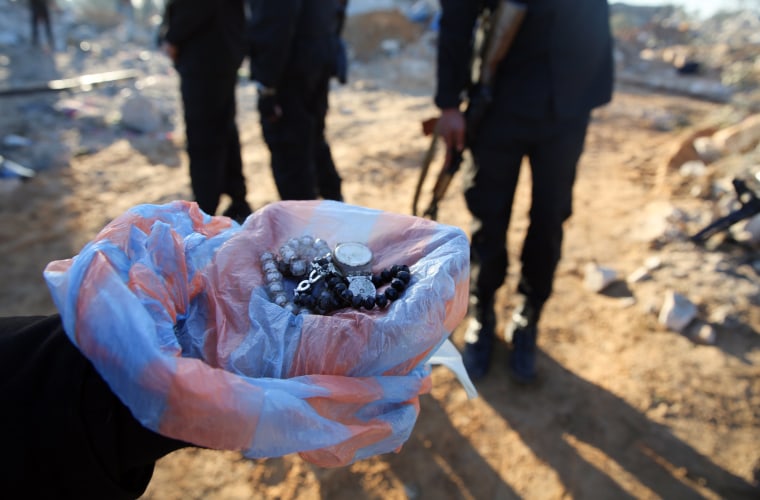 The Serbian Ministry of Foreign Affairs later reiterated that it did not ever directly negotiate with the kidnappers, and that the Serbian government went through Libyan officials and other brokers, but no demands were ever confirmed.
A Pentagon spokesperson on Saturday said that they were aware of reports of the Serbian staffers' deaths, but could not immediately confirm the reports. U.S. officials were still assessing the strike, the spokesperson added.
U.S. fighter jets had launched airstrikes against the ISIS compound overnight as they targeted a terrorist linked to tourist massacres in Tunisia, American military officials said Friday.
Dozens of people were killed in the bombing raid on Sabratha, local officials and activists said. Warplanes struck a house 6 miles outside the city center, Sabratha's municipal administration said.
A senior U.S. official told NBC News the airstrike likely killed Tunisian ISIS operative Noureddine Chouchane.
The 36-year-old jihadist was directly linked to the two 2015 attacks in Tunisia — on a resort hotel in Sousse and the Bardo Museum in Tunis, officials said.
According to Reuters, the mayor of Sabratha, Hussein al-Thwadi, said Libyan authorities had sent photos of the bodies to Serbian diplomats for an initial identification. He said the death toll from Friday's strikes had risen to 49.
Since 2014, Libya has had two competing governments, one based in Tripoli and the other, which has received international recognition, in the east.
Both sides are supported by loose alliances of former rebels and armed brigades. A unity government has been nominated under a United Nations-backed plan, but has yet to win approval or move to Libya.
Western powers and the United Nations have in the meantime been trying to reach out to armed factions to provide security for the unity government and tackle the threat from the ISIS.
The ultra-hardline group took control of former strongman Moammar Gadhafi's hometown of Sirte last year, and has carried out attacks in several other towns and cities.