DOHUK, Northern Iraq — The survivors live in trailers arranged in a neat grid. A mountain range lines the camp, and at this time of year the air is cold.
Only six months ago, the thousands of people at this refugee camp in northern Iraq lived in small villages nearby. Now, the people here have addresses that begin with a letter and end with a number. Here, you can live in trailer B6, or D13, or F100 — but you cannot go home.
Nineteen-year-old Farida is a survivor. Her village, called Kochu, is a distant memory. ISIS militants swept into the area in August, killing the men and taking women and children prisoner. Farida was driven across the border to Syria, and she and other young women were made into modern-day slaves — bought, sold, and sexually abused by ISIS fighters
Farida managed to escape, and now she lives in a trailer here, near others who have fled ISIS. She has few loved ones left. Her father was gunned down at Kochu. Her mother is still a prisoner somewhere in Syria.
'They Call Me Mama'
But Farida has found an anchor in a woman named Chemen Rasheed, an aid worker with a German-funded non-governmental organization called Wadi. The NGO works with 170 women like Farida, all of them former ISIS slaves. Rasheed monitors the women as they struggle to overcome their trauma and return to somewhat normal lives.
(NBC News does not usually identify victims of sexual assault, but obtained permission from the young women identified in this piece, as well as their current guardians.)
On one recent morning, Rasheed visited this sprawling hilltop camp to see Farida and a second girl named Hweida. Rasheed had planned a field trip, and she led the two young women to her jeep and drove them into town.
"When they first arrived, they were collapsed, totally. Psychologically, health-wise — everything," Rasheed recounts. "Step by step, we are reintegrating them into society."
At a local boutique, the young women shopped for clothing. Rasheed picked out a long-sleeve tee for Hweida and paid at the register. Then she and a second Wadi staffer took the young women to lunch at a nearby restaurant.
Rasheed concedes that reintegration will take time and care.
Hweida, the second girl, is only 12 years old. She was kept by a 50-year-old man in Raqqa, the ISIS "capital" in Syria. Rasheed says that Hweida didn't understand what was happening to her, but the girl had enough sense to escape. She wandered around Raqqa until a family took her in and arranged a ride back to Iraq.
When Hweida reached safety she was in shock — first speaking incoherently, and then refusing to speak at all.
"She's still a child and she needs her mom," Rasheed says. "I told her, 'You are my daughter. Until your mother comes back, I'm your mother.'"
Rasheed knows that Hweida and the other women in her care may never see their parents again. But, she says, the youngest women continue to believe their parents are merely missing — and the truth would be too much for the girls to take.
"They were collapsed, totally. Psychologically, health-wise — everything ... Step by step, we are reintegrating them into society."
Because there is so much the girls can't control, Rasheed does what she can to be a steady presence. She works without days off, mobilizing teams of staffers to help her make the rounds of local camps. She knows the girls' names and she documents their stories in a notebook.
"They call me 'Mama' because I'm with them everyday," Rasheed says.
The Yazidis
Farida, Hweida and the other women in Rasheed's care are Yazidis, members of a religious minority that has lived in northern Iraq for centuries. ISIS swept into Yazidi villages in August, trapping thousands on a mountain for days without food and water. The U.S. originally began its bombing campaign against ISIS to stop the slaughter.
A U.S.-led humanitarian effort accompanied the bombs, but not everyone was saved. Thousands of Yazidi men were killed systematically, made to lie in shallow graves and raked with bullets. According to Yazidi leaders and accounts by survivors, as many as 5,000 others were taken captive by ISIS. The young women were forced into slavery.
Now, six months later, women are making it back in growing numbers.
Wadi officials say more than 650 girls and women have escaped to safety in northern Iraq. Wadi and groups like it are racing to absorb the women before they fall into despair. Aid workers describe it as a race against time. Only last week, seven more girls arrived.
"Soon there will be thousands, and the community is not prepared for that," says Thomas von der Osten-Sacken, Wadi's director and co-founder.
Von der Osten-Sacken says Wadi plans to launch a day care center for the Yazidi women. The center will focus on delivering medical care, psychological counseling, and educational aid. It was Rasheed's idea, and she is leading the effort to get it built. Its doors may open as soon as April.
"A lot of them are now very eager to study, to learn, to do something," von der Osten-Sacken says of the women. "You need a future. You cannot always be pulled back in your own terrible past."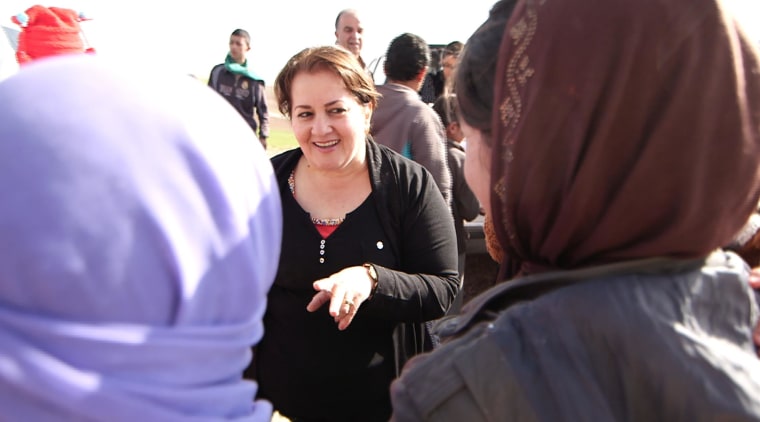 For Rasheed, the center will cap a two-decade effort to offer the women of Kurdistan, the autonomous region of northern Iraq, a refuge from violence.
A former school teacher, Rasheed first worked with Wadi in the early 2000's, establishing a shelter for victims of domestic violence. The shelter was turned over to government control in 2004, and Rasheed turned her attention to other women's issues. In 2011, she and other Wadi activists pushed a law through the Kurdish parliament banning female genital mutilation. Kurdistan, according to Wadi officials, is now the only government in the region banning the practice by law.
The new center for Yazidi women is a first step to deal with the current crisis, but Wadi hopes to get some women out of the region altogether. Some of the women have relatives in Europe, but winning asylum is a months-long process. None of the women have papers, von der Osten-Sacken says, and many are minors, further complicating the process.
Winter Care Packages
In the near term, Rasheed and her volunteers are focusing on getting the thousands of displaced Yazidis through the winter months. The cold has alarmed many area aid groups, and the UN is appealing for money to fund a warm clothing drive.
Jeffrey Bates, the Iraq spokesman for UNICEF, the UN organization monitoring the rights of children, worries that the same women who endured so much escaping ISIS are now struggling to stay warm — facing winter with the clothes they wore when the crisis erupted in August.
"It's a war in which children are suffering disproportionately," Bates says.
But while Bates and other UN officials call for the world's attention, groups like Wadi take care of most aid delivery on the ground.
The morning after her trip into town with the girls, Rasheed is back in her Jeep with Basima, the second Wadi staffer. Basima, who is Yazidi and who herself fled ISIS, is fiercely loyal to Rasheed. She credits Rasheed with offering the Yazidis a way to help themselves. This morning Rasheed and Basima will join a second local aid group called ALIND, which is funded by private donations from Germany and the US.
Rasheed's jeep joins the ALIND caravan and winds up a mountain road. The cars stop at an abandoned construction site along a ridge where hundreds of people are living inside half-finished buildings.
Rasheed and Basima distribute packets of food and warm clothes. After they finish, Rasheed will drive back to the Wadi office, pick up more aid, and transport it to yet another nearby camp. It is Saturday, her day off, but she waves off a question about her busy schedule. "If there are organizations and people who want to help, we'll come with them to help," she says.
Von der Osten-Sacken, the Wadi director and co-founder, says Rasheed's energy has become a joke among the group's staff.
"We had a meeting with Chemen (Rasheed) and the teams," he recounts. "They told me, 'Everything is fine here, but just if Chemen cannot call after midnight if it's work related. Because we need to get up at 6 a.m. to work, and we need to get some sleep.'"
To learn more about Wadi, their website is here: http://en.wadi-online.de/