An accelerated U.S. bombing campaign against ISIS in Iraq -– and soon in Syria -– will focus in part on eliminating key leaders and destroying the heavy U.S. weapons the Islamic extremist group seized this spring, U.S. officials tell NBC News.
The stepped-up bombardment to "degrade and destroy" the Sunni extremist group and increased support for "partner forces on the ground" were outlined by President Barack Obama in a nationally broadcast speech Wednesday night.
At the outset of the intensified air campaign, some in the U.S. intelligence community already are questioning whether ISIS can sustain itself. Doubters cite the increasing loss of U.S. weapons that ISIS fighters seized from retreating Iraqi army troops this spring, increasing financial challenges and the fact that its forces appear to be overextended.
The U.S. officials, who spoke with NBC News on condition of anonymity, say Washington and its allies will increasingly attempt to take out senior ISIS officials, likely including its leader, Abu Bakr al-Baghdadi. Obama will make the final determination on which ISIS officials are targeted, placing their names on a presidential "kill list" for drone attacks after receiving briefings and recommendations from senior advisers. The priority will be leaders who want to carry out attacks on U.S. interests.
Already three senior members of ISIS were killed in a U.S. air attack last week, although Pentagon officials said they were not specifically targeted.
The officials say the selective strikes on leadership can have a big impact. They note that when the U.S. jets killed Abu Musab al Zarqawi, the leader of the ISIS predecessor organization, al Qaeda in Iraq, in 2006, the group fell into decline before eventually resurfacing in Syria.
One official said the targeted killings have a very specific rationale.
"We want to have them (the leaders) fighting for his own survival rather than have the space to plot against us," the official said. "It's simple equation. We want them to have less of a chance to strike out beyond the border."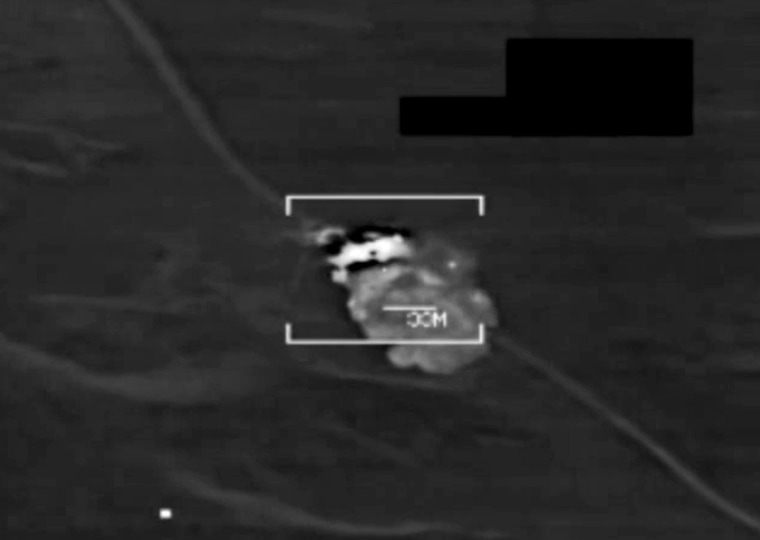 The increased airstrikes will add to the military challenges facing ISIS, which in the last month has tried to solidify control of its self-declared "caliphate" even as it came under attack by U.S. warplanes and drones in Iraq.
Among other things, the officials said, the group's leaders are dealing with "expiration dates" on the heavy U.S. weapons it seized -- including armored personnel carriers, artillery, rocket launchers and mortars. In other words, the ISIS forces have a finite supply of ammunition, fuel and spare parts that they won't be able to easily replace, which could quickly render the U.S. weapons useless, they say.
ISIS also is believed to have a shortage of trained personnel capable of maintaining the equipment, though Pentagon officials who spoke with NBC News acknowledged that they can't say with any certainty how many Iraqi army maintenance personnel captured by ISIS are working -- either voluntarily or forcibly – to maintain it.
The expansion of the aerial campaign to Syria is expected to further hasten the degradation of ISIS' military capabilities by denying it the ability to move the weapons there to escape U.S. attacks.
While the officials expect the expanded U.S. bombing to put ISIS on the defensive for the first time since it emerged as the most serious threat to the regime of Syrian President Bashar Assad, the officials said they do not foresee a quick collapse of the battle-hardened group.
For one thing, they note, ISIS retains "significant firepower," mostly Russian-made weapons captured from the Syrian military. While not as sophisticated as the U.S. equipment, these weapons are easier to maintain and, with so many nations having vast stores of Russian arms, spare parts and ammunition are easier to obtain on the black market.
"ISIS has huge reserves of Syrian arms," said one official, pointing out that the caliphate is headquartered in Reqqa, Syria, the home of a huge Syrian military arms depot.
Related
Tricky Diplomacy Awaits U.S. in ISIS Fight, Analysts Say
Jihad Interrupted: Feds Grab ISIS 'Wannabes' Before They Reach Syria
U.S. Aims to Root Out 'Ungoverned Spaces' as Hotbeds of Terrorism
The officials also note that ISIS still "controls" a 400-mile swathe of terrain extending from southern Syria into central Iraq -– an area roughly the size of Maryland with an estimated population of 8 million. And despite more than 150 air sorties flown over the last month by U.S. aircraft and drones, it has not lost significant ground. The U.S. and its allies have retaken big dams on the Tigris and Euphrates rivers, but ISIS still retains control of major cities like Reqqa and Mosul in Iraq.
The officials also say that ISIS has shown unexpected resiliency and sophistication in matters like keeping the oil refineries it controls running, using jury-rigged solutions, and organizing sophisticated smuggling operations to sell oil on the black market after gaining control of some oil fields.
Follow NBC News Investigations on Twitter and Facebook.
Nonetheless, at least some in the intelligence community are now questioning whether the group blamed for the massacre of untold thousands of Iraqis and Syrians and the recent beheadings of two American journalists can withstand an extended air campaign.
The biggest reason for that view is the group's brutal reign, which they believe has cost it support among moderate Sunnis, and the history of popular uprisings against militant jihadis.
"Every affiliate (of al Qaeda) has failed at running territory," noted one U.S. intelligence official. "They are universally hated by the local populace in territory they seize."