The week started with word Iraqi forces were set to storm ISIS-held Fallujah. Just days later, the government's advance has slowed to a crawl within striking distance of the city's limits.
The stalled assault on the historic jihadi stronghold signals an early warning that the country's security forces may be rushing headlong into a politically motivated battle for which they remain under-prepared.
U.S.-backed Iraqi Prime Minister Haider al-Abadi said Wednesday that while victory was "within reach," forces needed to ensure the safety of the estimated 40,000 civilians trapped in the city, with many being held by the insurgent group as human shields to ward off coalition airstrikes.
While such operational delays are normal for Iraq's under-trained, under-equipped and divided security forces, the latest pause reveals signs of hasty preparations and offers a vivid example of how Abadi has privileged his own political considerations over military strategy.
Indeed, the prime minister is fighting for his political life, fending off withering attacks from all sides. Success in Fallujah could help his case.
"The timing of the Fallujah initiative is very much politically motivated," said Lina Khatib, the head of the Middle East program at the London-based Chatham House research institution. "Abadi has not yet delivered politically so in a way he is seeking stability through military engagement against" ISIS.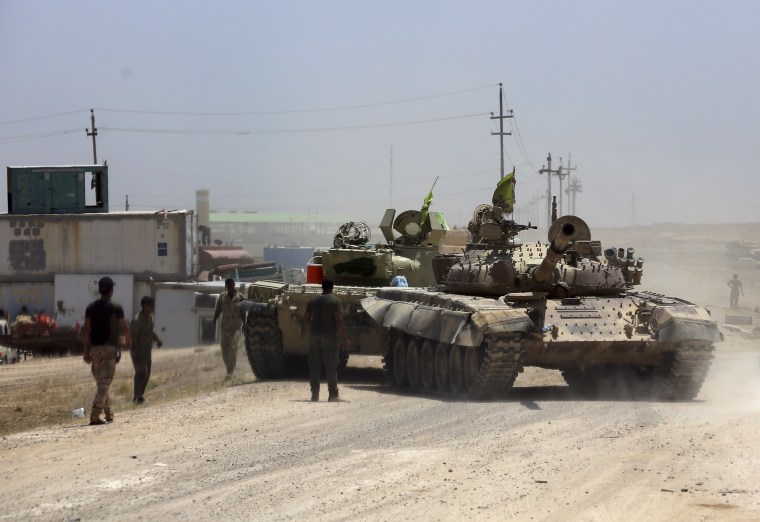 Hardliners from Iraq's Shiite majority have assailed Abadi for his cozy relationship with Western powers such as the U.S. Populist Shiite cleric Muqtada al-Sadr — once one of America's most powerful opponents in Iraq — has led regular, often violent street protests over the past several months demanding that Abadi and his allies resign unless parliament approves a new cabinet of technocratic ministers.
Leaders from Iraq's Sunni minority, meanwhile, remain deeply distrustful of the Shiite-dominated government that Abadi leads.
And an uptick in suicide car bombings throughout the capital Baghdad has killed hundreds over the past several weeks, shattering public faith in Abadi's ability to secure areas beyond ISIS control.
"Fallujah doesn't really have any tactical influence on Mosul ... So then it becomes a political decision, right?"
As summer temperatures spike, Iraqis will once again suffer rolling blackouts that threaten to spark widespread anti-government protests like those that roiled the country last year.
The embattled prime minister already appears to be using the fight in Fallujah, which ISIS has held longer than any other Iraqi city, as a pretext to rein in his critics. During a visit to Iraqi soldiers outside Fallujah on Wednesday, Abadi urged his opponents to put their complaints aside and unite behind the new offensive.
"I appeal [to the politicians] to freeze all differences until the land is freed," he said on state television late Wednesday, according to Reuters. "Daesh is the ultimate corruption and whoever prevents us from fighting Daesh is corrupt," he added, using a pejorative Arabic acronym for ISIS.
Abadi pressed ahead with plans to retake Fallujah over the objections of American military leaders, who had recommended that the Iraqis push toward the northern city of Mosul — the militants' de facto capital in Iraq and the country's second-largest city.
In a rare moment of public discord between the Iraqis and the U.S.-led anti-ISIS coalition, Col. Steve Warren, a Pentagon spokesman, said last month that there was "no military reason" to retake the city.
"Fallujah doesn't really have any tactical influence on Mosul," Warren told a May 13 briefing. "So then it becomes a political decision, right? This becomes a decision that, you know, is made at the political level."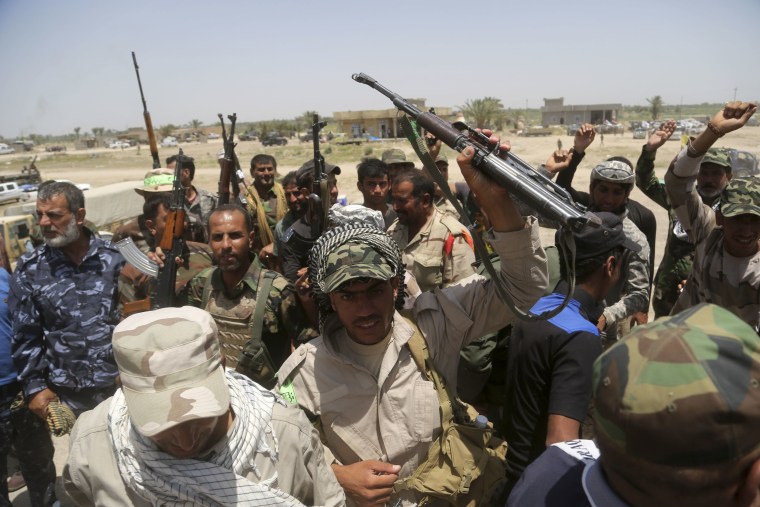 Still, U.S. and Iraqi officials have put on a united front since the offensive began — with the American-led coalition hitting ISIS targets in Fallujah from the air.
Iraqi counterterrorism commander Lt. Gen. Abdel Ghani al-Assadi confirmed there was air support.
"There is cooperation, and there is coordination at the highest levels," he told NBC News.
The extremist Sunni group is unlikely to give up Fallujah without a fight. The city has been held for nearly two-and-a-half years. That has given ISIS time to build up its usual ramparts: a defensive tunnel network, booby-trapped buildings, fortified sniper positions and a vast scattering of improvised explosive devices.
Fallujah is also the city where ISIS and its predecessor, Al Qaeda in Iraq, have historically enjoyed the most local support. More than 100 U.S troops were killed and over 1,000 wounded in two bloody battles against them in 2004.
But given the symbolic importance of the fight, both to Abadi himself and the military, Iraqi security forces will also be reluctant to give up.
With sky-high stakes on both sides, the battle is likely to wear on to a bloody conclusion, said Khatib.
"The Iraqi government now has already announced its intention to liberate Fallujah so it will lose face if this does not happen," she said. "I personally think that they will just keep going until they do it."