An ancient temple in Syria's Palmyra has been destroyed, a monitoring group with the United Nations said Monday after an explosion sparked speculation that ISIS had blown up the historic site.
The United Nations Institute for Training and Research said that satellite analysis confirmed that the main building at the Temple of Bel has been demolished.
Witnesses told The Associated Press Monday that ISIS militants, who captured Palmyra in May, significantly damaged the 2,000-year-old temple by bombing it. And an ISIS operative, speaking on the condition of anonymity, told the AP over Skype on Monday that militants had detonated explosives near the temple.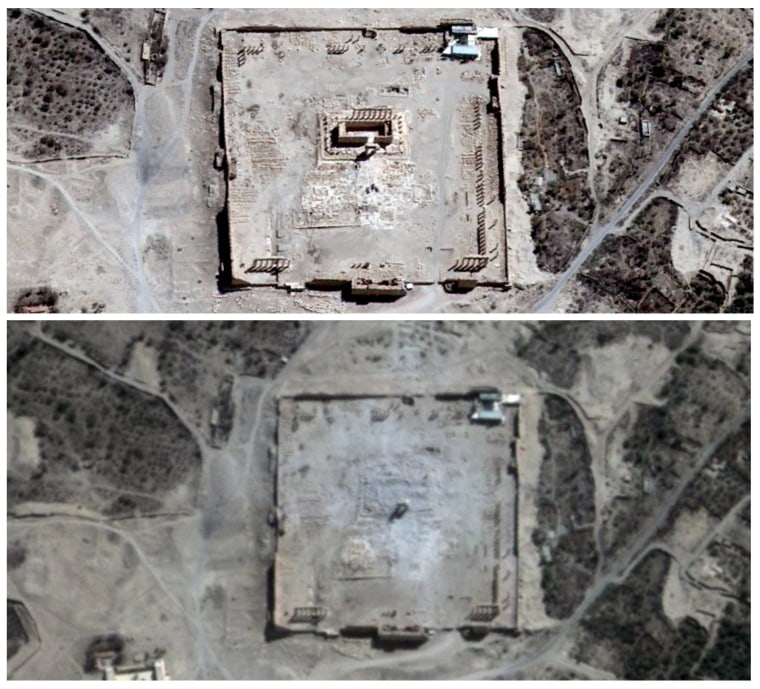 Bel and other ruins in Palmyra were named by UNESCO as a World Heritage site in 1980.
"Bel Temple is a unique architectural icon, being one of the largest and most well-known temples in the ancient Near-Eastern history," the Antiquities and Museums Department in Damascus said in a statement earlier Monday. Amid reports of the temple's destruction, the department said it was "hoping it is not true."
Last week, ISIS blew up Baal Shamin, another temple in Palmyra. ISIS has destroyed a number of antiquities in neighboring Iraq that they consider heretical, but the destruction of Baal Shamin was first time that the insurgents have damaged monumental Roman-era ruins.
Earlier this month, ISIS militants in Palmyra beheaded 81-year-old Khaled al-Asaad, one of Syria's most revered antiquities scholars.