The retired Iraqi teacher tried to thank the fighters who freed his village from the grip of ISIS in November, but he didn't get the chance.
Before he could say anything the militiamen burst into Saleem Mohammed al-Obaidi's home, hurling threats and insults.
"One of them told me, 'You are an old man, it is better for you and your wife to leave. If you stay here, we will kill you,'" the 56-year-old told NBC News in a telephone interview.
It took al-Obaidi just a moment to decide what to do. Early the next day, he and his wife abandoned their home in eastern Iraq's Diyala province to move in with his son living in the West of the country.
To al-Obaidi and a growing number of Iraqis, the brutality of ISIS is nearly being matched by the men sent to drive the Sunni extremists out.
There are thousands of Shiite Muslim militiamen fighting alongside the Iraqi Army and Kurdish forces to defeat ISIS. Al-Obaidi is one of a chorus of Iraqis who allege that those same militias are also kidnapping, killing and driving innocent Sunnis from their homes in the process.
The militia fighters are loosely organized under the government's Popular Mobilization Committee. Their ranks have been bolstered by the thousands in recent weeks amid the battle to retake deposed dictator Saddam Hussein's hometown of Tikrit, according to Iraqi news agency Al-Sumaria.
Prominent legislator Hamed al-Mutlaq has said the militia fighters are vital to the war on ISIS — but are too powerful for the U.S.-backed government in Baghdad to control.
"They have committed crimes like killing, stealing, displacing people from their homes," said al-Mutlaq, who is the brother of the country's Deputy Prime Minister Saleh al-Mutlaq. "Meanwhile, the government has not been able to have any sort of pressure on the militias, to stop them from committing more crimes."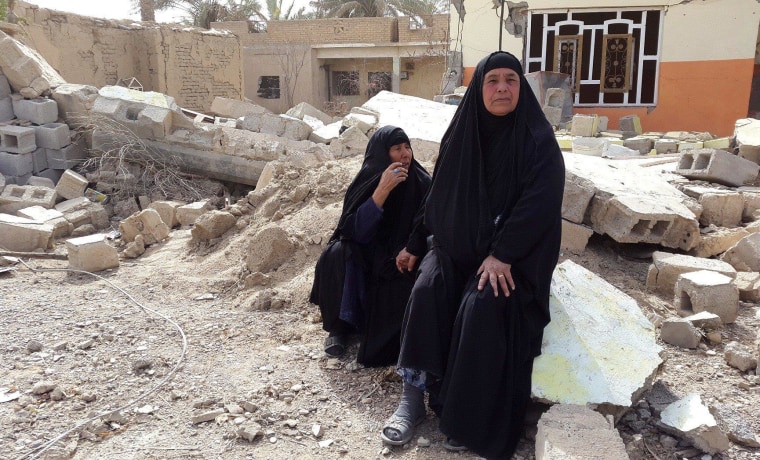 "I don't think the government is satisfied with them, or supports them, but they have grown stronger over time, they have followers, money and are empowered and supported by third parties," he added, referring to neighboring Iran, which is widely thought to be sending money and troops to fight ISIS in Iraq and Syria.
The Iraqi government has promised to try and reign in the fighters, which the government of Prime Minister Haider al-Abadi estimates number at more than a million throughout the country, according to the Wall Street Journal.
On February 17, powerful Iraqi cleric Muqtada al-Sadr also condemned the militias' abuses, and declared he was freezing the activities of the two he oversees — Youm al-Mawoud and Saraya al-Salam.
Despite the growing alarm and attention, the brutality continues unabated — which according to analysts could have longterm consequences.
"Iraq clearly faces serious threats in its conflict with ISIS, but the abuses committed by forces fighting ISIS are so rampant and egregious that they are threatening Iraq long term," Joe Stork, Human Rights Watch's deputy Middle East and North Africa director, said when the organization released a major report on the subject Wednesday.
"Iraqis are caught between the horrors ISIS commits and abusive behavior by militias, and ordinary Iraqis are paying the price," he added.
Unfortunately, a persistent but centuries-old Sunni-Shiite sectarian divide is part of the problem.
Many members of the country's majority Shiite Muslim population were oppressed under Sunni leader Saddam Hussein, who was overthrown after the U.S. invasion in 2003. More recently, the large Sunni minority suffered under Shiite Prime Minister Nouri al-Maliki, who stepped down in 2014 after he was unable to halt ISIS' advances.
While the recent surge in atrocities against Sunnis tracks the fight back on ISIS, the Shiite militias have been active since the United States toppled Saddam. Simmering sectarian tensions boiled over into outright civil war after one of the holiest sites in Shiite Islam, al-Askari Mosque in Samara, was bombed on Feb. 22, 2006, presumably by Sunni extremists.
"Someone dropped an envelope containing a bullet and a message"
Mohammed Sameh remembers the violent period well: Two months after the Samara attack, his little brother Atheer went out to buy bread and never came home.
A baker told Sameh's Sunni family that Shiite fighters had dragged away Ather. Two days later the teen's body showed up in the city's morgue.
"While we were busy burying him, someone dropped an envelope containing a bullet and a message. The message said that we have only 24 hours to leave our house, and if we did not do so, more of our family will die," Sameh said."We waited until the morning, then we left."
Like many Iraqis, Sameh believes the United States is responsible for the resurgence in out-of-control Shiite militias.
"They crossed the sea in order to build a new Iraq ... but they did not know how to play the game," he said.
Al-Mutlaq, the politician, agreed and said he feels the U.S. has chosen to look the other way.
"When I look at [President Barack] Obama's reaction to the behavior of these militias, I feel he supports them or is satisfied with them," he said. "The U.S. promised that it would stand with Iraqis but it did not."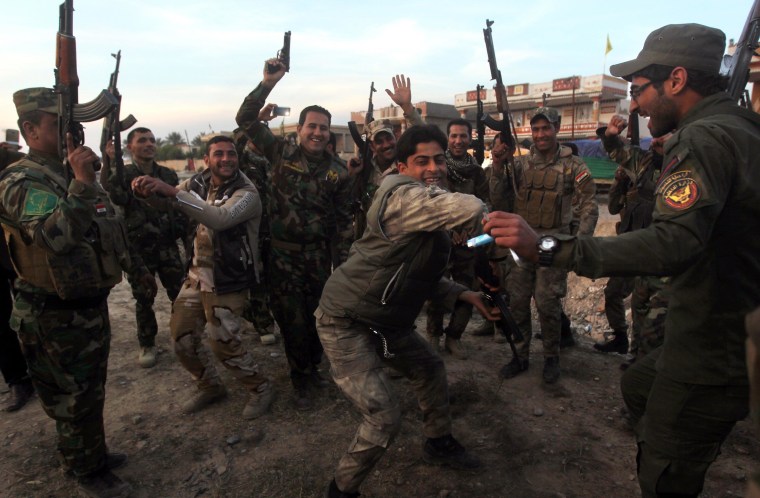 Locals say one of the most fearsome and powerful militias is The League of the Righteous. Abu Ahmed al-Jubooy, a taxi driver and father of two, said his was one of "tens" of Sunni families forced to flee by the group, known by its Arabic acronym AAH, after their area was recaptured from ISIS.
"No one can stop them from doing whatever they want to do. They can overthrow the government if it tries to judge them for crimes they committed and will commit," according to the 43-year-old, who told NBC News that he abandoned his farm in the village of Jurf Al-Sakhar south of Baghdad late last year.
"There were Iraqi army forces, federal police, and local police as well, but they controlled nothing at all there, the Shiite militias are controlling everything."