A bloody past and centuries of mistrust between two branches of Islam are threatening to derail Iraq's bid to crush ISIS — as well as the American war plan.
The rise of Iran-backed Shiite militias battling the extremists has left the country's Sunni minority wondering what to do next.
The so-called Popular Mobilization Units made up primarily of Shiites aligned with Tehran have taken on a kind of semi-official status in Iraq's security forces, fighting at the tip of the spear during recent anti-ISIS campaigns in the cities of Tikrit and Ramadi. In some cases, they are led by men accused by the U.S. of being responsible for attacks on Americans.
But Sunni fighters are expressing dismay at the idea of being stationed with Shiites, even if both parties share a common enemy in ISIS.
"I will not fight with the Hashad," one Sunni tribal fighter said in an interview with NBC News, using the Arabic name for the Popular Mobilization Units. "They … take their orders from Iran. It's a shame on me if I fight next to an Iranian."
An eight-year war between Iraq and Iran in the 1980s left at least 500,000 people dead. Sectarian violence between Sunnis and Shiites in the years following the 2003 U.S. invasion killed thousands more.
Until recently, U.S. training in Iraq has focused on Shiite and Kurdish fighters battling ISIS. But the White House last month announced that 450 military trainers would be sent to Anbar province to work with Sunni tribes that feel displaced by the Shiite-led government and have not joined the fight against ISIS enthusiastically. The Sunnis are being trained at Taqqadum air base — alongside what the Pentagon describes as a "low double digit" number of Shiites serving as liaisons between militia units and the Iraqi government.
Experts say there is a portion of the Sunni population that remains anti-ISIS and is willing to fight. But the question is whether they'll be prepared to go into combat alongside the Shiite militias, including some which have a record of human-rights abuses.
It's unclear what the Iraqi government will ask of the Sunnis regarding integration with Shia on the battlefield, but senior U.S. officials have indicated that various forces would ultimately be consolidated.
Enmity has existed between Shiites and Sunnis for around 1,400 years, and stems from the conflicting beliefs on who should lead the faithful. According to Shiites, leadership ought to be handed down through Muhammad's descendants, such as Hussein, while Sunnis believe power should have passed first to the Prophet's companions and then a series of "caliphs" chosen by the faithful.
More than 20 percent of Iraq's population is Sunni. They have also complained of discrimination and abuse since the 2003 U.S.-led invasion that toppled Saddam Hussein's Sunni-led dictatorship and replaced it with a government dominated by the country's Shiite majority. ISIS is made up of Sunni extremists.
But while the Popular Mobilization Units insist they aren't sectarian, human rights groups have accused individual Shiite militias fighting within the structure of harassing or attacking Sunni civilians, as well as destroying their homes and businesses.
"The Sunnis in Iraq view the conflict as directly managed by Iran," said Laith Alkhouri, a director of research at security consultancy and NBC News partner Flashpoint Intelligence. "ISIS is extremely savvy at exploiting this relationship."
Alkhouri said that because Shiite militias are fighting in Sunni areas such as Ramadi, ISIS is able to frame the militias' battle against ISIS as a larger fight against Sunnis. "Because of that they're able not only to recruit, but get the tribes to pledge allegiance to ISIS," Alkhouri said about the Sunni militant group.
Shiite militias have taken a larger role in the battle against ISIS as members of Iraq's official army have reportedly fled when encountering the militants. The Popular Mobilization Units now outnumber Iraqi security forces.
"The most effective groups [in Iraq] are the groups that are linked to Iran — they are the best trained, the best armed, and they have the biggest effect on the battlefield," said Bill Roggio, editor of the Long War Journal and a fellow at the Foundation for Defense of Democracies.
The Popular Mobilization Units include the Badr Organization, which is financed, armed and inspired by Iran.
Its leader is Hadi al-Ameri, who is known to be close to Qassim Suleymani — head of Iran's elite special operations unit, the powerful Quds Force.
Iranian media last month published photos purporting to show al-Ameri and Suleymani together in Iraq's Anbar province.
And Abu Mahdi al-Muhandhis, the Popular Mobilization Units' operations chief, was listed by the U.S. government in 2009 as a specially-designated global terrorist. The announcement noted al-Muhandhis' ties to the Iranian Islamic Revolutionary Guard Corps (IGRC), which it alleged provided lethal support to Shiite groups which at the time were targeting and killing Americans and Iraqi forces.
During a visit to Tehran last month, Iraq's prime minister was photographed introducing al-Muhandhis to Iranian President Hassan Rouhani.
U.S. officials have recently conceded that Shiite militias will play a role in the fight against ISIS — but are careful to say that the groups are under the control of Iraq's central government.
"There are the militias that you and I are used to hearing that have close alignments with Iran," retired General John Allen, President Obama's envoy to the coalition fighting ISIS, said in May. "Those are the extremist elements, and we don't have anything to do with that."
The Badr Organization's links to Tehran go back to the Iran-Iraq War of 1980-1988, when Badr members fought on the Iranian side, against Iraq.
But experts say the rise of ISIS has brought the relationship further into the open, as Badr and similar Iraqi Shiite groups see an opportunity to expand their influence with Tehran's help.
"Under the guise of fighting ISIS, they are getting all they can, while they can," Michael Pregent, a former U.S. intelligence officer who worked in Iraq between 2005 and 2010, said of Iraq's Shiite militias. "Their focus is on exerting political influence and religious influence on existing Iraqi institutions."
NBC News' Bill Neely recently visited al-Ameri on the battlefield, as his forces fought at the northern edges of Ramadi. "I take my orders from Baghdad, not Tehran," he said. "Every operation is authorized by the prime minister."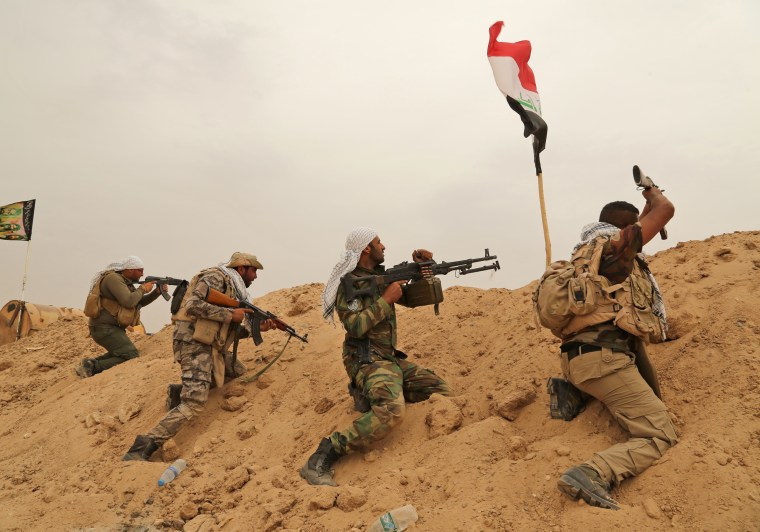 Nevertheless, a poster circulated online by the Badr Organization in March announcing the start of a campaign to take back the city of Tikrit from ISIS carried images of Al-Ameri and Iran's Supreme Leader, Ayatollah Khamenei. "We're coming, O Tikrit," it announced.
The funeral of one Badr Organization fighter also underscores just how active Iran has become inside Iraq's borders.
Muhammad Hadi Dhulfiqari received a hero's goodbye after being killed while battling ISIS militants in Iraq in February.
Funeral video published by the Badr Organization shows his comrades carrying Dhulfiqari's coffin into a wide mausoleum, where men dressed in combat fatigues paid respects and wept. Martyrdom posters inside the mausoleum showed a portrait of Dhulfiqari in life, smiling as he held his rifle.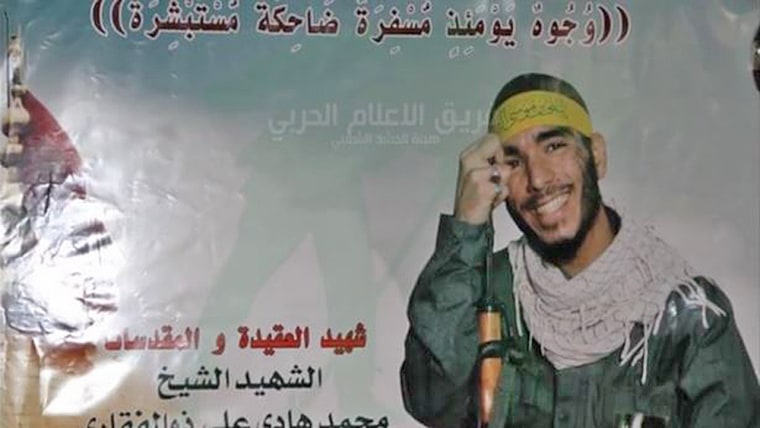 However, it appears Dhulfiqari was not Iraqi.
"Iranian media openly claimed he was a member of the basij — meaning a member of the IRGC," said analyst Phillip Smyth, referring to the volunteer wing of Iran's Revolutionary Guard Corps.
Smyth, a fellow at the Washington Institute and researcher at the University of Maryland who specializes in Shiite militia groups, dug into the story of the Iranian's death.
At least two Iranian news outlets known to have reliable information about affairs in the country identified Dhulfiqari as an Iranian national embedded with the Badr Organization inside Iraq, where he worked as a military adviser and photographer.
Photos of a second funeral held for Dhulfiqari in the Iraqi city of Najaf purport to show his coffin draped in an Iranian flag.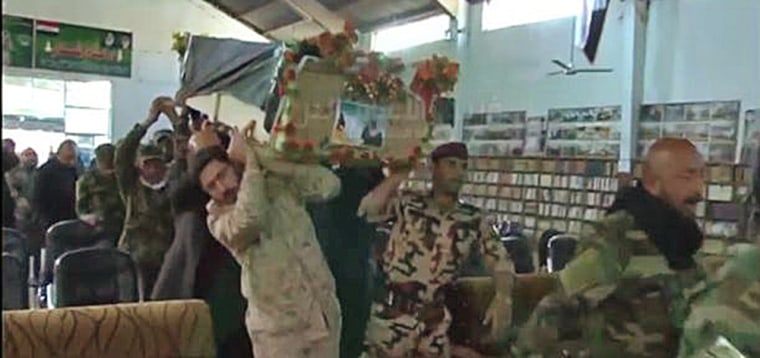 Ayatollah Asefi, the Najaf-based representative of Khamenei, is also pictured at the funeral, praying over Dhulfiqari's coffin.
Iranian media has reported that Iran is involved inside Iraq in an advisory role and Khamenei's senior military adviser has said the actions are a warning to the militants of ISIS.
"[ISIS] wanted to come toward the holy shrines," the military official, General Yayha Rahim Safavi, said during a speech near Tehran last month. "We gave them a message that if they come close to holy shrines, we will enter the battle directly and you know you do not have the ability to confront Iranian basiji," Safavi added, referring to Iran's volunteer fighters inside Iraq.
The deaths of Iranian basij fighters like Dhulfiqari are also a powerful symbol for Iraq's Shiite militias, who recognize they have a reliable patron in Iran.
"The Iranians are doing what the U.S. won't, which is committing to the fight fully. And when you're committing to the fight fully, you're committing forces on the ground," said Roggio, the Long War Journal editor. "That is why the Iranians have a lot of sway with the Iraqi government and military. And that is why Iranian power is on the rise."