Malnourished, injured and emotionally traumatized civilians have been staggering out of Mosul's Old City as Iraqi soldiers continue to drive the last remnants of ISIS fighters out of the conflict zone.
They may be the lucky ones.
The sense of urgency by U.S.-led coalition forces to liberate the ISIS strongholds of Mosul, in Iraq, and Raqqa, in Syria, has come at a heavy cost — particularly for the civilians trapped in the two cities.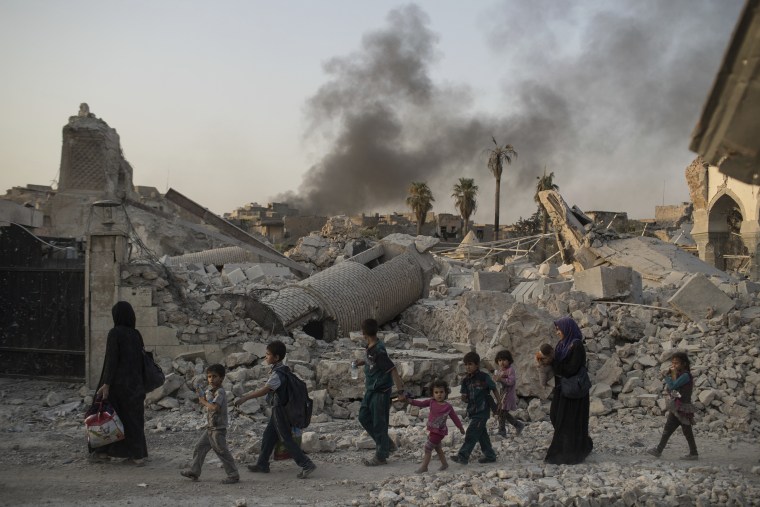 ISIS is known to have used civilians as human shields, and to have shot and killed Iraqi residents trying to flee, according to the United Nations Human Rights Office.
In one three-day period in June alone, the U.N. reported that ISIS killed at least 204 civilians trying desperately to get out of the city. The total number of their victims is unknown.
Furthermore, the U.S.-led coalition airstrikes meant to root out the jihadists have wreaked extensive collateral damage in Mosul and Raqqa, resulting in the deaths of hundreds of civilians.
The U.S. military confirmed Friday that at least 603 civilians had "more likely than not" been "unintentionally killed" by coalition airstrikes since they started the bombing campaign against ISIS in August 2014.
Airwars, a non-profit organization that tracks civilian casualties from the airstrikes against ISIS in Iraq and Syria, puts that number about eight times higher.
The group, which is made up of former journalists in the Middle East, Europe and the U.S., found that at least 4,354 civilians have been killed by U.S.-led coalition airstrikes between August 2014 to June 2017.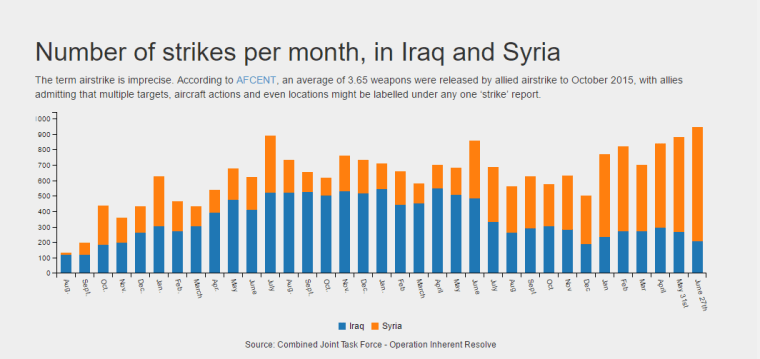 'That place, it was absolute death'
Since October, coalition-backed Iraqi troops have been engaged in a fierce fight to retake Mosul. ISIS militants captured the city, Iraq's second largest, in 2014, and declared a so-called Islamic caliphate.
More than 850,000 people managed to leave the city and became internally displaced, according to Iraqi authorities. But many civilians were trapped by the intense urban fighting and terrorized by ISIS if they tried to flee.
"Shooting children as they try to run to safety with their families — there are no words of condemnation strong enough for such despicable acts," U.N. High Commissioner for Human Rights Zeid Ra'ad Al Hussein said in a statement in June, calling ISIS attacks on civilians "war crimes."
The U.N. also said it was looking into civilian deaths caused by coalition air strikes — including one that reportedly killed between 50-80 people in Mosul in May.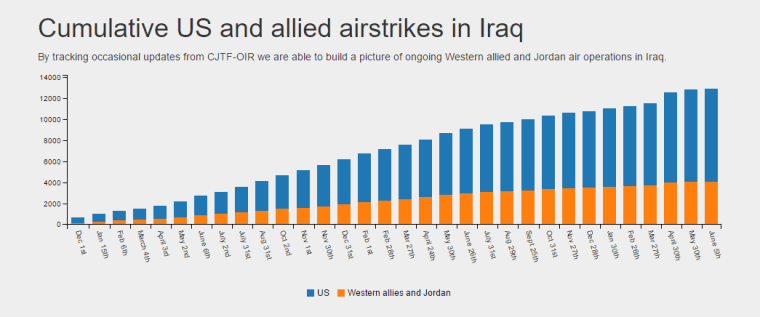 That came during the ongoing, nine-month campaign to retake the Iraqi city. Airwars estimates that this fight has seen between 900 and 1,200 civilians likely killed by coalition air and artillery strikes.
The group says they saw a spike in the number of coalition airstrikes since December 2016.
Its methodology involves tracking airstrikes based on data provided by the U.S., allied and Russian militaries and then investigating allegations of civilian casualties.
One explanation for the higher number of airstrikes may be that the U.S. military adjusted its authorities for commanders in the fight to retake Mosul in December.
The change allowed American advisers, who are embedded with Iraqi rapid-response and special-forces units at the brigade level, to directly deliver airstrikes and artillery fire to the units they are partnered up with.
Previously, they would have had to get approval through a strike cell, or panel at headquarters.
In a Feb. 22 Pentagon press briefing, Air Force Col. John Dorrian said that more coalition forces were "empowered" to have the ability to call in strikes in the Mosul operation.
NBC News asked the U.S. military if the reported change in military procedure had led to an increase in coalition airstrikes and civilian deaths.
The press office for the coalition, whose official name is Combined Joint Task Force – Operation Inherent Resolve, said in an email last month that there had been no changes to coalition strike procedures in the last six months.
It added that there is "no validated evidence if an uptick in civilian casualties" — only "unsubstantiated allegations."
"The Coalition's goal is always for zero human casualties," the press office said. "We apply rigorous standards to our targeting process and take extraordinary efforts protect non-combatants."
It added that "accordance and the law of armed conflict, the Coalition strikes only valid military targets, after considering the principles of military necessity, humanity, proportionality, and distinction."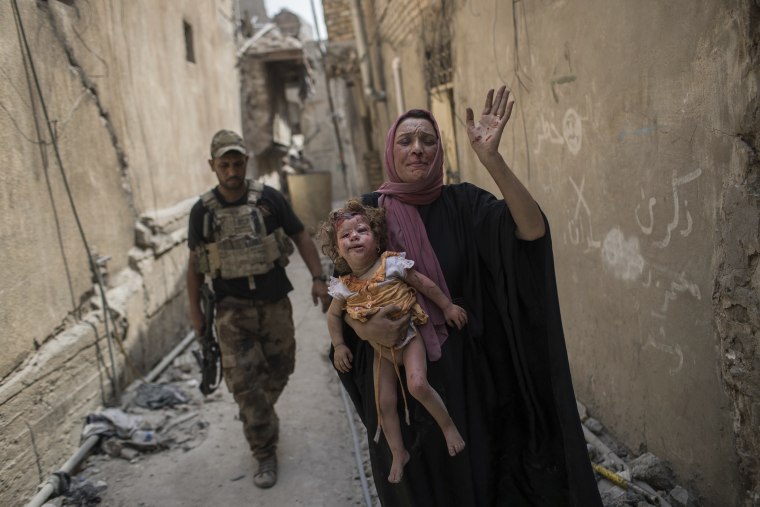 The U.S. military said its priority was to stop people suffering by defeating ISIS as quickly as possible.
"The longer this takes, the more the people will suffer under ISIS," it said.
However, humanitarian workers in Mosul said this sense of urgency trumped their efforts to make coalition forces more mindful of the civilian population packed into a city that had some 1.5 million residents before the conflict started.
Belkis Wille, senior Iraq researcher for Human Rights Watch, told NBC News that in the final push to take Mosul there was a "massive uptick in ground fire" and the use of large 500-1,000-pound crater bombs that cause huge destruction and many deaths.
Human Rights Watch made recommendations to the warring parties to take some of those powerful weapons off the table, Wille said.
But there was a "general feeling among the military forces, 'We need to keep the momentum up. It's better for the civilians of Mosul if we can get ISIS out,'" she said.
For the Iraqi military, ISIS' use of civilians as human shields made some casualties inevitable.
"It is a battle inside towns and cities, so there must be some casualties among civilians when you target ISIS terrorists who are hiding among civilians," Brig. Yahya Rasool, the spokesman of the Iraqi Joint Operation Command, told NBC News in a phone interview.
Rasool said the Iraqi forces' "main concern is to prevent civilian deaths." He defended the U.S.-led coalition airstrikes, saying they were "very precise" and rely on "precise intelligence information."
For the people caught in the crossfire in Mosul over the last few months, it's been a living hell.
"That place, it was absolute death," a man fleeing Mosul's Old City told the AP on Wednesday. "We will never be the same. Once the fear has been planted in your heart, you can't get rid of it."
'Staggering loss of life'
Meantime, coalition forces have also been closing in on Raqqa, the Syrian capital of the ISIS caliphate.
The city of approximately 220,000 is considerably smaller than Mosul, but it is of immense strategic importance to ISIS militants because they have used it as a base to launch attacks on the West.
In June, the U.N. Human Rights Council denounced the "staggering loss of civilian life" caused by the intensification of airstrikes on Raqqa.
"Violence continues to be directed against civilians, with complete disrespect for civilian protection," Paulo Sérgio Pinheiro, the head of the U.N. Commission of Inquiry on Syria, said in a statement.
The fighting has involved the "unrestrained use of airstrikes against residential neighborhoods, attacks against doctors and hospitals, [and] the use of suicide bombers that deliberately target civilians," he added. "Fighting remains brutal in purpose and reprehensible in method."
He also warned against tactics that involved civilian deaths as collateral damage.
"The imperative to fight terrorism must not, however, be undertaken at the expense of civilians who unwillingly find themselves living in areas where ISIL is present," Pinheiro said.
Kinda Haddad, the head of Syria research at Airwars, has been monitoring U.S.-led coalition and Russian air strikes, for the last two and half years. She said she used to see an average of three to ten alleged coalition airstrikes per week — but now she regularly sees about 50 per week.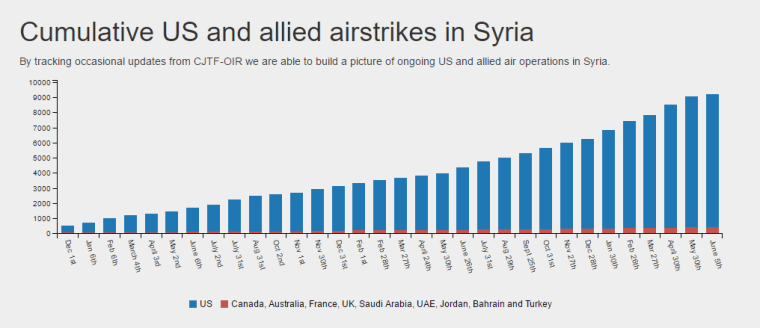 "Earlier the [local] monitors said they knew when the airstrikes were coalition strikes because they were so precise," said Haddad. "But that has changed."
"The trend is telling us something," said Haddad. "The fighting is too intense. Choices can still be made. The preservation of human life should be at the forefront, not an afterthought."
'Horrific' toll
For the aid organizations trying to help civilians fleeing the violence, it has been an extremely challenging experience to say the least.
"This is a very sophisticated conflict," Jonathan Henry, of Doctors Without Borders, told NBC News by phone from Iraq last week. "It is an urban conflict akin to World War II. It is very challenging to work in."
Henry is the outgoing emergency coordinator for the organization, which is also known as Médecins Sans Frontières, in West Mosul. He said that even for MSF, which specializes in sending medical teams to conflict zones, trying to provide medical care to civilians when doctors are in range of artillery and sniper fire has not been easy.
"The horrific theme of the conflict, where women and children are among the victims, is extremely traumatic," said Henry, who has worked for MSF for the past 12 years in places like Darfur, Ethiopia and Syria.
On one positive note, he said that within days of opening their most recent medical treatment center close to the front line in West Mosul, they had their first baby delivery.
"So life goes on, even in a war zone," he said.
CORRECTION (July 10, 9:35 a.m. ET): An earlier version of this article misstated which airstrikes the Airwars group has been monitoring in Syria. They monitor Russian and U.S.-led coalition strikes, not Assad regime attacks.