DEBAGA, Iraq — Khalid Fathi is hemmed in — by a barbed wire fence that surrounds this camp for displaced people and by the war that has claimed half his family.
Before he fled his village south of Mosul in July, ISIS fighters decapitated his brother for passing information to the Iraqi military and shot dead his brothers' sons. His brother's widow was killed when an airstrike by Iraqi or international coalition forces destroyed their family home, he said.
All told, seven of his relatives have died in recent violence. What's left of his family — parents, sister and deceased brother's remaining children — now live in two small tents.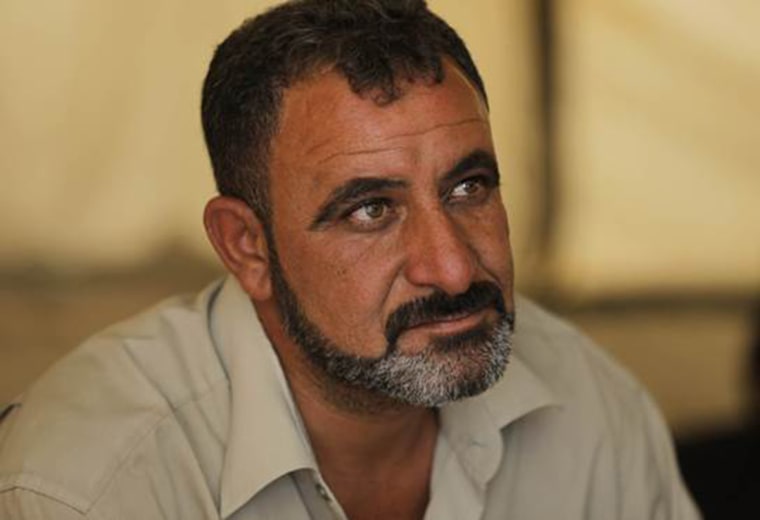 "The house was destroyed," said the 45-year-old laborer, retelling a story that brought tears to his eyes. "My family was destroyed."
Fathi's diminished household is a small part of the human impact of ISIS' two-year occupation of northern Iraq — and the efforts by Iraqi and foreign armies to defeat them.
More than 33,000 people like Fathi live in the Debaga Camp on the outskirts of Erbil in northern Iraq. More than 3.3 million Iraqis have been displaced nationwide — about 10 percent of the population.
When Mosul, Iraq's second-largest city, is liberated from ISIS aid workers expect a wave of as many as one million more civilians.
Related: Elite Forces Now Within a Mile of ISIS-Held Mosul
The United Nations and aid agencies have been rushing to prepare for what many fear could be an overwhelming surge.
"To be honest, we are not well prepared for this huge number because ... we have no more capacity for new families," said Ahmed Abu, Debaga's head manager and a staff member of the Barzani Charity Foundation, a Kurdish group that numbers among several international aid agencies, development groups and charities that help fund the camp.
Debaga bears a visible human strain: When the camp was first built in October 2015, it was slated to accommodate 5,000 people. Since then, the camp has sprawled to include two extension camps and has even absorbed a nearby soccer stadium where families sleep on the open pitch.
Seen from the camp's center, neat rows of permanent concrete huts extend toward the horizon before they dissolve into a further field of blue and white tents.
But Debaga is just one camp among many in Iraq, and aid workers are rushing to build more.
The U.N.'s Refugee Agency (UNHCR) alone runs five camps for internally displaced people in northern Iraq and a further six are under construction. Separate agencies are running and building other camps.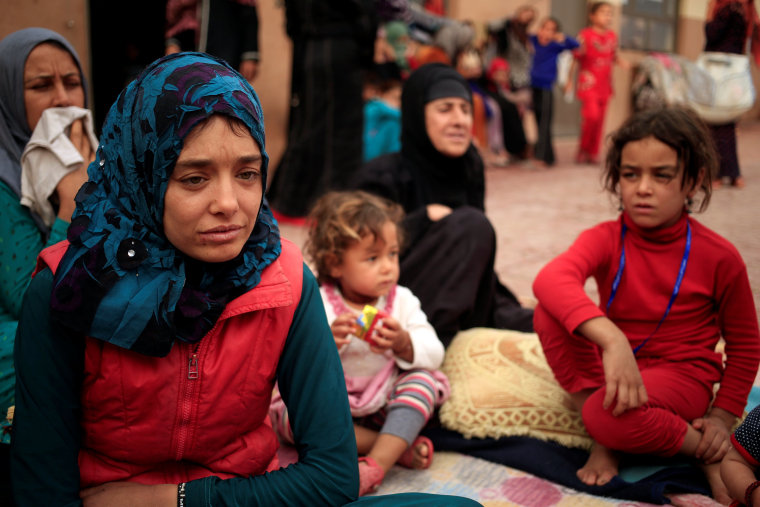 "In terms of support and direct assistance we're in good shape," said Lise Grande, the Deputy Special Representative of the United Nations Assistance Mission for Iraq. "The major constraint is where people can be brought safely."
The Iraqi army learned that lesson the hard way earlier this year. When the military publicly identified so-called "humanitarian corridors" for civilians to escape Fallujah during a battle this past summer, ISIS commandos simply gunned down fleeing families.
And even when camps and escape routes are safe, authorities worry about extremists penetrating the camps themselves.
Related: 'Acid Test' Looms After ISIS Defeat in Mosul
Debaga is one of several internally displaced people's camps in northern Iraq that host adjoining complexes that screen new arrivals.
Whereas women and children are quickly ushered to the camps, adult men are often interrogated to make sure they aren't ISIS fighters or collaborators — a process that Grande and Abu said can last anywhere from hours to weeks.
One woman who lives across from Fathi's tent said her husband had been detained for questioning for two months. The woman did not want to give her name.
Such interrogations are common for people displaced from war, said Grande, and the U.N. is advising the government on humane methods for questioning and detaining civilians, including keeping families together for what is often a lengthy process.
"It needs to be dignified, it needs to be transparent. You need to be sure that there are no abuses," said Grande. "We've provided best practice guidance to the forces. We've taken this from experience all around the world."
But for innocent civilians, such lengthy interrogations can seem like a cold welcome — especially for those, like Fathi, who have already endured so much.