ERBIL, Iraq — Anti-ISIS forces set out to retake Christian towns held by the militants since 2014, a commander taking part in the massive major military operation to recapture Mosul told NBC News Thursday.
Maj. Gen. Ahmed Abdulrahman said Kurdish peshmerga forces were aiming to liberate Teleskuf and Bashiqa — located north and northeast of Mosul, respectively. Iraqi forces were simultaneously planning to recapture Qaraqosh, southeast of the city, he said.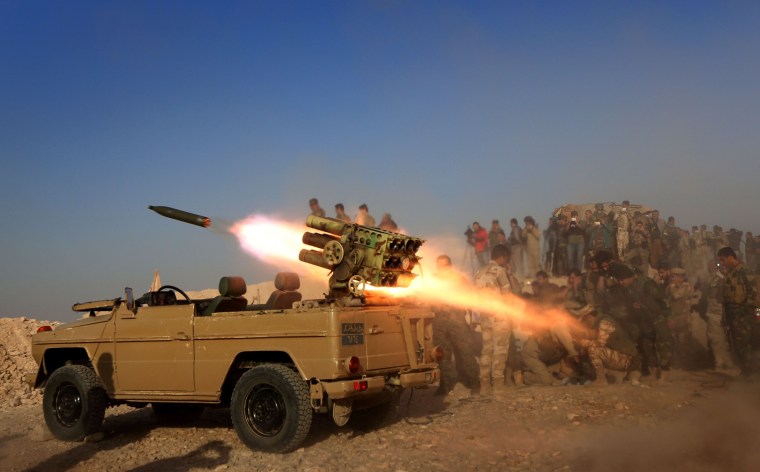 Iraqi army Maj. Gen. Maan al-Saadi told The Associated Press that elite forces had advanced on Bartella — a Christian town due east of Mosul — with the help of U.S.-led coalition airstrikes and artillery.
"God willing, we will take this town today," he told the news agency.
The area fell to ISIS two years ago and some of the towns leading to Mosul — Iraq's second-largest city and the extremists' last major urban bastion in country — are believed to have been abandoned.
The United Nations said it was braced for the biggest and most complex humanitarian effort of the year as a consequence of the Iraq-led military operation to retake the city from ISIS.
Up to one million civilians face being driven from their homes and others could be used as human shields or even gassed during the battle, aid groups warned Monday as the military operation began.
The sprawling Mosul operation is crucial not only for beating back ISIS and eventually ousting the group from the country — Iraqi leaders hope that the combined effort will vindicate its moribund military.
Iraq's government has largely barred Kurdish troops from entering Mosul to prevent the Kurds from trying to seize the city for their own semi-autonomous region.
Officials have also barred semi-governmental Shiite militia groups from participating in the main part of the Mosul operation out of concern that the militias will commit sectarian hate crimes against Mosul's Sunni Muslim civilians.