BARTELLA, Iraq — Maj. Gen. Sayyid Hazhar and his unit of Kurdish Peshmerga fought their way to the outskirts of this dusty, almost empty town Tuesday morning.
But the barriers that blocked them from pressing onward toward the ISIS stronghold of Mosul, less than 20 miles away to the west, were as political as they were military.
The Kurdish Peshmerga are only one piece of a complex patchwork of religious and ethnic identities that make up Iraq's security forces. The competition, prejudice and lack of trust that have fractured these groups are complicating the fight for Mosul as much as any ISIS counterattack.
The Mosul battle involves a delicate choreography among several groups: Iraq's formal military, Kurdish Peshmerga, the international coalition, Shiite militia fighters, Sunni tribesmen and dozens of other small militias who represent northern Iraq's bewildering array of ethnic and religious minorities.
"It's for both reasons — both politics and ISIS as well," said Hazhar when asked why he and his men had been halted outside Bartella for two days. "We don't have orders from the top."
That's not to say that ISIS's muscular defense hasn't presented a formidable obstacle. Evidence of the extremist group's strength was littered along the roadway leading to Bartella.
Most of the homes in the area had been leveled by coalition airstrikes or were pockmarked with bullet holes and mortar rounds.
Peshmerga soldiers pointed to a tunnel — one of many — that they said was at least four feet deep and about 100 feet long.
The tunnel allowed ISIS commandos to quickly move from their reinforced machine gun position near the main road to a nearby cluster of houses — all while avoiding detection from coalition drones.
Near the tunnel lay an abandoned, heavily armored flat-bed truck. Peshmerga soldiers explained that ISIS had rigged the truck with improvised armor, loaded the vehicle with explosives and were preparing to use it as a suicide vessel.
But they abandoned the truck during the Peshmerga's dawn advance.
"They defend themselves very well. They send suicide bombers to detonate themselves," said Hazhar, adding that the group had neutralized the very sort of explosives-laden truck the day before. "But we are stronger than them."
Related: Anti-ISIS Forces Set Out ot Liberate Christian Towns
Regardless of the Peshmerga's strength, it was the Iraqi military who carried the heaviest fighting load in Bartella on Thursday.
That morning, Iraq's Counter Terrorism Service arrived at Hazhar's encampment and quickly pushed ahead, liberating Bartella in a day.
While this elite, American-trained unit ranks among the most capable in Iraq's mostly moribund formal army, the Kurds say they are barred from pushing forward because the Iraqi government fears the Kurds will try to keep Mosul for themselves — wrapping the city into their semi-autonomous territory in northern Iraq.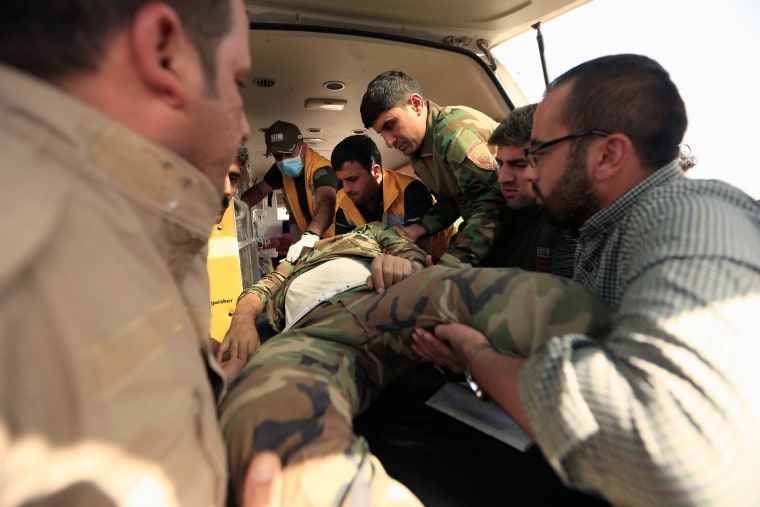 It's a concern that applies to almost every other actor in this battle: Shiite militia are barred from entering Mosul as well for fear that they may inflict sectarian abuses against the city's Sunni majority civilians.
The presence of Turkish soldiers at a base north of Mosul have incited condemnation and protests in the Iraqi capital of Baghdad.
And Hazhar did little to hide his suspicion of the Iraqi regular military — the disgraced U.S.-trained force that abandoned Mosul two years ago after barely firing a shot.
"This is very complicated," he said of the frontline politics. "We're not very sure of the Iraqi army, of their ability if they can go further forward or if we need to be with them."
With their ranks run through with so much suspicion and resentment, the fight for Mosul seems like a sideshow compared to the internecine conflict that will almost certainly follow ISIS' defeat.