A Syrian airbase used by Russia that housed helicopters and warplanes appears to have been almost completely destroyed, according to satellite imagery released by a global intelligence firm.
The airbase — known as the Tiyas facility — was hit by several explosions across the airport, with an entire unit of four Russian-developed Mi-24 "Hind" helicopters sustaining "considerable damage," Stratfor said on its website Tuesday.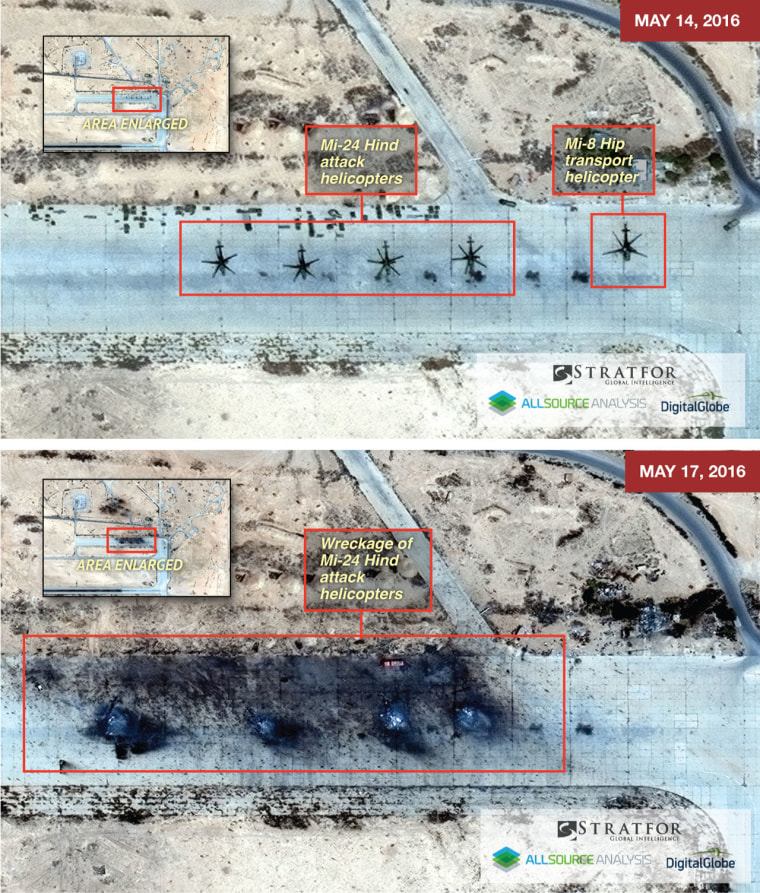 Vehicles, Syrian planes and a logistics depot also appeared to be in ruins. It was not clear if there were any casualties.
According to Stratfor, ISIS released information about the attacks which it said took place on May 14. This led the firm to conclude the terror network was behind the explosions.
Meanwhile, Russian officials denied any of its hardware had been damaged or its citizens killed or injured on the base.
"All Russian gunships based in the Syrian Arab Republic are carrying out predesignated missions to destroy terrorists," according to an email statement from the Defense Ministry.
The photographs of destruction at the airbase were months old, and showed result of "heavy fighting between the Syrian governmental forces and terrorist militants contesting this airfield," the statement added.
Related: DoD: No US-Russia Joint Exercise; Russia Opens New Syrian Base
Since September, the Russians have been have been intervening on behalf of Syrian President Bashar Assad in the government's efforts to obliterate ISIS, which saw a serious setback in March with the retaking of Palmyra by Syrian government forces.
Russian President Vladimir Putin also announced in March that he would begin pulling his resources from Syria following the support mission that he said had "achieved its main objectives."
But the U.S. and its allies have accused Russia of using warplanes to bomb Assad's moderate enemies instead of focusing on ISIS.
At the beginning of Russia's campaign, Secretary of Defense Ash Carter compared the bombing to "pouring gasoline on a fire."