LONDON — Members of Britain's House of Commons were voting Wednesday on whether to join the U.S. and France in airstrikes against ISIS in Syria.
In a testy debate in parliament, Prime Minister David Cameron pleaded with lawmakers to endorse aerial attacks on the "evil" militant Islamists.
The vote comes a day after Defense Secretary Ash Carter announced the U.S. would be deploying a specialized expeditionary targeting force to Iraq to "put even more pressure" on ISIS.
Cameron opened a marathon 10-hour debate by saying Britain could not afford to "wait for them to attack us," but the leftist leader of the main opposition party, Labour's Jeremy Corbyn, condemned what he called a "rush to war."
Cameron was keen to avoid a repeat of his Aug. 2013 defeat in a similar vote — a humiliation that forced President Barack Obama to retreat from plans for U.S.-led bombing raids over Bashar Assad's use of chemical weapons.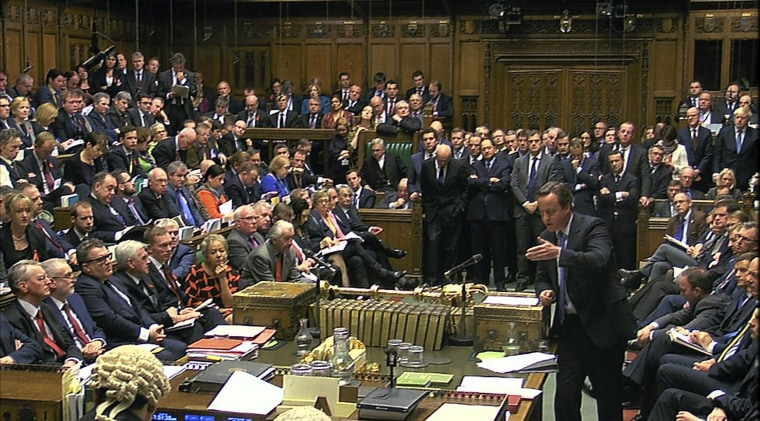 Also fresh in the memory of lawmakers was Britain's backing for the 2003 U.S.-led war in Iraq — based on intelligence about weapons of mass destruction that turned out to be bogus — which is still being investigated by a protracted judicial inquiry.
Related: U.S. Special Ops Force to Fight ISIS in Iraq
Public opinion remains bitterly divided: according to a poll in Wednesday's The Times newspaper, only 48 percent of British voters backed joining airstrikes.
One lawmaker, Labour's Stella Creasy, said workers in her office had received abusive telephone calls over the issue even though she was undecided about how she would cast her vote.
Cameron came under pressure to apologize for calling those who oppose airstrikes "terrorist sympathizers," but he refused.
Meanwhile, the top NATO commander in Europe, U.S. Air Force Gen. Philip Breedlove, has cautioned that the bulk of Russia's air operations in Syria are still directed against moderate opposition forces and forces that oppose Assad, not ISIS positions.
U.S. officials had hoped Russia would change its bombing focus to ISIS targets after the group's affiliate in the Sinai Desert bombed a Russian civilian plane in October.
Breedlove said Wednesday there has been some shift in Russian tactics lately but that the "vast majority of their sorties" are targeting moderate groups, not ISIS extremists operating there who are the main target of U.S. raids.
He said coalition forces "are not working with or cooperating with Russia in Syria" but have devised safety routines to make it easier for both groups.
The British vote marks another step in building an international consensus on how to address the problem of ISIS — something that had not been possible before the bombing of a Russian jetliner.