RIMELAN, Syria — A college dropout who surrendered after just three days of fighting for ISIS told NBC News that joining the militant group was the worst decision he ever made.
"They burn your life, they leave nothing," the 24-year-old said from a Kurdish-run Syria where he has been held since being captured just over a month ago. "I can't do anything now. If I go to them [ISIS], they will kill me. If I go to Turkey, they will arrest me. If I stay here, I will go to prison. I have nothing. The only escape for me is death."
He added: "I have no life, no future."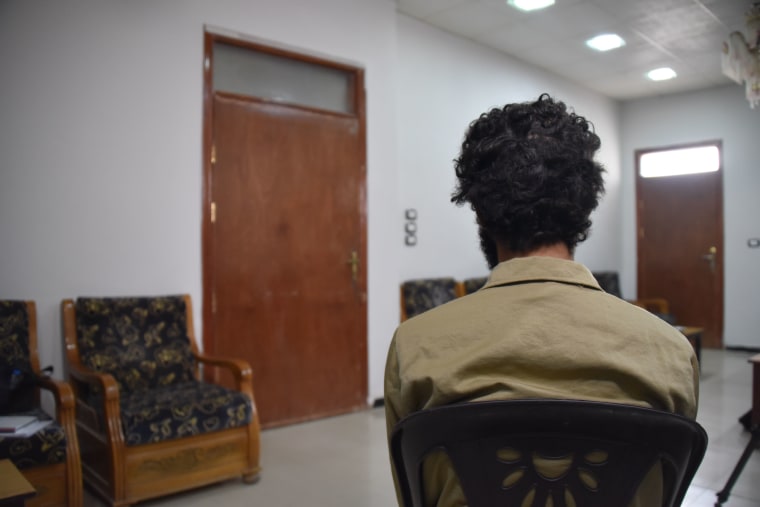 The prisoner was brought out of his cell blindfolded and handcuffed during NBC News' visit to the Asayisa Rimelan compound in the northeastern Syrian town of Rimelan on Friday. At NBC News' request, his Kurdish captors removed these restraints and left the room while he was being interviewed.
He spoke on condition his name and face were not revealed. His version of events was corroborated by the prison director. The events were also confirmed by Rami Abdulrahman, the founder of the Syrian Observatory for Human Rights and an internationally recognized source for information on attacks and casualties.
The man said he joined ISIS to get away from his life in Turkey, where he had few friends and his parents were pressuring him to study, marry and "straighten up" his life.
"I have never even beheaded a chicken… I can't do that"
"My life was hard and nobody liked me," he said while crying. "I didn't have many friends. I was on the Internet a lot and playing games."
He said he dropped out of college before crossing the border into Syria to join ISIS,
The prisoner was promised $50 per month along with a house and a wife. ISIS members also showed him "videos that made it look amazing," he said. But he said that life under the group was not what he hoped.
"They told us, 'When you capture someone, you will behead them,'" he said. "But as for me, I have never even beheaded a chicken… It is not easy… I can't do that."
He said that ISIS leaders justified their beheadings by saying it was necessary to "instill fear" and ensure "people run away from us."
He said he was told by the group that it killed homosexuals by throwing them off tall buildings because "they are half men, like women." And executing women was justified to him, he claimed, because "they were killing these women who were adulterers."
The prisoner said he disagreed. "Nobody likes to kill anyone," he said. "I don't accept that, nobody accepts that, Muslim or non-Muslim, and nobody likes anyone to be killed without reason."
He said that the U.S.-led bombing campaign had taken a psychological toll on ISIS fighters. But his superiors told him: "The jets are in the sky, but God is above the jets."
Related: Why This Single Dad Left the Bronx to Fight ISIS
The prisoner said he trained with the Sunni group for just over two months, which involved time spent on weapons, fitness and religion.
But just three days after he was sent to the town of Tal Abyad — which is located on Syria-Turkey border — a bombing raid killed six of the fighters he was with.
"I got scared because in my whole life I hadn't seen anything like this," he said of the airstrike. "And since I was scared, I threw my pistol away and my legs couldn't hold me."
He added: "When we heard the sound of bombing, we could have died of fear ... I decided to surrender in order not to be killed."