PALMYRA, Syria — An associate of Russian President Vladimir Putin implicated in the "Panama Papers" performed a classical piece on the ruins of a historic Syrian city on Thursday.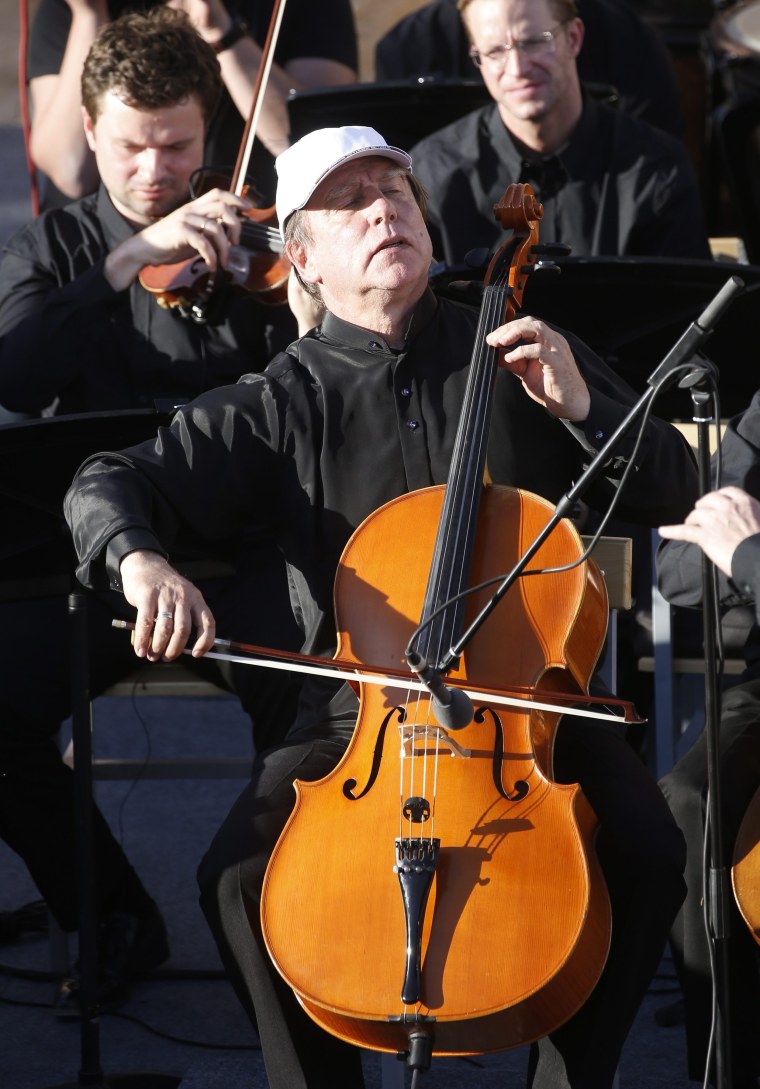 Cellist Sergei Roldugin soloed his way through a dance tune by obscure 20th-century Russian composer Rodion Shchedrin. The performance was part of a classical concert by the famous Mariinsky Orchestra celebrating the liberation of Palmyra from ISIS.
The orchestra, which hails from Putin's home city of St. Petersburg, performed three pieces in the historic amphitheater of Palmyra, which once hosted Roman plays.
The orchestra was greeted by Putin, via video, and cheered by a crowd including UNESCO dignitaries, Russian and Syrian troops, Muslim and Christian clergy and a smattering of locals, including enthusiastic children in national getup.
"The event is ... a sign of memory, hope and a sense of gratitude," Putin said, speaking from his office.
Palmyra, the historical jewel of Syria, was captured by ISIS in 2015.
The jihadists committed one of their most outrageous crimes on the record when they attacked Palmyra's historical heritage, destroying antique temples and statues depicting "false gods."
The Syrian army, aided by the Russian air forces, recaptured the city in March, but found it rigged to blow. Russian combat engineers, or sappers, de-mined almost 3,000 cunningly made explosive devices in the historical part of Palmyra alone, the chief Russian sapper, Yury Stavitsky, said Thursday.
While the concert in the liberated city was a logical, if daring move — given Palmyra's former status as a thriving tourist hub and site of music festivals — the appearance of Roldugin is liable to raise a few eyebrows.
The 64-year-old musician never achieved much acclaim in Russia or globally, but shot to notoriety when journalists analyzing leaked documents of Panamanian law firm Mossack Fonseca's management of offshore accounts discovered Roldugin was a major figure on the money trail.
Related: What Do Panama Papers Mean for Vladimir Putin
Firms listing Roldugin as the owner controlled at least $2 billion and engaged in questionable deals with other Russian firms possibly implying graft or embezzlement, the expose said.
Putin has personally defended his old friend, saying Roldugin was a philanthropist, not an embezzler, and had spent money on Stradivarius violins for the Russian state.
Roldugin dodged the press after his performance and was driven away in a personal military jeep with a guard of Russian soldiers.