France's prime minister has raised the terrifying specter of ISIS carrying out chemical or biological weapons attacks on the West, but international investigators have so far confirmed only a single use of mustard gas by the terror gang in the Middle East.
The Organization for the Prohibition of Chemical Weapons, which enforces a global treaty, announced earlier this month that it had determined with "utmost confidence" that a "non-state actor" used the outlawed agent outside Aleppo, Syria, in August, likely killing a baby.
U.S. intelligence officials told NBC News that ISIS was the non-state actor. The OPCW is continuing to investigate other suspected uses of chemical weapons by ISIS.
ISIS trackers say its current arsenal includes weapons that are easily scavenged: mustard gas in Syria, which stockpiled hundreds of tons before agreeing to dispose of it two years ago, and chlorine that could be obtained from any water treatment facility in territory it has seized.
That seemed to be confirmed in a Tumblr post in August by high-profile ISIS fighter Israfil Yilmaz.
"It's only acceptable when the regime or any other group uses chemical warfare against us?" he wrote.
"The regime uses chemical warfare on a regular basis these days, and nobody bats an eye — yet when IS captures it from them and uses it against them it's all of a sudden a huge problem?
"Fight them the way they fight you."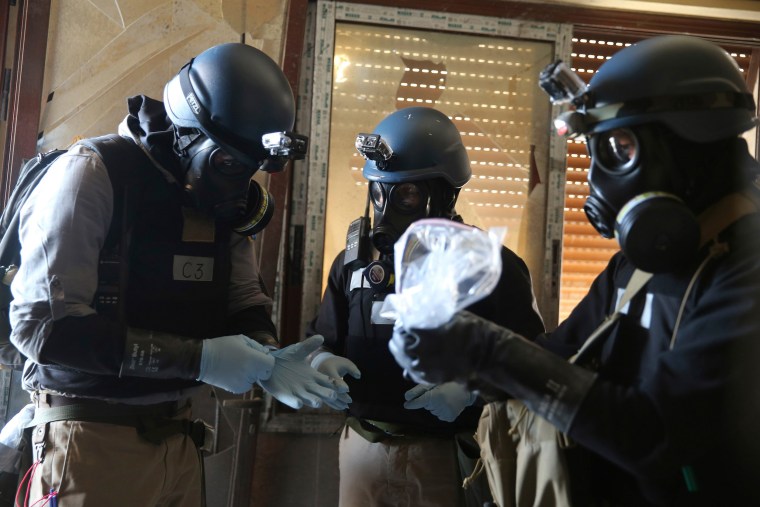 The Associated Press reported Thursday that Iraqi and American intelligence officials believe ISIS is hell-bent on ramping up a chemical weapons program with help of scientists in the territory that forms its so-called caliphate.
An Iraqi politician, citing intelligence reports, told the AP that ISIS has recruited chemical experts Chechnya, Southeast Asia and Iraq, including some who once worked for Saddam Hussein. NBC News has not been able to confirm that assessment.
It's a nightmare scenario, as illustrated by French Prime Minister Manuel Valls' warning to Parliament that bullets and bombs could be replaced by something less tangible but just as deadly.
"We must not rule anything out," Valls said.
But intelligence officials in Washington caution that intent is a far cry from capability, particularly when it comes to more sophisticated weapons like nerve gas.
"We know they are pursuing chemical weapons, but we haven't seen anything beyond mustard and chlorine," said Patrick Martin, an Iraq expert with the Institute for the Study of War, a military research think tank in Washington.
He said that even with mustard gas, the damage has been limited because it's essentially just added to warheads and mortars.
"They don't deploy it on wide scales," Martin said. "Their delivery systems aren't that sophisticated."
But does ISIS have the ability to develop weapons that would pose a threat to the West going forward?
Martin said that's still unclear.
"Mosul [seized by ISIS in June] has a university and that theoretically has the lab facilities to deal with this. The difficulty they may face is in obtaining the raw materials," he said.
Retired Lt. Gen Richard Zahner, a former top military intelligence officer in Iraq, said that while al Qaeda was never able to launch a chemical weapons program, ISIS has greater financial resources.
"Even a few competent scientists and engineers, given the right motivation and a few material resources, can produce hazardous industrial and weapons-specific chemicals in limited quantities," he told the AP.
And the U.S. military has noted that ISIS has been able to lure scientists to its side. In January, U.S. Central Command announced that an airstrike had killed Abu Mailk, a chemical expert who had worked under Saddah Hussein.
"His death is expected to temporarily degrade and disrupt the terrorist network and diminish ISIL's (ISIS') ability to potentially produce and use chemical weapons against innocent people," the statement said.