SANLIURFA, Turkey — The double murder achieved its goal. It sent the message that, even here in the relative safety of Turkey, ISIS and its supporters can reach its critics.
The bodies of 22-year-old Ibrahim Abdel Qader and 20-year-old Fares Hammadi were found early Friday in an apartment in the Turkish town of Sanliurfa. Qader had been stabbed dozens of times and both men were, in the gruesome fashion that has become ISIS's trademark, beheaded.
The deaths of the two young Syrians, both members of a citizen-journalist group called "Raqqa Is Being Slaughtered Silently," sent shockwaves through the exile Syrian community here.
How did two young men, known targets of ISIS who took measures to protect themselves, end up dead?
NBC News has now learned the answer to that question: In an exclusive interview, Ibrahim's brother, Ahmed, explained what happened.
It all started, he said, about a month and a half ago, when an acquaintance of theirs from Raqqa, Tlas Surur, arrived in Sanliurfa. The man claimed he had defected from ISIS and wanted to help the movement against them.
"He came in a smart way," Ahmed told NBC News Sunday. "Ibrahim was a good guy, welcoming, so Tlas knew he could get to him."
Surur rented an apartment just across the alley from where Ibrahim and Ahmed's family lived and, in time, grew very close to them and their circle of activist friends. Ahmed said Surur became like family and that Ibrahim often spent the night in his apartment.
A picture Ahmed shared with NBC News shows Surur and Hammadi smiling for the camera, dressed in the fashionable clothes favored by young Syrians in Turkey.
Ahmed also showed NBC News the windows of Surur's rented apartment across the alley. He says Surur covered them with cardboard and blankets right before the murders and invited over two suspected accomplices. A Turkish police source told NBC News that other evidence linking Surur to the murder has been found.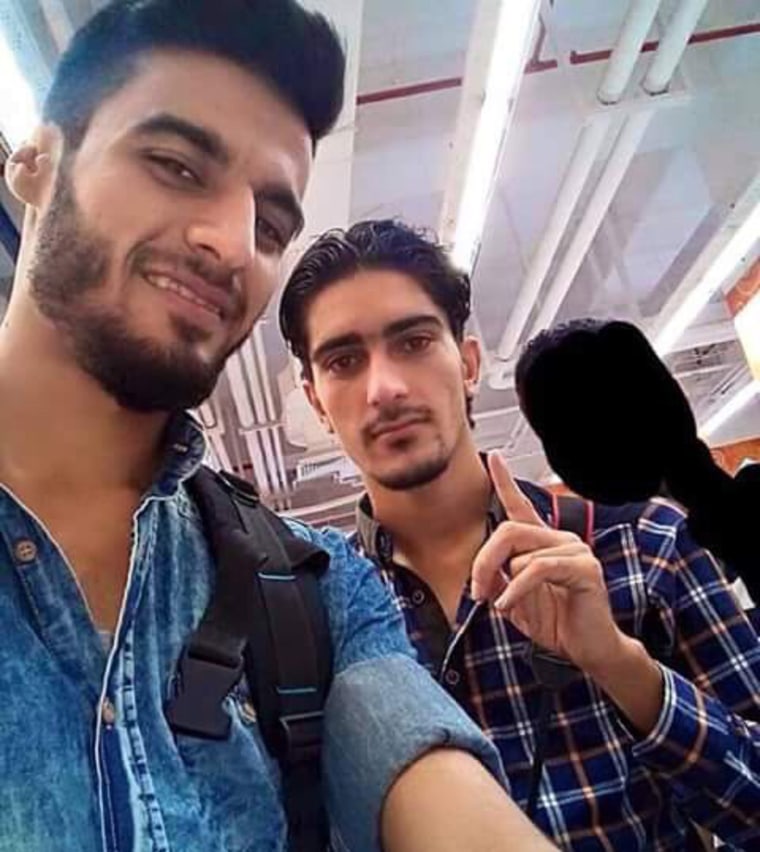 Ibrahim's brother believes that Surur managed to slip back to Syria and rejoined ISIS. But he hasn't remained silent. While we were preparing to interview Ahmed today, he received a stream of text messages.
Looking at the screen of his smart phone Ahmed read aloud what he said was a threatening message he had received from Surur: "We killed Ibrahim to break your hearts and we will come after you with another knife," the message read.
Ahmed says he is not afraid and vows to continue his brother's work.
"If they think this will stop me, they are wrong," he said after receiving the threat. "I'm more determined. We will keep going until we are finished with ISIS. This is a promise for Ibrahim and all of the victims of Raqqa."
NBC News had met Ibrahim before. About a year ago, he was interviewed in Sanliurfa. He was asked about the death threats he was already receiving at the time. He didn't flinch.
"They've put a ransom on my head," he said of ISIS, "for anyone who kills me."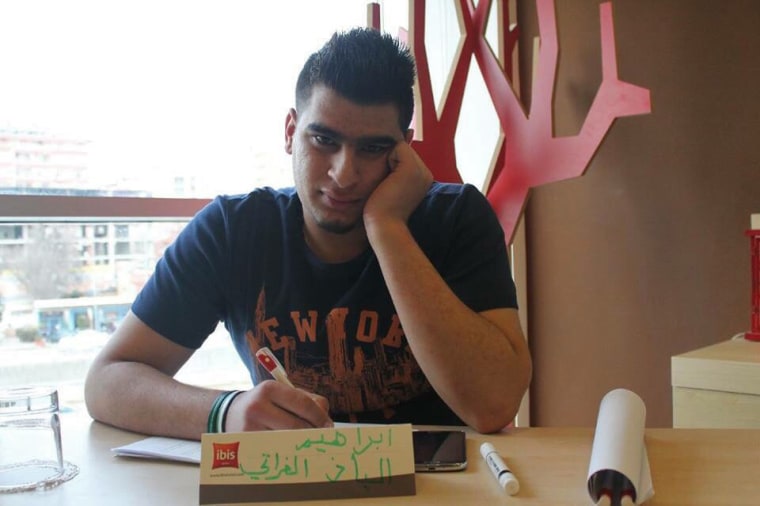 Despite the threats, Ibrahim was proud of the small group of activists he was part of. Most were young men from Raqqa who went from open activism against the regime of President Bashar al-Assad to clandestine work after ISIS took over their town. Since April 2014 they filmed in secret scenes of life under the rule of the so-called "Islamic State." The campaign eventually developed into a website with multiple social media accounts.
During the interview with NBC News last year Ibrahim also recounted how before escaping Raqqa he had been beaten, whipped and tortured in an ISIS prison. Still, he said, nothing was going to stop him from working for "the heroic people in Raqqa."
"We are the sons of our country," Ibrahim told NBC News at the time. "If we don't spread the news of our suffering and show the crimes of ISIS to the whole world, who will?"
On Sunday, his friends and fellow activists tweeted pictures in his and Hammadi's memory. In one of them the caption read "the last things Ibrahim left behind:" keys, some business cards covered in blood and a press ID.