France has suffered a horrid 16 months, with two brazen terrorist attacks plunging it into a prolonged state of emergency and possible terrorism eyed in the crash of an EgyptAir jet that took off from Paris.
But in just three weeks' time, the country will host one of world's biggest sporting events.
Some 2.5 million fans — most of them foreigners — will pack into stadiums across the country for the Euro 2016 soccer tournament. Essentially a pared-down World Cup, it features 24 teams from across the continent.
But with preparations in the final stages, France's spy chief warned that ISIS is plotting more misery on the country's soil.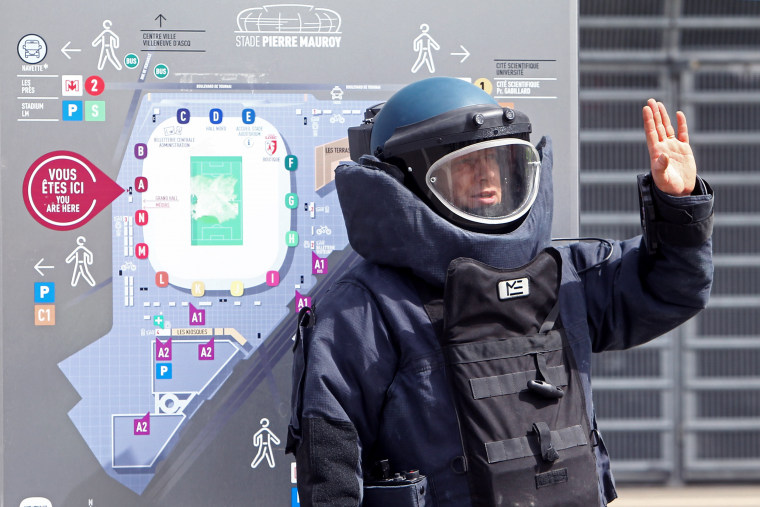 "We know that [ISIS] is planning more attacks … and that France is clearly a target," Patrick Calvar, head of the DGSI intelligence agency, told the French parliament's defense committee on Thursday.
He did not mention Euro 2016 by name, but said security services "may be coming face to face with a new type of attack — a terrorist campaign characterized by planting explosive devices where large crowds are gathered ... to create as much panic as possible."
He added: "The question, when it comes to the threat, is not 'if,' but 'when' and 'where.'"
France remains entrenched in an official state of emergency, with security services performing thousands of raids and making hundreds of arrests across the country.
Despite such fears and warnings, authorities have refused to postpone or relocate the tournament — which will feature games in 10 cities.
Euro 2016 will see some of the most intense security measures ever conceived for any event of its size.
However, organizers are palpably aware that they cannot guarantee fans' safety.
"We are doing our best to make sure everything is done [properly] and nothing is left to chance," Ziad Khoury, head of security for the Euro 2016 tournament, told NBC News in a telephone interview this week. "But when you speak about security you cannot be serious and say that you are on 100 percent probability. It's impossible. Even now, I'm talking to you, something could happen in my building."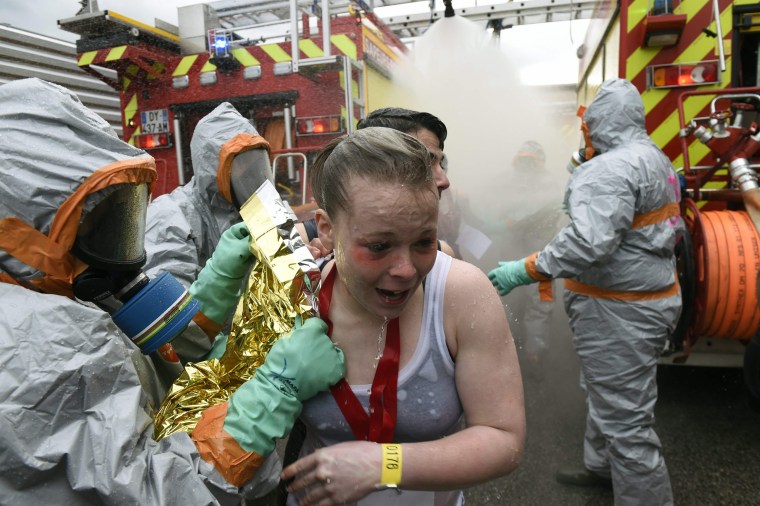 Khoury said last year's Paris attacks have had a marked effect on planning for the the event. There will be an 8 percent increase in the number of private security contractors, bring the total to between 650 and 1,300 at every game.
This year will also be the first major event where anti-drone technology will be deployed across the 10 stadiums involved, according to Khoury. He said any device that flies within several designated no-fly zones will in effect be hacked into by security officials and flown to a safe area.
"If you compare these Euros to the last one in France — the last one was in 1984 — there were no social networks, no cybercrime, no drones etc.," said Khoury, whose country also hosted the World Cup in 1998. "So that's why we have worked on all the scenarios, and drones are one of them."
While the number of reinforcements has increased, Khoury said his team's overall strategy has remained the same.
"Terrorism is not a new phenomenon. Of course it has taken a new shape with 2015, but before there were threats or even terrorist attacks," he said.
An attack by Palestinian gunmen at the 1972 Munich Olympics left 11 Israelis, five Palestinians and a German police officer dead. A bombing at the 1996 Olympics in Atlanta, Georgia, killed one person and injured 11 others.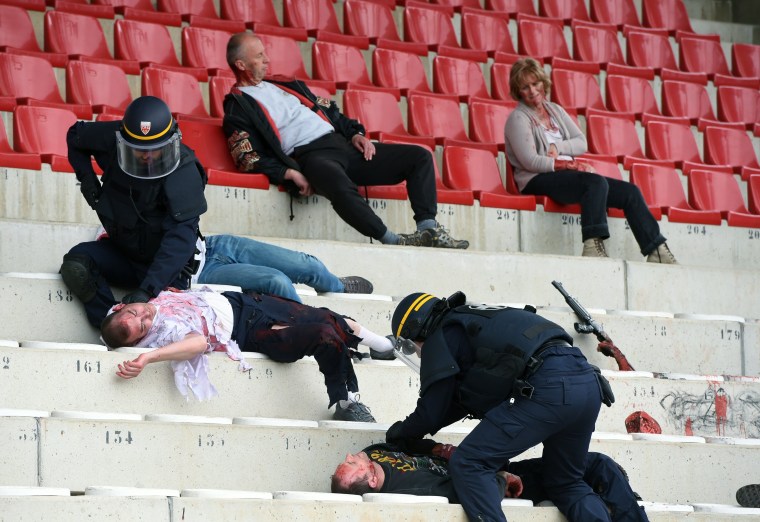 NBC News interviewed Khoury before DGSI boss Calvar comments about ISIS. The Euro 2016 press office declined to comment Friday when asked about the spy chief's remarks.
Calvar's warning came the same day as the as-yet unexplained crash of an EgyptAir flight, hours after it left Paris' Charles de Gaulle Airport.
"If the DGSI was to turn around and say, 'The threat level is too high,' that would be seen around the world as a victory for the terrorists," NBC News security consultant Duncan Gardham said.
Brian Dillon, a U.K.-based counterterrorism consultant, expressed a similar view.
"To say there should be a cancellation would be completely the wrong approach," said Dillon, who previously worked for London's Metropolitan Police and has experience with European operations.
France are joint-favorites to lift the trophy on July 10, alongside world champions Germany.
But fans who watched the soccer game between the teams on Nov. 13 no longer need to imagine how an explosion would sound echoing across a stadium. One of the Paris attackers detonated his device outside the Stade de France.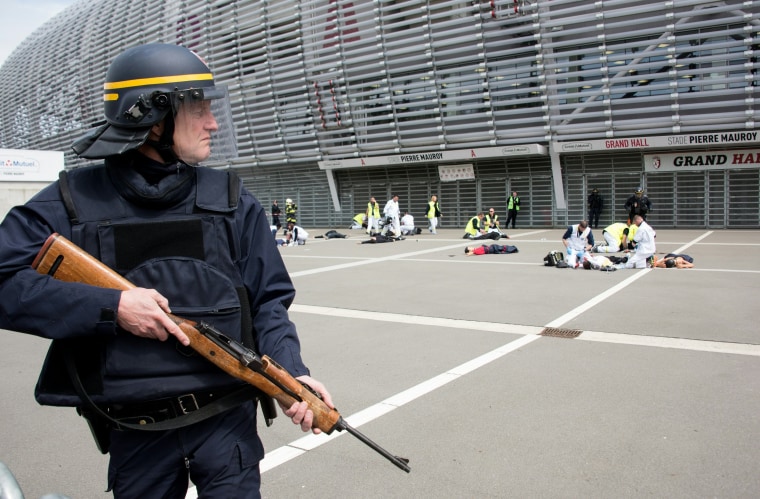 Gardham said France had been specifically been targeted by ISIS, adding that the jihadis have "got lots of manpower, they've got the planning and they've got the intention to" carry out a large-scale attack.
"All of these things make France a particularly dangerous place at the moment," he added.
However — harrowing though it may have been — the attempted attack on the stadium in November was a good example of the system working. One of the bombers, Bilal Hadfi, was refused entry into the venue because he did not have a ticket.
The main area that worries analysts is not venues, where there are sniffer dogs, bag checks, and metal detectors, but other less-well-regulated locations, such as bars and the areas outside train stations.
"It's very difficult to regulate … [and] that inevitable leaves weak spots," Gardham said.
While they may not be able to check every nook and cranny, security officials will be relying on other forms of protection, such as listening to jihadi chatter and encouraging fans to report suspicious behavior.
But despite all these efforts, the tournament's head of security is realistic.
"There is always a risk, not only in sporting events but in everyday life — not only in Paris, not only in France," Khoury said. He added that, if this level of risk stopped the event going ahead, "then you have to stop a lot of things, and not only the Euros but even any concert, any demonstration etc."