CAIRO — ISIS has claimed responsibility for a large car bomb Saturday that destroyed the building housing Italy's consulate in downtown Cairo, killing at least one person and injuring eight others, Egyptian officials said.
The terror network, in a statement verified by global security firm and NBC News consultant Flashpoint Intelligence, said that its operatives detonated the vehicle with 450 kilograms of explosives.
Italian Foreign Minister Paolo Gentiloni confirmed the attack on Twitter.
"Our Cairo consulate has been bombed. There were no Italian victims. We stand close to the people affected and to the staff. Italy will not be intimidated," he wrote.
The 6:30 a.m. local time (12:30 a.m. ET) blast "resulted in the destruction of the Italian Consulate building, the exterior fence and cracks in facades of surrounding buildings," the Interior Ministry said in a statement.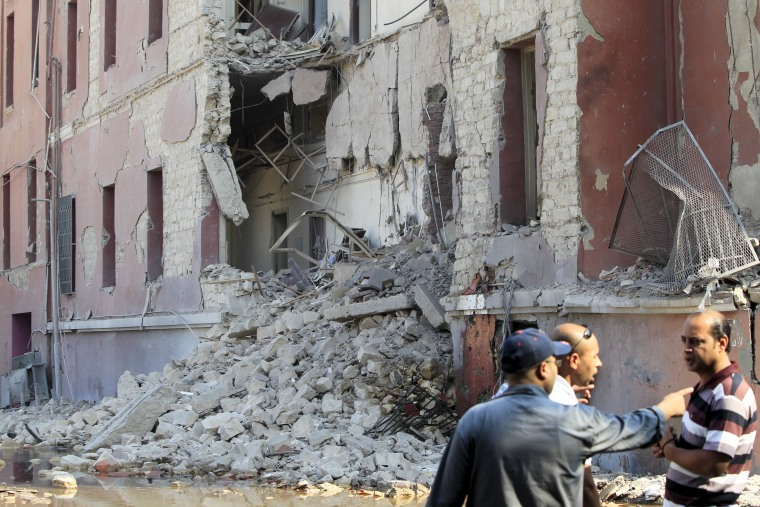 It killed a "passerby" and injured eight people, the ministry's added. One policeman and one civilian were among those injured, an Egyptian security official said earlier.
"The incident will not deter police from continuing efforts and sacrifices to achieve national security," the ministry added.
The blast tore through underground water pipes, flooding the area, and badly damaged the distinctive consulate building.
"I was sleeping when the explosion went off, it blew in my window and when I went outside the air was full of dust," Ahmed Hasan, 20, a neighbor whose leg had minor cuts, told The Associated Press.
Four journalists on the scene reported on Twitter that they were detained by authorities and later let go.