Snipers and starvation are threatening the trapped civilians of Fallujah as Iraqi forces fight to retake the city from ISIS, according to an eyewitness and a local official.
A source at the city's main hospital, who spoke with NBC News on condition of anonymity, said civilians were living in fear — both of being murdered by the extremists and because of bombing by the U.S.-led coalition.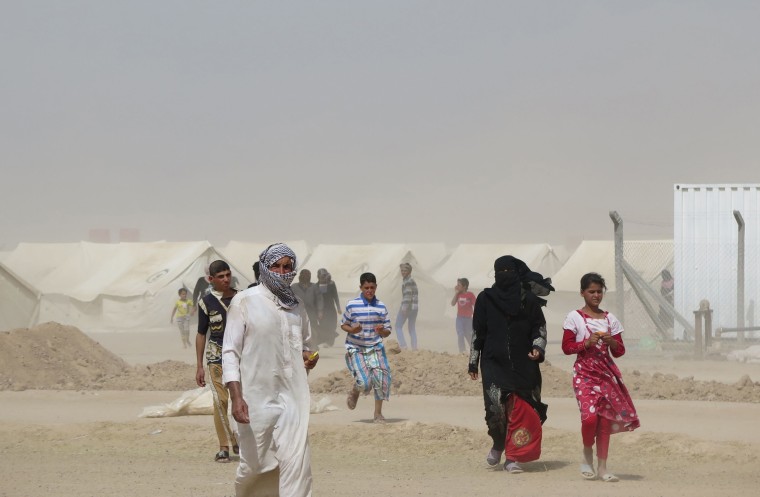 "The situation inside Fallujah is not stable," he told NBC News. "ISIS militants are surrounding the center of the town and their snipers are everywhere in order to prevent civilians from leaving."
The source — who asked not to be identified for his own safety — said ISIS is using people as human shields in an attempt to deter bombing by warplanes. The United Nations also has cited reports of human shields.
The source estimated there were between 750 and 1,000 fighters still in and around the city center, saying that many had shaved off their beards in an attempt to blend in with the civilian population.
Related: Iraqis Freed From ISIS Face Squalor and Interrogation
An estimated 30-40,000 civilians are believed to be trapped in Fallujah.
Cellphones and the internet are banned by ISIS but NBC News was able to speak to the man via the messaging service WhatsApp.
Fallujah is a symbolically important city some 30 miles from Baghdad that has been held by ISIS for more than two years. Progress been slow, but on Wednesday the Iraqi military said its counterterrorism forces retook the neighborhood of Shuhada, some 2 ½ miles from the city center.
The fighting has sent prices for everyday goods skyrocketing, according to Isa Al-Isawi, chairman of Fallujah's local council who lives less than 15 miles away in the town of Amiriyat Al-Fallujah.
"They do not have food, they do not have money to buy food, and it is very, very expensive to buy food there," he told NBC News by telephone, relaying the accounts of people who had escaped the city.
According to Al-Isawi, a little over 2 lbs of sugar costs around $30 (compared with less than $2 for the equivalent amount in the U.S.)
In early April, more than a month before the offensive to retake Fallujah began, Human Rights Watch said its people were "besieged by the government, trapped by ISIS, and are starving."
Related: What's Really Behind the Stalled Fight For Fallujah
Sick people "are suffering because they do not have the medicine they need" and residents have resorted to scavenging for firewood to boil drinking water, Al-Isawi added.