The trio of girls from suburban Denver suspected of trying to join Islamist militants in Syria appear to be impressionable teens lured by the promise of adventure abroad — not steely-eyed zealots intent on perpetrating violence, officials told NBC News.
Officials said federal authorities are unlikely to charge the girls — described by law enforcement as 15- and 17-year-old sisters and a 16-year-old from another family — because they're minors. The prosecution of juveniles in the federal system is rare and complicated. In this case, the ages of the girls is a "complicating factor" that will likely keep them out of the courtroom, said David Raskin, a former federal prosecutor.
In the unlikely event the girls are prosecuted, they could be charged with juvenile delinquency. But even then, they would be released at age 18, per Justice Department policy.
The unidentified teens were intercepted by American law enforcement authorities at Frankfurt Airport over the weekend and returned to their families in Denver, federal law enforcement officials said Tuesday. An official said the eldest girl, who is of Somali origin, came up with the idea to go to Syria and coaxed the two younger girls to tag along. It was not clear Wednesday whether the girls had an actual contact in Syria — or if they were simply planning on showing up in the tumultuous country to volunteer with ISIS or another terror group, officials said.
German authorities said Tuesday that no investigation was opened there, because there was no indication of criminal or terrorist activity.
Click here to explore interactive map with details of the cases of the dozen U.S. residents — 11 of them Americans older than 18 — accused of trying to join the fight in Iraq or Syria, as well as the three Americans confirmed to have died in the fighting.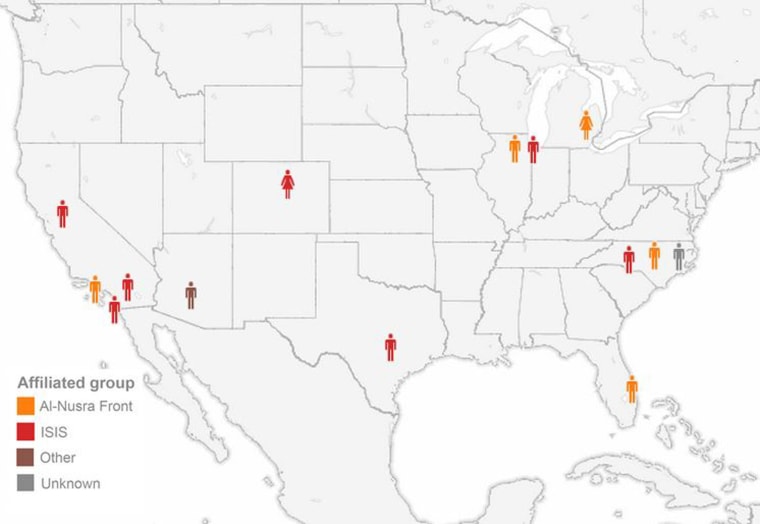 IN-DEPTH
— Pete Williams and Daniel Arkin